New Proposal Plans To Connect Birmingham's City Center to Northwest Neighborhoods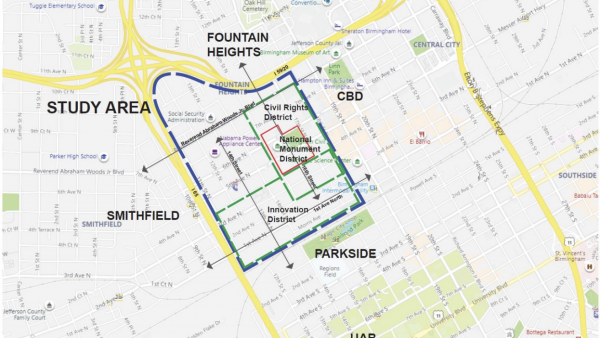 A new project would connect Birmingham's City Center to neighborhoods in the northwest quadrant that are currently separated from downtown by I-65 and I-59/20.
Urban Impact Inc. and REV Birmingham announced the proposal on Tuesday in conjunction with Birmingham's City Center Master Plan. The proposal seeks to find a consultant to develop a plan to connect the city center to northwest neighborhoods like Fountain Heights and Smithfield.
Ivan Holloway is the executive director of Urban Impact. He says these neighborhoods are key to the development of Birmingham's City Center and the Innovation District.
"This is an attempt to not just do things because they're popular, but do things because [those neighborhoods] are part of the fabric and it makes sense to be connected to the particular community," Holloway says.
The two groups will work with the consultant to create a plan for how to revitalize the area.  Ideas range from bike lanes and parking to green spaces and lighting. They also hope to attract restaurants, residential units, and retail stores.
"Part of the history of Birmingham includes this wonderful story about African Americans who were disenfranchised, who were left out of the economic growth of Birmingham, yet it was able to create this wonderful small business community in downtown Birmingham that has perpetuated since the early-1900s through today," Holloway says.
Holloway says one of top priorities is creating a walkable connection to the northwest neighborhoods.
"One of the things we heard time and time again is the neighborhoods that are in close proximity to downtown just feel so isolated and left out," Holloway says. "We want to be very intentional in helping to create … those connectivity points in a very real way."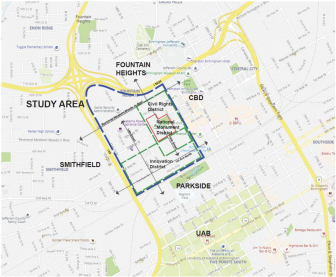 Other corridors they hope to eventually make walkable include: 1st Ave. N to 4th Ave. N and 18th St. N to I-65. Eventually the plan will connect the Innovation District to the neighborhoods west of I-65.
Birmingham Mayor Randall Woodfin has expressed his support for the proposal.
"In Birmingham, inclusion and innovation are two sides of the same coin. This collaboration between Urban Impact and REV Birmingham represents an opportunity to bridge our historic past with our bright future,'' Mayor Woodfin said in a news release.
Holloway says they want to be intentional with the plan and input from local residents is key.
"What has been missing is a real engagement with the residents around how they believe they can benefit from any linkages that are associated with the redevelopment of the Civil Rights District," Holloway says.
He says they want to make sure that minority residents have a voice in the plan and that minority business and property owners in the districts have clear avenues for benefitting from expected growth.
Residents are encourage to submit ideas and questions by Friday, January 31. You can read the full proposal here.