Trash Talk: Why Doesn't Birmingham Recycle More?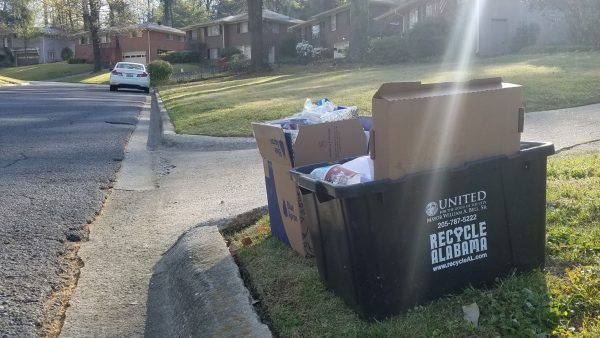 Tucked behind a fence along the train tracks in Avondale, Birmingham Recycling and Recovery is easy to miss. Inside the warehouse-style building, people and machines sort giant piles of paper, plastic and aluminum. This is where recycling trucks go to dump the items they pick up from homes and businesses. Leigh Shaffer, the sales manager, says in addition to commercial material, the facility processes and sells residential recycling from approximately 25 local municipalities.
Some cities recycle more than others. Every Wednesday, Birmingham Recycling and Recovery gets a really skinny load from the city of Birmingham.
"They have at least 30 trucks per week," Shaffer says. "Each of them has about three people in it, and most of them bring in less than 1,000 pounds per truck."
Compare that to Hoover, whose trucks typically bring in at least 8,000 pounds each. Why is there so much less from Birmingham?
"More than likely it has to do with the fact that there's not a whole lot of outreach and education and resident awareness," Shaffer says.
Alvin Crenshaw says that has been his experience. He and his wife live in a house in Birmingham's West End. They are eligible for the city's weekly collection service. But for about a year now, they have been driving to the recycling drop-off site on UAB's campus.
"My wife and I collect plastics," Crenshaw says, "so we bring them out here because we were under the impression that Birmingham wasn't picking up recyclables anymore."
Crenshaw says he used to participate in the city's recycling program, but he has not received information about it recently. He also says no one on his street recycles, so he thought the service stopped.
"I mean if they're still picking up the plastics, they need to get the information out," Crenshaw says.
This is a common complaint, according to Birmingham City Councilman Darrell O'Quinn. He says there is not much effort to educate residents about the program. The city does not provide a website about its recycling program and it does not distribute fliers about it. In addition, O'Quinn says the city ran out of recycling bins a few years ago, and the ones they used to give out are small. Another issue is that the city does not pick up recycling from apartments or provide a drop-off site for these residents.
"To be the largest city in the state of Alabama, one of the most progressive cities in the state of Alabama, and we don't have a robust and thriving recycling program," O'Quinn says, "personally, it makes my head explode."
A nonprofit called Alabama Environmental Council (AEC) used to fill in some of these gaps. For years, AEC ran a local recycling drop-off site, most recently in Avondale. But that closed a few months ago due to financial pressure. AEC also helped Birmingham apply for state recycling grants through the Alabama Department of Environmental Management. The city has not applied for this money since 2016.
Birmingham's recycling program is run by the Keep Birmingham Beautiful division of the city's Department of Public Works. Officials there say they are working on a plan to improve the residential service, but they did not share specifics. Councilor O'Quinn says it is not just about environmental benefits.
"Dealing with waste costs the city, and ultimately the taxpayers, a lot of money," O'Quinn says.
The city spends millions of dollars every few years to operate and expand landfills. If residents recycled more, O'Quinn says Birmingham would generate less trash and save money.
Back at Birmingham Recycling and Recovery, Leigh Shaffer says it would be great if Birmingham residents recycled more. But she also hopes the city and other communities in the area focus on educating people about what can be recycled.
"Well we do get an awful amount of contamination of things that I think people wish they could recycle. We call it wish-cycling," Shaffer says. "So we have to separate out the contaminants and they end up going in the landfill."
She says about one-third of the materials that come into the facility go to the landfill. Common contaminants include plastic grocery bags and glass. And for some reason, the facility gets lots of garden hoses. Shaffer says for residential recycling in the greater Birmingham area, people can recycle plastics 1 and 2, mixed paper, cardboard, steel and aluminum cans. Residents can even bring those materials directly to Birmingham Recycling and Recovery. Just watch out for trucks.