Legion Field's Future Big Topic During Magic City Classic Week
This week, the McDonald's Magic City Classic presented by Coca-Cola will again turn Legion Field into an around-the-clock tailgate party. Before it ends, tens of thousands of people will pack the historic stadium Saturday for the annual clash between the two largest historically black colleges in the state — the Hornets of Alabama State University and the Bulldogs of Alabama A&M University.
The game brings on bragging about the best band and football team. But there's another conversation. What happens to this game and Legion Field once Birmingham's new downtown stadium is completed?
Alumni and fans of both universities say this match-up is about more than scores. It's about a place – an experience.
Alabama A&M alumna Alease Sims still remembers her first Classic experience. It was in the fall of 1965, her freshman year.
"I was amazed. You could barely watch the game for watching the people and the bands perform," she says. "It was just grand, the whole weekend. "
Sims, a former president of the Alabama A&M University National Alumni Association, lives near Legion Field. She says the Classic is a family tradition and she wants to keep it nearby.
But Birmingham is getting a new field downtown at the BJCC. The Protective Stadium will have 45,000 seats and fancy corporate suites.  It's supposed to be ready for football in 2021.
Alabama A&M and Alabama State are under contract to play at Legion Field through 2022.  Sims and other fans say the historic stadium may not have all of the modern frills, but they think it's the best spot for the Classic because the new stadium won't have enough space inside for all of the fans or outside for the party.
"We've got all of this tailgating, and we've got all these outdoor shows. They usually have a concert out at Legion Field," she says. "How in the world are they planning to accommodate us?"
About 70,000 people usually attend the game. Thousands more fill the surrounding lots and streets. They grill and fry, sing, dance and watch people from RVs and tailgate tents.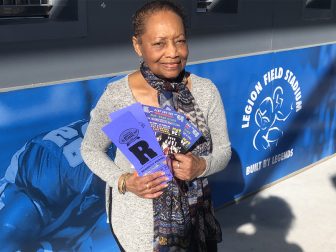 The City of Birmingham will contribute $325,000 this year to both Alabama A&M and Alabama State as part of the game contract. That same contract increases the payout to each university by $25,000 each year through 2022.
Birmingham City Council President William Parker wants to keep the Classic at Legion Field. But, he says, the 92-year-old stadium needs other changes to keep its place in the sports arena as the new stadium comes into play.
"Both stadiums will coexist," Parker says. "We just have to make sure that we have continued programming here at Legion Field, and make sure Legion Field stays viable."
Last month, Parker announced an online campaign to get ideas from the community on the future of Legion Field.
Reggie Holder lives nearby in Bush Hills and drives by the stadium a couple of times each day. He has vivid memories from the storied place, but he also has ideas about its future.
"I remember once being in that rickety upper deck at an Iron Bowl game, and people stomping and clapping," Holder says. "And you could feel that thing swaying before they turned it down."
Holder says he wants to see something different – a complex that still hosts the Magic City Classic, but expands to include more soccer, lacrosse and other sports.
He says, he wants to see revitalization in the neighborhoods too – like more affordable housing.
"Help build up this community which once was very prosperous and thriving. It still has a lot of vitality. It has so many good people and good things happening in it," Holder says.
The city of Birmingham sets the course for changes in the community. But the decision on the Magic City Classic's future rests with Alabama A&M and Alabama State.
As for the best band, and the best team – that score will be settled Saturday.