Jefferson County Is on the Brink of Shedding Personnel Consent Decree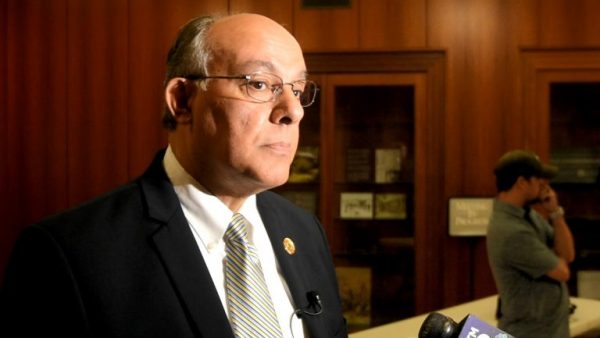 By Solomon Crenshaw Jr.
U.S. District Court Judge Lynwood Smith wished Tony Petelos a happy Halloween, one in which he would get more treats than tricks.
But the Jefferson County manager had already gotten a big treat when he heard Smith say that Jefferson County is "teetering on the edge" of being able to conclude the consent decree on personnel practices that has hovered over it for nearly 40 years. And it was a treat he was glad to get.
"Absolutely," Petelos said after the status hearing this morning. "It's been almost four decades, this consent decree, and we're very close to bringing it to an end. It's very positive. We're very excited. Four decades is a long time."
The county has been under the consent decree since 1982, after plaintiffs sued alleging that the county and other defendants had been discriminating based on race and sex with respect to recruitment, hiring, assignment, promotion, discipline and other terms and conditions of employment.
Joseph J. Sperber IV, an attorney with the Civil Rights Division of the U.S. Department of Justice, opened the proceeding by saying that he had not expected the consent decree to continue beyond the end of the year. He added, however, that the vacancy in Jefferson County's human resource department director's position pushes back that resolution.
Sperber said he had hoped a new HR director could be in place this year. Jefferson County attorney Theo Lawson assured the court a candidate has been hired, but that candidate is working through an exit from current employment. The name of the new HR director was not disclosed.
During the hearing, it was initially suggested that the new HR director could be acclimated to the position within 60 days. Smith said 60 days was "ambitious" and offered 90 days as a more realistic target. He was told that the candidate had not previously worked in the public sector.
Smith said that candidate's entry into a merit system makes for a "daunting learning curve." He said Loren Oliver is the "best option" for guiding the new HR director. Oliver was assigned to monitor Jefferson County's hiring practices. He previously was appointed as a receiver.
"You need to be a tutor now," Smith told Oliver. The judge also urged attorneys for each side to communicate with one another as they work toward an end to the consent decree by mid-2020, "the sooner the better."
"Getting it right is best worked out collaborately," he said.