Doug Jones Weighs in on Trump Impeachment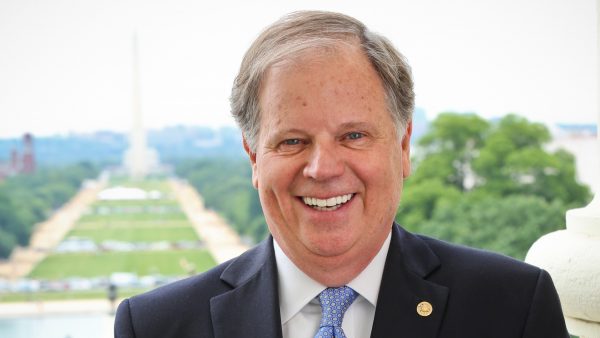 When the U.S. Senate comes back from the holiday break, there will be one overriding issue: impeachment. The House impeached President Donald Trump on December 18th and it's now up to senators to decide whether to remove him from office. WBHM's Andrew Yeager spoke with Democratic U.S. Sen. Doug Jones about impeachment and other action on Capitol Hill.
Impeachment Trial
The two articles of impeachment stem from allegations President Trump tried to withhold military aid to Ukraine in order to benefit his re-election effort. Jones says those are very serious allegations.
"We have to look at whether or not that is the kind of conduct that will be sanctioned regardless of the name of the president of the United States," Jones says. "I am still in the process of looking at [that]. I do believe that my duty is to my oath and not to the president or a political party."
Jones says the trial must be fair to both President Trump and the American people. He says there's also evidence that hasn't been presented because the White House hasn't cooperated with the impeachment investigation. Jones says key Trump administration figures such as John Bolton, former national security advisor and White House acting Chief of Staff Mick Mulvaney should testify under oath during the trial.
"They were people in the room. They will know. And they may have a perfectly legitimate, innocent explanation of this and if they do, bring it forward. Let's hear it now, because it could sway a lot of people including a lot of Democrats," Jones says.
Jones is running for re-election in 2020. Recent polls show President Trump is still popular in Alabama, but Jones rejects the idea that a vote to remove the president from office is a death knell for his campaign.
"If we made decisions based on re-election, then I'm shirking my duties of my oath," Jones says. "I've got to make a decision based on the evidence and not on any kind of poll."
Eliminating the Widows Tax
For much of his time in office, Jones has championed eliminating the so-called Widows Tax. Surviving spouses of veterans who qualified for two programs, the Veterans Affairs Dependency and Indemnity Compensation and the Survivor Benefits Plan, were barred from receiving full payouts from both programs. Jones says it affects about 2,000 people in Alabama and about 65,000 nationwide.
"I was just incredulous when I saw this," Jones says.
Widows have been lobbying Congress for the change for almost two decades. It was included in this year's National Defense Authorization Act, which was signed by President Trump. The change will cost the government some money. But Jones says it's about fulfilling the public's commitment to military families. Plus, some of this money was paid into the system by the families themselves, similar to an insurance policy.
"They paid in every month and the beneficiary is Uncle Sam," Jones says. "That's just wrong."
Space Force
The defense bill creates a sixth branch of the military called the Space Force. The announcement prompted chuckles and mockery in some circles, but Jones says it's a necessary move. He says the 21st century reality is that conflict will spill over into space.
"This is communications disruptions, satellite technology, the ability to defend or attack using space," Jones says.
Jones says the U.S. must maintain its military edge over China and Russia. Huntsville is reportedly under consideration for the headquarters of the Space Force.
Education
President Trump signed a bill into law Jones supported that permanently reinstates funding for Historically Black Colleges and Universities. This will mean about $10 million annually for HBCUs in Alabama. Jones says leaders at these schools now have certainty around the availability federal aid money.
The measure also makes changes to the Free Application for Federal Student Aid or FAFSA. This is the form collage applicants must fill out to determine eligibility for federal assistance. Jones says it's a first step to simplifying the application.
"Anybody that's had kids or tried to fill this out themselves knows just how absolutely ridiculous it is," Jones says. "Alabama kids left about $60 million of grant money that's on the table because they walked away or they got audited with other follow-up questions."
The law eliminates some questions from the FAFSA and instead allows federal agencies such as the IRS, which already has household financial records, to share that information.
USMCA
One big item on the Senate's agenda in 2020 is the United States Mexico Canada Agreement or USMCA. The free trade deal, considered an update to the North American Free Trade Agreement, passed the House this month. Jones says he plans to vote for it.
"There were concerns I had on enforcement. There were concerns I had about labor and whether or not this was protecting the workers in the United States," Jones says. "I think the president deserves some credit this but I also think Democrats in the House deserve some credit for making it better."
WBHM reached out to Republican Sen. Richard Shelby to hear his thoughts on current happenings in Congress, but his office has not responded.