Birmingham Looks at Limiting Dollar Stores, Easing Restrictions on Other Food Vendors as Way to Battle Food Deserts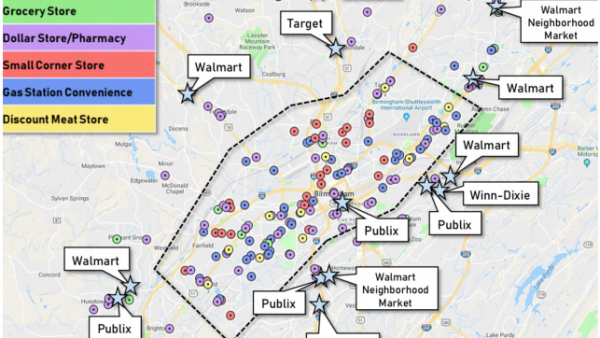 By Sam Prickett
A new ordinance proposed by Birmingham Mayor Randall Woodfin looks to combat the city's food deserts by loosening regulations on mobile grocers and farmers markets, while simultaneously limiting the spread of dollar stores in low-income neighborhoods.
The proposed ordinance would establish a "healthy food overlay district" over areas of Birmingham defined by the U.S. Department of Agriculture as "low-access census tracts," which are areas where "a significant number (at least 500 people) or share (at least 33%) of the population is greater than half a mile from the nearest supermarket, supercenter, or large grocery store."
According to that data, 69% of Birmingham residents live in a food desert — a figure often cited by members of the Woodfin administration as motivating the new healthy food ordinance. A report released by Woodfin in March claims that at least a part of all nine City Council districts exists in a food desert.
Farmers Markets and Mobile Grocers
The proposed overlay district would bring with it a new set of rules for farmers markets and mobile grocers, including increasing the number of days farmers markets could be open per year from 78 to 156 and loosening restrictions on mobile grocery stores — motorized vehicles or trailers from which food items are sold. It also would allow for community gardens within the overlay district to sell produce on-site.
The ordinance also would allow grocery stores to be larger and have less parking, in areas that have strict zoning requirements.
But the ordinance's biggest step is the limits it places on dollar stores — or, as it defines them, "small box discount stores (that provide) assorted, inexpensive items that are continuously offered at a discounted price … (including) processed food and drink items, personal hygiene products, office supplies and decorations." It's a definition that largely applies to chain stores such as Family Dollar and Dollar General; the ordinance explicitly does not apply to corner convenience stores.
Under the healthy food ordinance, new dollar stores cannot be opened within one mile of existing dollar stores "to avoid over-concentration." Woodfin told councilors in February that this was because dollar stores "prey on poor people in our city."
"We have to protect our people," he said. "We're going to have to stop some of this stuff from happening, where some folks are choosing (dollar stores) because of the overwhelming access to (them), which doesn't necessarily help them."
Dollar stores that already exist within one mile of other dollar stores would be allowed to continue operation under the ordinance.
Josh Carpenter, Woodfin's director of innovation and economic opportunity, said that dollar stores "divert the customer base away from regular grocery stores or supermarkets or full-service grocery stores … . Lots of research has demonstrated that dollar stores actually contribute to a loss of grocery stores over time."
Five grocery stores closed in Jefferson County between 2005 and 2015.
Nationally, dollar stores are on the rise. There are now more dollar stores in America than Walmart and McDonald's locations combined, according to a 2018 report from the Institute for Local Self-Reliance. That report argues that dollar stores have a "strategy of saturating communities with multiple outlets," which makes it "impossible for new grocers and other local business to take root and grow." The report also points to a law passed in Tulsa, Oklahoma, in April 2018 that creates a healthy food overlay district and places the same limits on new dollar stores that Birmingham's proposed ordinance does.
Those limits on dollar stores might make for greater bargaining power in attracting new grocers to the area, Carpenter said. "We decided that curbing the growth of dollar stores might actually help us when we go out and recruit a full-service grocery store by saying, 'Hey, you won't have to worry about another dollar store coming in and eating into your customer base," he said.
According to Woodfin's March report, three separate grocery stores have declined invitations to expand into the city's food deserts.
"Dollar stores weren't explicitly part of the reasons among the grocery stores who haven't agreed to come here yet, but when we mentioned (limiting dollar stores) as a possibility, grocers said, 'That's a good thing, that's a creative thing,'" Carpenter said.
Carpenter said that the ordinance addresses a public health issue in the same way a ban on smoking in public businesses would. "The city's entrusted to develop ordinances that ensure the public good," he said. "If we determine the public good is that dollar stores could prohibit future healthy food options in a community, it's in our best interest … to help advance the causes of growing healthy food in our community."
When asked to respond to the proposal — and Woodfin's characterization of dollar stores as predatory — a spokesperson for Dollar Tree and Family Dollar provided this statement: "Our stores provide an affordable and convenient fill-in shopping option for our customers in between their weekly or bi-weekly grocery store trips, all while creating more jobs and investing in the communities we serve." A spokesperson for Dollar General did not respond to requests for comment.
The council is expected to vote next week to set a public hearing to discuss the ordinance.