Marti Buckley: From Birmingham to Basque Country
When Marti Buckley was a student at LSU, she wanted to study abroad in Madrid. Instead, they placed her in San Sebastian – Spain's Basque Country. She fell in love with the oceans, the mountains and the food. She moved back to Birmingham, her hometown, in 2006 and gave birth to her daughter two years later. WBHM's Janae Pierre spoke with Buckley who shares how she landed in Basque Country after working for Southern Living Magazine and cooking under one of the south's most revered chefs.
Interview highlights
On job opportunities post graduation:
I wasn't going back to Southern Living but I wanted to do something else that interest me. So I thought I would go and see what a professional kitchen was like. Because at that time I really loved cooking. And so my friend got me a start at Frank's restaurant Bottega and I went there for one night supposedly and ended up staying for two years.
Responding to culture shock in Spain:
Well I mean it's culture shock but it has to be culture shock in the best possible way because it's a really nice easy way of life and then it's just this world of discovery. Who doesn't love to discover new foods and new drinks and new landscapes? And so it was culture shock and the people are very different. The people from the north of Spain couldn't be more different than the people from Alabama. You earned your place in their culture but that has its positive side as well.
Writing her first cookbook:
Well the food in Basque Country is amazing and it's amazing for several different reasons. The most famous export from Basque Country is the pintxos which is kind of like the tapas but a little more elaborate. That's kind of what everybody knows. But what I've done in the cookbook which is called Basque Country is just tried to explain the true food ways and the true food traditions of the people. So you'll also see dishes from the countryside and dishes from the fishermen and it has pintxos; but it's also a lot more of an attempt to really show the broad array of recipes in the seven provinces of Basque country.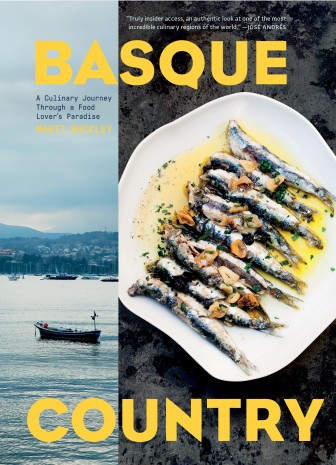 What makes Basque people so special?
Everything with Basque people is like a Pandora's box and it's like that because they have anywhere from three thousand two hundred thousand years of history. And the fact that such a unique culture and a unique language that didn't get written until the 15 hundreds is still around today and is still celebrated by those people is pretty amazing. And what is interesting for me in this book is their food culture. It's just as rich as the French food culture and it's just as rich as Tuscany or the Italian food culture which are more known to Americans. But this is sort of like this undiscovered richness of food and of culture and language. I mean it's special.
Her little obsession with Vermouth.
Buckley: Yes, everybody you should all be drinking Vermouth. It was this discovery when I first moved there, I would see these old women drinking this red drink. One day I was just like what are they drinking? So, I asked and the bartender said vermouth and I said well make me one. And then I think I'd drink vermouth everyday for like a year. So good. They drink red sweet Vermouth straight up on ice. And I just fell in love with it. And so it just happened to coincide with this resurgence of Vermouth in Spain. Now there's over 100 new artisan producers and so there's always something to discover. My friend and I wanted to sort of spice up Sundays in San Sebastian and we just threw a party and we said well let's give it a name. So we gave it a name and people came from as far away as Barcelona. We've also done them in D.C. and in Portland. So we're just trying to spread the Vermouth love around the world.