A Flu Shot, a Letter and an Unexpected Response
Every fall, doctors beg the public to get a flu shot. It might not be a big deal to an adult, but for a kid, that needle can be intimidating.
That was the case for Norah Murphy. Two years ago she was a third grader in Homewood and she did not want to get a flu shot.
"I had never had a flu shot before, so I was pretty nervous," Norah says.
That's because she had only had the flu mist, which can be taken through the nose. But that year, the Centers for Disease Control and Prevention recommended against the flu mist because it was not very effective. Norah would have to receive the dreaded flu shot.
So she wrote a letter.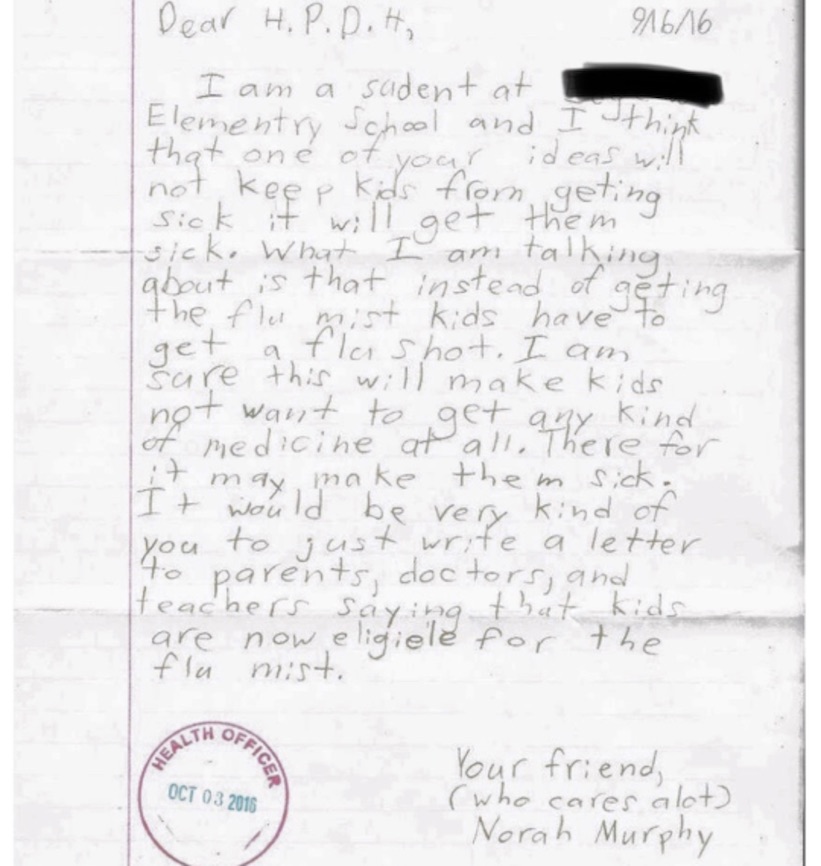 Norah wasn't sure about sending it. She was just eight years old. But after encouragement from her mom, they dropped it in the mail.
It landed on the desk of Dr. Mark Wilson. He's the health officer for Jefferson County and the head of the county Department of Health.
Wilson says he's never received a letter like this before. He was impressed, not only because of Norah's age, but because she signed it "your friend, who cares a lot."
"She wasn't just thinking about herself," Wilson says. "I think she was also thinking about other kids and whether she could make a difference."
And Wilson concedes, she had a good argument.
"If you can give the same thing in a mist form, a little squirt up the nose, then why would you give a shot to children and inflict pain on them?"  Wilson says. "It's a perfectly logical question."
Wilson says he always tries to answer personal letters. He especially wanted to answer this one.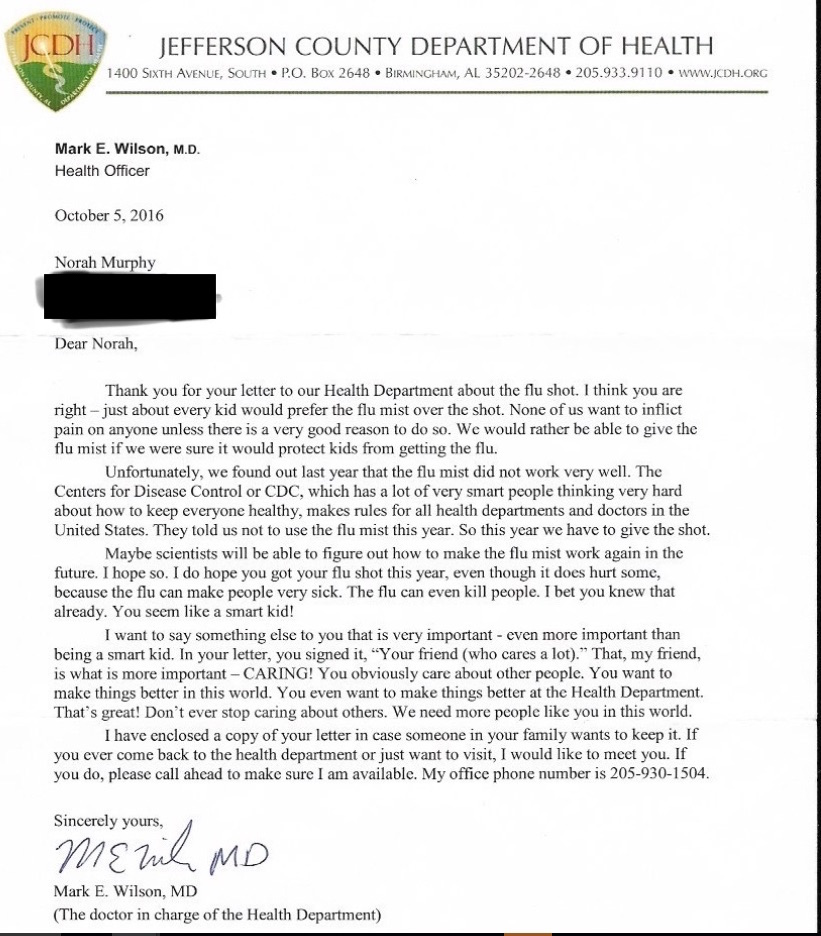 Norah says she was not sure what to think when Wilson's letter arrived.
"I didn't think I would ever get a response, but as soon as I read it, I was pretty excited, just that what I had written mattered in a way," Norah says.
Wilson says so often health departments quote statistics or issue dire warnings. It's important to remember people are affected on a personal level.
Norah says somehow the letter made vaccines seem less scary. When she did get the shot she was not as nervous.
Norah says she has not written any other public officials. Not yet, at least.
Extra note: The CDC changed its recommendation this year and says a new flu mist is an option. But the flu shot is still recommended as the first choice.