Moore or Strange? For Some GOP Voters It's the 'Lesser of Two Evils'
Alabama Republican voters will go to the polls on Tuesday to determine their party's candidate in a special Senate election. The choices in the runoff? Appointed Sen. Luther Strange, and the controversial former Alabama Supreme Court Judge Roy Moore.
Moore's campaign rented out a 400-seat auditorium for an event earlier this week in Heflin. But when only a few dozen people showed, they moved everyone to a small room. It started off like a Sunday at church: a prayer, a fiery sermon from an Indiana pastor, and a few hymns.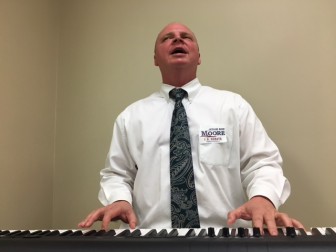 Moore is best known for being suspended from office as the Alabama Chief Justice of the Supreme Court — twice: once for refusing to remove a monument of the Ten Commandments in the courthouse, and another time for refusing to comply with the Supreme Court's ruling on same-sex marriage. But Moore remains defiant.
"I'm gonna tell you, make it real clear for everybody listening, I do not hate homosexuals. I do not hate people because of what they believe. But I hate sin," he said at his event at the Heflin Recreational Center.
Larry Sims, who teaches political science at a community college, said he supports Moore and doesn't agree with President Trump's endorsement of Sen. Strange. He called Strange a puppet of Washington insiders. "We're not puppets on anybody's string, and that includes Donald Trump."
A few miles west off I-20 in Oxford that same night, a group of older men was playing softball. Diana Cain was in the bleachers and said she'll probably vote for Strange; he's most aligned with Trump, she said. But as the daughter of a Mexican immigrant father, she's conflicted. And she disagrees with the need for a border wall, which Strange has embraced. 
Sitting a few feet away was Mary Robertson. She held her 21st grandchild as she watched her husband pitch the ball. She's still undecided about who to vote for on Tuesday, but she said Trump's endorsement has no bearing on her choice. She voted for Trump, but she said she doesn't like the way he treats women. "My husband treats me like a lady every single day. And he does think I'm precious," she said, "and that's the way men should take care of women."
Does she have good options in Moore and Strange? Robertson laughed. "We ain't had a good option in years." Just like last November, she said this Tuesday it's going to be a vote for the lesser of two evils.