Remembering April 27: Cordova Recovery Means Unease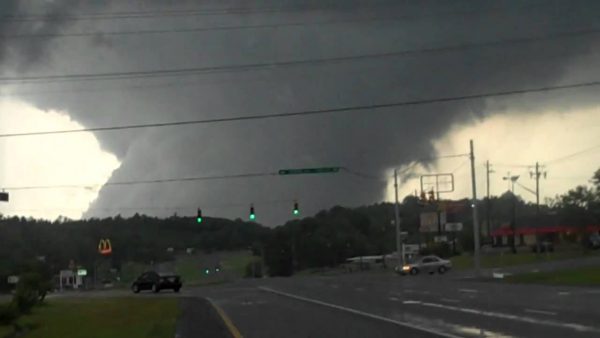 This week marks the fifth anniversary of a massive tornado outbreak that killed more than 250 people across Alabama. Since those storms on April 27, 2011, communities have been slowly rebuilding. Two tornados tore through the town of Cordova, northwest of Birmingham. Five years later, some residents feel uneasy about the change.
A Storm that "Took the Past Away"
Jennifer Cohron's office is filled with tons of Cordova memorabilia: framed patches from police uniforms, bricks from old town buildings, and of course, pictures of the tornado. She pulls out a picture of a funnel cloud bearing down on the town.
"That's it," Cohron says. "That's the moment when it's hitting Cordova."
Cohron is the news editor at the Daily Mountain Eagle and a lifelong Cordova resident. Before the tornados, she says, her town's story is like a lot of small, industrial towns. The paper mill closed, mining stopped, and about 50 years ago, Cordova entered a slow decline. Then the storms hit.
"It literally took the past away," Cohron explains. "These buildings, these stories, they were gone. So Cordova had to decide what was next."
Part of that was grieving. Then after about six months, Cohron says, people started to get frustrated and angry. Why was recovery taking so long?
"When you're living it everyday and it's just another day that you don't have a grocery store. Personally, I remember feeling a change, that things just weren't going to be as easy as we were hoping they were going to be," Cohron says.
Federal bureaucracy slowed down recovery, but town leaders also found themselves contending with residents' expectations.
Rebuilding Something Different
Cordova Mayor Drew Gilbert is young, just 25 when elected a year after the tornados. Gilbert and the city council had to figure out how they would bring back their decimated town.
They did the things you'd expect. They rebuilt city hall and the police station. They realigned Main Street to better route traffic past future businesses. But they made other changes. They added a blue tie to the police uniforms and invented a town seal. The small stuff seemed to really rile up some people Gilbert says.
"And that's really where you get the most resistance is changing the little things. 'Well, we have always done it this way,'" Gilbert says.
Even a grocery store parking lot became a source of friction. When the grocery store was rebuilt after three years, they did it without a big, suburban-style parking lot in front. Instead, the store, with its red, Spanish tile roof, is right up against the street.
Gilbert defends the style.
"I will boldly say the nicest Piggly Wiggly in Alabama, maybe in the world," he half-jokes.
Eugene Jones is 79 and has lived in Cordova since he was a kid. As he loads his car with groceries, he says the three years without the store were tough, but he sees progress in the town.
"It's beginning to get back to the original or maybe exceed that," says Jones.
Mayor Drew Gilbert has his vision of Cordova, as a small bedroom community to a growing Birmingham – with walkable streets and parks that are more than just baseball fields. That may not square with residents who prefer a Cordova closer to the one that was destroyed.
Coming to Terms with Change
Jennifer Cohron with the Daily Mountain Eagle says Cordovans have a hard time with change — even she did despite being about Gilbert's age. It took her awhile to accept that Cordova was going to be a different town after the tornado.
"I have bought into the vision little by little, because it's the Cordova that I want for myself and that I want for my son," Cohron says. "I have thought a lot about that right after the tornado. What would Cordova be for him? It's not going to be the Cordova of my childhood and that's ok. But it has the potential to be more."
However the town evolves, the next five years will be different for Cordova. The disaster relief money is gone so it'll be harder to get projects off the ground. But with much of Main Street empty, there's still plenty of space for the future to be determined.