Colonial Pipeline's Shocking Safety History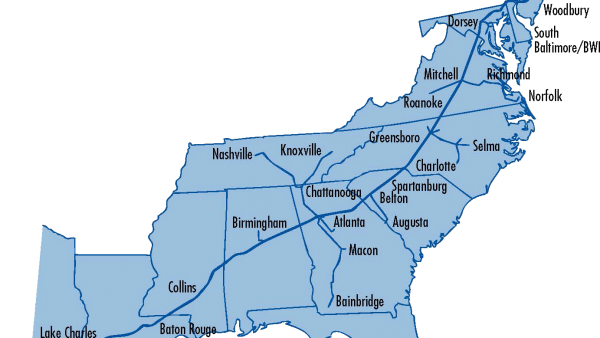 Sandwiched between a low roaring creek and a busy railroad line is the Depot Deli and Grill, a popular lunch spot in Helena, AL. Owner Matt Bishop takes orders for Philly cheese steaks and award-winning burgers.
Not far from here, a major gas pipeline is buried in the ground. It's part of the 5,500-mile system owned by Georgia-based Colonial Pipeline. The line put Colonial in the national spotlight recently when a leak spilled about 300,000 gallons of gas not far from Bishop's Depot Deli. The cause of the leak is still unknown.
Bishop, who also lives in the area, doesn't seem to mind a gas pipeline running literally through his backyard.
"It actually comes through my neighborhood," he says. "I mean it's within 200 yards of my home. I understand it's just part of business. It's what we have to do to keep America doing what it's doing."
Depot customer Leslie Weidler shares this sentiment. She says she had no idea a gas pipeline was even in Helena, but, "Stuff happens," she says. "I mean I guess they have to be somewhere. I mean it's gotta run somewhere. You're probably more likely to be killed in a car accident than you are, you know what I mean?"
Colonial Pipeline has a shocking history of what federal regulators call "significant incidents." Its track record for safety is far worse than some other pipeline companies in the South. Colonial is currently under federal investigation following the gas leak and subsequent explosion that killed two people near Helena.
The Pipeline and Hazardous Material Safety Administration, or PHMSA, regulates gas pipelines. The agency, along with other federal groups, is handling the investigation. And this isn't the first time Colonial has come under federal scrutiny.
In the 1990s, Colonial spilled millions of gallons of gasoline in several southeastern states. The company was charged with violating the federal Clean Water Act. Colonial pled guilty and paid a $34 million dollar fine, at the time the largest civil penalty in U.S. history. The government also forced Colonial to make more than $30 million in environmental upgrades.
The company declined to be interviewed for this story, but said in an email, "Corrective actions taken are always based on a thorough review and evaluation of the event itself, with lessons learned to minimize the likelihood of similar events happening in the future."
Colonial says it has improved. However, according to PHMSA, the company has logged 185 "significant incidents" in the last decade for more than $100 million in property damage. By comparison, companies similar in size have logged a few dozen incidents. Colonial says the majority of these incidents occurred at their facilities. And, they say, there's a difference between a leak inside the fence line and leak on the right-of-way, like the one near Helena.
The pipeline is old too, laid more than 50 years ago. Some experts say this isn't unusual, but it is a concern.
"Half of the U.S. crude oil pipelines are more than 50 years old," says Jim Anspach with the American Society of Civil Engineers. They're responsible for grading America's infrastructure, which includes gas pipelines.  The ASCE gave the energy sector a D+ grade on their 2013 report card , showing obvious room for improvement.
"Going forward we have better materials," Anspach says. "We have a better understanding of what causes pipes to fail. We have better regulations. So, a lot of that I think plays into why we can make it better going forward"
There's about $6 trillion dollars worth of pipelines planned in North America in the next 20 years and some of the current pipes are coming to the end of their shelf life, Anspach says. But federal regulators disagree, saying if a pipeline is adequately maintained and inspected, age is not an issue.