Food and Fellowship: A Holiday Special from WBHM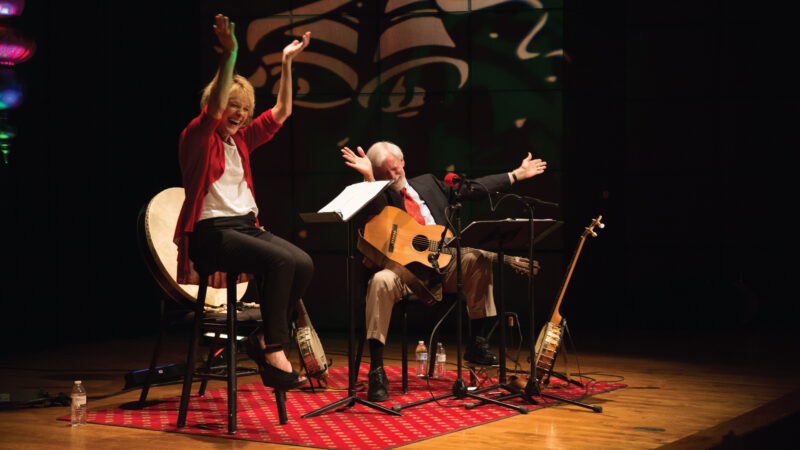 Public Radio WBHM 90.3 FM is pleased to announce "Food and Fellowship: A Holiday Special from WBHM" featuring Birmingham's own Dolores Hydock and Bobby Horton.
WBHM partnered with Hydock and Horton to create and produce this original holiday program recorded at UAB's Alys Stephens Performing Arts Center in front of a live audience. Its mix of storytelling and traditional holiday music is sure to become an instant classic!
Listeners will enjoy Hydock's vivacious storytelling style as she shares a lesson about what happens when you try to exchange a long held Christmas tradition for something new and shiny, as well as a tale of fellowship with characters young and old in the Christmas kitchen, and she reminds us of one of the most forgotten about characters of Christmas, St. Joseph.
Horton delights with his unique arrangements of historical carols including favorites like "God Rest Ye Merry Gentlemen" and "We Wish You a Merry Christmas," the early 15th century "Cherry Tree Carol," and more. You can't help but get caught up in the holiday spirit!
"It was a privilege to work with two of Birmingham's best known artists," said WBHM Program Director Michael Krall. "We couldn't be happier with the end result."
Here's a behind-the-scenes glimpse of the making of "Food and Fellowship!"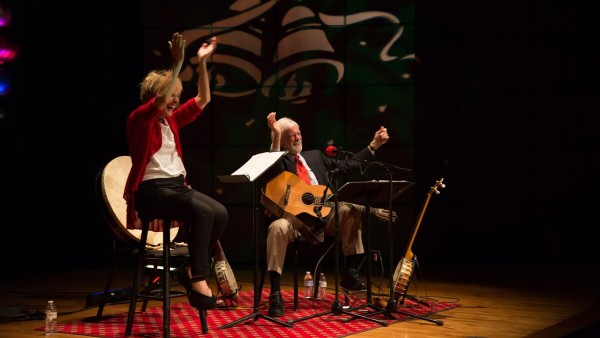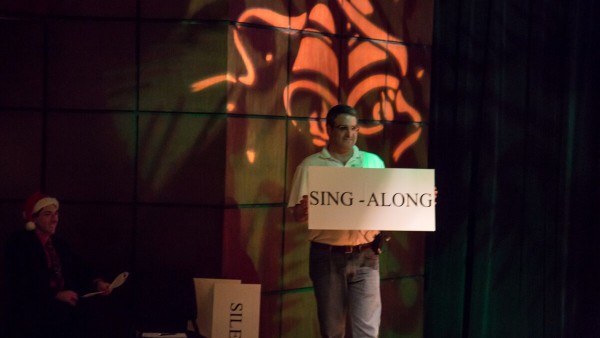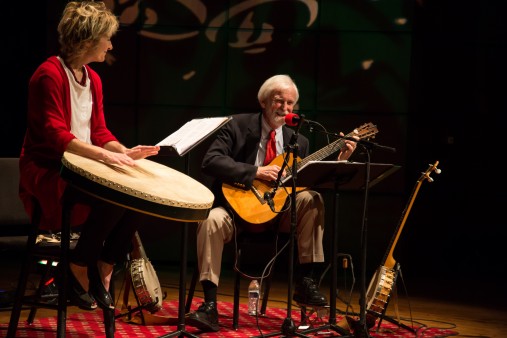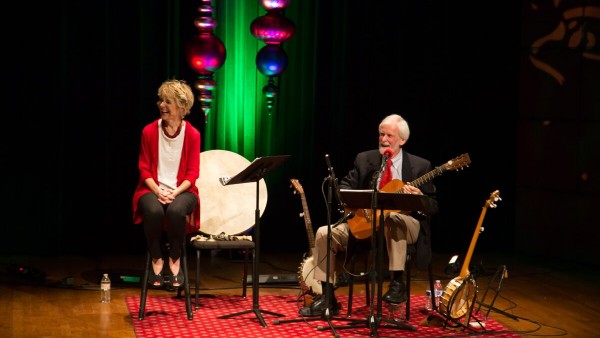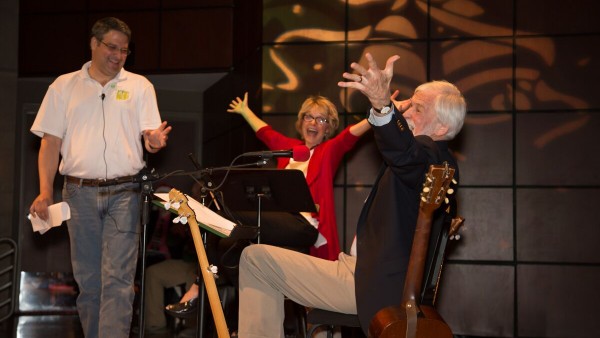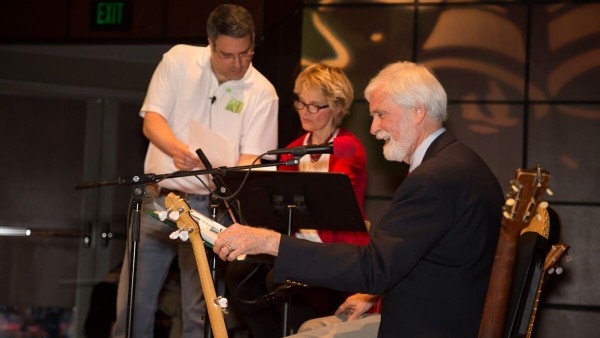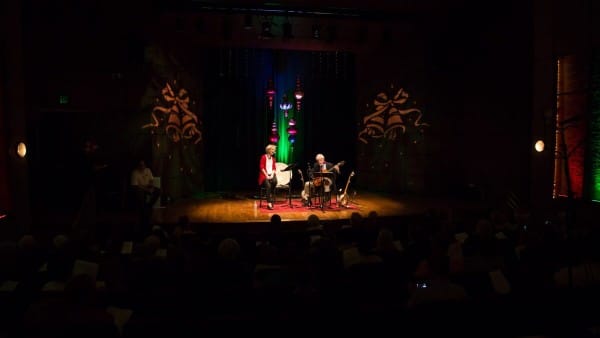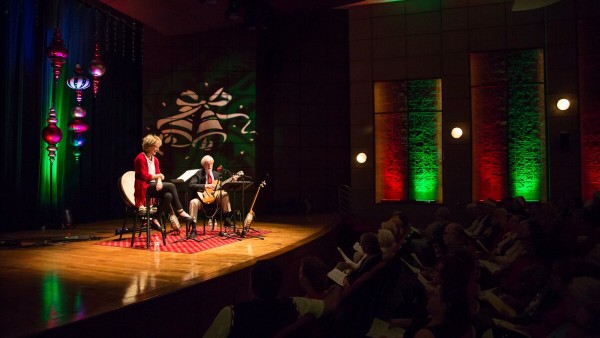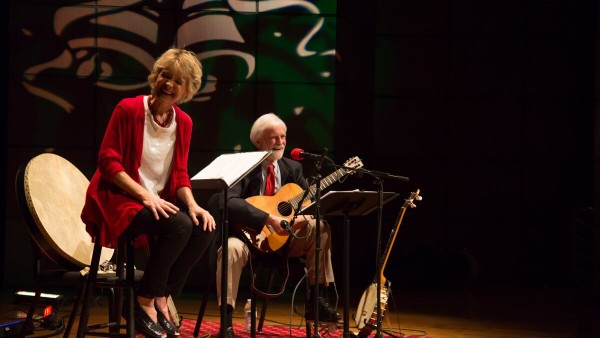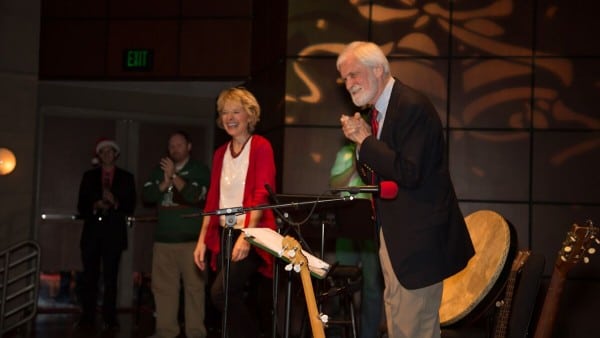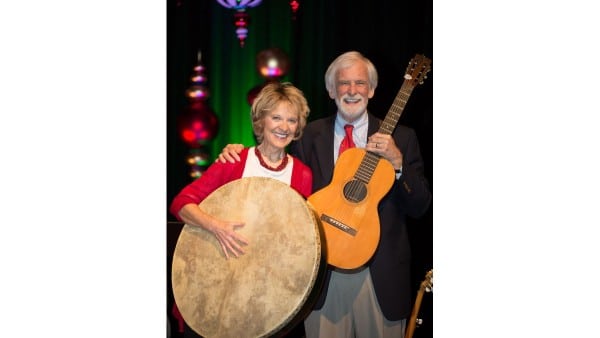 (Photo credit: Beau Gustafson)
About Dolores Hydock
Dolores Hydock is a storyteller from Birmingham, Alabama. She grew up in Reading, Pennsylvania, home of the Reading Railroad and Luden's Cough Drops, and got her start in storytelling at the age of five, when she won a blue ribbon in a local storytelling contest. The real gold lettering on the ribbon convinced her there must be a fortune in the performing arts. She continues to hope.
Dolores has been a featured teller at the National Storytelling Festival in Jonesborough and many other festivals, has served as Teller-in-Residence at the International Storytelling Center, and has won Resource Awards from Storytelling World Magazine for her ten CDs of original stories. Find out more about Dolores Hydock online at storypower.org.
About Bobby Horton
Bobby Horton was born and raised in Birmingham, Alabama. His lifelong passion for music and history began at an early age. With a trumpet playing father and a banjo-playing grandfather, he was exposed to a varied menu of music—from the sound of the big bands, jazz combos and classical to the old time sounds of Southern gospel, sacred harp, and "hillbilly" music.
A seasoned performer, Horton is a multi-instrumentalist, composer, producer, and music historian. He has performed with the musical/comedy trio Three On a String, throughout the United States and Canada for 40 plus years. He has also produced and performed music scores for sixteen PBS films by Ken Burns – including "The Civil War", and "Baseball," two films for The A&E network, and twenty-one films for The National Park Service. His series of recordings of authentic period music has been acclaimed by historical organization and publications through America and Europe. Find out more about Bobby Horton at bobbyhorton.com.