WBHM seeks an All Things Considered host/reporter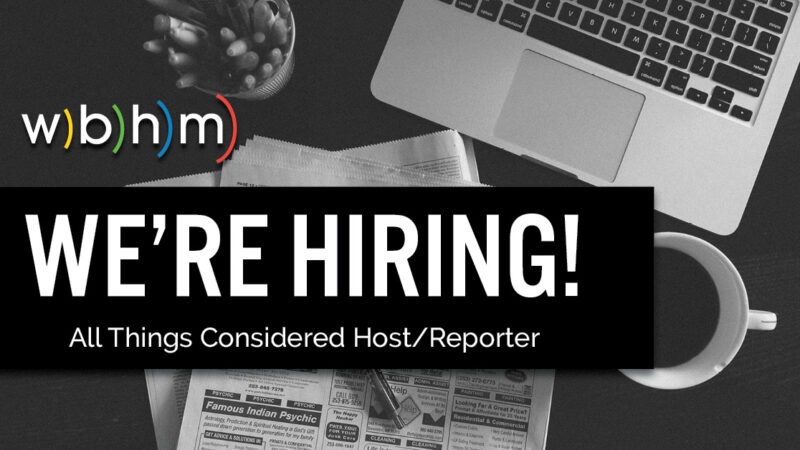 Come be the newest afternoon host at WBHM, an outlet named "Station of the Year" two years in a row by the Alabama Broadcasters Association with a newsroom that also won a national Murrow Award for Overall Excellence.
The afternoon host is the local voice in Birmingham during NPR's All Things Considered. You will write and deliver live newscasts in addition to other critical information, such as weather and underwriting announcements. When not on the air, you will report spot and feature stories, conduct interviews and write for our website. We're also interested to hear your ideas. What can you bring to the table to push WBHM's journalism forward?
WBHM is the lead station for the Gulf States Newsroom, a regional collaboration among stations in Alabama, Mississippi and Louisiana and NPR, which will allow your stories to be shared across the region. Our reporters are also regularly on NPR News and other national programs and podcasts.
Key Duties and Responsibilities
· Prepare and deliver local newscasts/make local announcements during NPR's All Things Considered
· Operate audio console
· Pitch and report feature, spot and digital stories
· Conduct interviews with local leaders, community members and newsmakers
· Participate in station fundraising
· Other duties as assigned
Qualifications
Bachelor's degree in Journalism, English, Media, Communications or a related field and four (4) years of related experience required. Work experience may substitute for education requirement. Minimum hiring rate must meet the most current FLSA guidelines for salary level and basis to remain exempt.
Preferred Experience, Knowledge, Skills and Abilities
· A proven track record of reporting or hosting in a journalistic setting
· Excellent communication and organizational skills and demonstrated writing ability
· Familiarity with audio storytelling, the public media system and community engagement
· Ability to work independently and as part of a team
· Deep knowledge of Birmingham, Alabama and the South
·      Multilingual candidates encouraged to apply
·      Valid driver's license
All applications must include a resume and cover letter to be considered. Include two links to stories you reported, examples of hosting or other audio samples. Candidates must include contact information for three professional references.
Annual Salary Range
$43,235 – $62,000
This is a full-time position based at WBHM in Birmingham, AL. The afternoon host/reporter is a University of Alabama at Birmingham employee enjoying all full-time staff benefits.
To ensure consideration, apply by Dec. 31.