Executive Director
WBHM 90.3 FM — NPR News for the Heart of Alabama — seeks an executive director to build on its positive momentum and lead the award-winning, University of Alabama at Birmingham (UAB)-licensed public radio station serving Birmingham, Ala., and the surrounding region.
About WBHM
WBHM 90.3 FM is a National Public Radio (NPR) member station and listener-supported service of UAB. The station's financial support comes from UAB, members, corporate underwriting and the Corporation for Public Broadcasting. WBHM has an annual budget of roughly $4 million and serves an estimated cume of 71,400 listeners a week across our Central Alabama coverage area.
Much more than a radio station, WBHM is an essential public resource that enlightens and enriches our audience and makes strong connections to our communities through journalism that is fair, credible, accurate and honest.
Free from commercial and political influence, WBHM seeks to make Birmingham and Alabama a better place to live by educating, engaging and entertaining the people of our metro area and our state. WBHM is dedicated to the idea that an informed citizenry is vital to democracy and a thriving economy, and it celebrates diversity, innovation and lifelong learning.
In 2021, WBHM won a highly coveted national Edward R. Murrow award for Overall Excellence in Small Market Radio.
In back-to-back years — 2021 and 2022 — the Alabama Broadcasters Association named WBHM Radio Station of the Yearat its annual ABBY Awards.


In addition to its talented and award-winning newsroom, WBHM serves as the coordinating station for the Gulf States Newsroom, a public media collaborative of WBHM in Alabama, WWNO and WRKF in Louisiana, Mississippi Public Broadcasting, and NPR to share resources and add reporting power in an underserved but story-rich region.
WBHM Executive Director (Salary Range: $100,000-$110,000)
General Summary: The executive director will lead a team in planning, implementing and directing all administrative, programming, community engagement, sponsorship and underwriting, technical operations, and fundraising activities of WBHM 90.3 FM and the Gulf States Newsroom. The executive director will also manage functions including budget, personnel, strategic planning, staffing, and assuring compliance with National Public Radio, Corporation for Public Broadcasting and Federal Communications Commission rules/regulations, as well as any other legal/contact/regulatory requirements. The executive director will represent the station and the university with a variety of internal and external constituencies.
Minimum Qualifications: Bachelor's degree in broadcasting, communications, journalism, business, marketing, advertising, public administration, nonprofit management, advancement/fundraising, or a related field and seven years of related experience required. Work experience may NOT substitute for education requirement.
Key Responsibilities:
Develops and oversees strategic planning for WBHM and its goals and objectives based on industry standards and to maximize the station's vital service to the community.
Oversees and supports the Gulf States Newsroom managing editor and operations.
Measures and analyzes the station's objectives and short- and long-term plans to meet the station's goals.
Provides vision, leadership and support for station's management team and positions WBHM staff for success in a positive work environment that effectively serves WBHM listeners.
Stays current on industry issues and participates in/represents the university in regional and national public broadcasting organizations.
Plans, manages and coordinates all WBHM operational activities, including budget development and financial oversight, internal and external audits, entering financial approvals in IRIS, and defining staff qualifications and performance expectations. Ensures compliance with legal/contract requirements, including CPB/NPR/PRI and APM, as well as Federal Communications Commission rules and regulations.
Cultivates members and maintains relationships with key constituents (e.g., WBHM Friends Board and WBHM Junior Board).
Serves as member of various committees/boards as needed.
Serves as the station's major gifts and planned giving officer in coordination with the UAB Office of Advancement.
Represents and builds/maintains positive relationships for WBHM and university throughout the community at large.
Integrates WBHM within the university while maintaining the independence of the newsroom (i.e., separate business and news functions).
Researches and pursues a variety of revenue streams.
Writes and administers variety of grants, including annual and special CPB grants, PTFP equipment replacement grants, etc.
Serves as the spokesperson for WBHM and as a public speaker at numerous civic organizations.
Performs other duties as assigned.
Critical Skills and Attributes:
Experienced, organized, results-oriented leader whose management style promotes a positive work environment and optimizes the time and talents of the WBHM team
Communication and interpersonal skills that inspire confidence among key internal and external constituents
Comfort with and abilities in fundraising, including strength in securing support from major donors to increase WBHM's philanthropic success
Sincere commitment to UAB's shared values, including integrity, respect, collaboration, excellence and achievement, stewardship, accountability, and meaningful diversity, equity, inclusion and accessibility in operations, programming, culture and beyond
Strategic focus and experience with leading successful strategic planning processes
Adept at solving problems and making difficult decisions with the ability to assess and prioritize
Can drive innovation with an ability to generate significant organizational and service improvements to keep WBHM current and relevant as media landscape evolves
Applicants are asked to also submit a resume and a letter of introduction including their vision for the future of public media and how they will be the ideal person to lead WBHM in achieving that vision, as well as contact information for a minimum of three professional references. These documents should be uploaded when you apply at: https://uab.taleo.net/careersection/ext/jobdetail.ftl?job=T194889&tz=GMT-06%3A00&tzname=

UAB is an Equal Opportunity/Affirmative Action employer committed to fostering a diverse, equitable and family-friendly environment in which all faculty and staff can excel and achieve work/life balance irrespective of race, national origin, age, genetic or family medical history, gender, faith, and gender identity and expression, as well as sexual orientation. UAB also encourages applications from individuals with disabilities and veterans.
WBHM Organizational Chart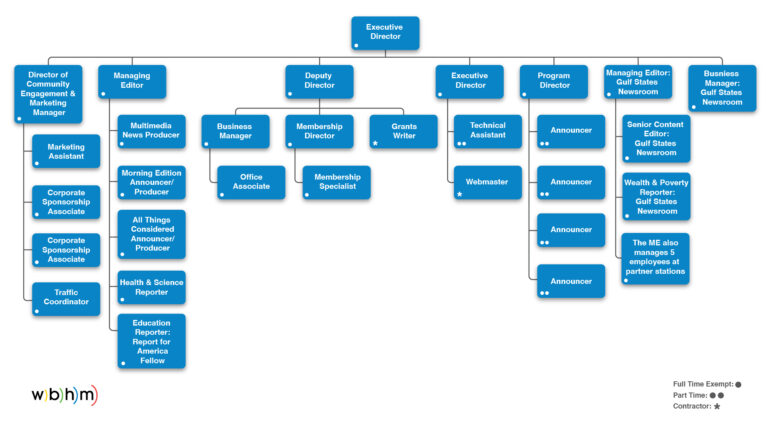 About the University of Alabama at Birmingham
UAB proudly holds WBHM's broadcasting license and supports its vital community service mission. In a little more than 50 years, UAB has transformed from its modest beginnings as an extension center into a world-renowned doctoral research university and academic medical center. Learn more at uab.edu, uab.edu/news, uabmedicine.org and uab.edu/didyouknow.
Rankings and Recognition for UAB Include:
No. 1 Best Large Employer in America (Forbes, 2021)
No. 4 Best Employer for Diversity in America (Forbes, 2021)
No. 1 Best Employer for Diversity among colleges and universities (Forbes, 2021)
16 UAB graduate programs ranked among the nation's top 25, including the nation's No. 1 Master's in Health Administration (U.S. News & World Report, 2022)
Diversity Champion (fourth year in a row) and Higher Education Excellence in Diversity Award (fifth year since 2016) (INSIGHT Into Diversity, 2021)
Top 10% of higher-education institutions worldwide for academic research and reputation (U.S. News & World Report Best Global Universities, 2022)
UAB's Mission and Values
Vision: One university inspiring and empowering the creation of knowledge that changes the world.
Mission: UAB serves students, patients, the community, and the global need for discovery, knowledge dissemination, education, creativity and the application of groundbreaking solutions. We are a leader among comprehensive public urban research universities with academic medical centers.
Shared Values:
Integrity: We act ethically and do what is right.
Respect:We treat others with courtesy and civility.
Diversity and inclusiveness: Everybody counts every day. We actively seek varied perspectives in our decision-making.
Collaboration: We trust each other and work cooperatively across disciplinary boundaries in the spirit of shared governance.
Excellence and achievement: We constantly innovate, solve problems, and improve ourselves and others through learning.
Stewardship: Fiscal and environmental sustainability guide our decisions.
Accountability: We are answerable to each other and act with the best interests of the university in mind.
Forging the Future: UAB's Strategic Plan
UAB's vision, mission and shared values provide the foundation for its strategic plan, Forging the Future. Visit www.uab.edu/didyouknow to explore the many ways in which UAB is actively living out its mission, vision and values every day. Forging the Future focuses on building collaborations across campus and with the community and key organizations, civic leaders, elected officials, and other stakeholders to advance each of UAB's mission pillars:
Academics: The university comprises 12 academic units (schools of Business, Dentistry, Education, Engineering, Graduate School, Health Professions, Medicine, Nursing, Optometry and Public Health; the Honors College; and the College of Arts and Sciences). UAB has had three consecutive years of overall enrollment exceeding 22,000, and in fall 2021 welcomed its largest-ever freshman class.
Research: UAB's robust research enterprise continues the most successful era of extramural research funding in its history, with a 43% increase over the past five record-setting fiscal years (awards totaled $648 million in FY21). Among public universities, UAB ranks 18th (top 4%) in federal R&D expenditures and 10th in NIH awards (top 3%, with all of its health-related schools — Medicine, Public Health, Health Professions, Optometry and Dentistry — in the top 10).
Health Sciences and Medical Center: As a nationally and globally competitive academic medical center, UAB provides world-class patient care for the state and region — with more than 1.8 million clinical visits and $71.5 million in charity care last year — and is committed to educating medical professionals and advancing medical science through research. The flagship UAB Hospital is the largest in Alabama and eighth-largest in the United States, with 1,207 beds.
Innovation and Economic Impact: Driven by an intensely collaborative and entrepreneurial character, UAB is the economic engine of the region, with a statewide economic impact exceeding $7.15 billion annually. UAB is Alabama's largest single employer, with more than 26,000 faculty and staff, and supports more than 64,000 jobs statewide — one of every 31 Alabama jobs. UAB's decades-long partnership with its community and state has led to the economic, cultural and social renaissance of Birmingham — the state's largest metro area, with a population of 1.1 million — as the city has grown from a primarily steel-based economy to a thriving nexus of R&D, medicine, banking, and other service industries.
Community Service: The Times Higher Education Impact Rankings 2020 highlighted the impact of UAB on society to build healthier communities, ranking first in the United States and seventh in the world for achieving good health and well-being community outreach. UAB's Grand Challenge, Live HealthSmart Alabama, aims to improve the health outcomes in Alabama by 2030 by addressing changes in policies, neighborhoods, schools and workplaces. The employee-led Benevolent Fund works with more than 140 local nonprofits. UAB employees and students built six Habitat houses, volunteering 15,800 hours. Blazer Pulse, a community service application, has logged more than 60,000 hours of service with 90 community partners.

ABOUT BIRMINGHAM
Located in the heart of the Southeast, Birmingham is a short drive from Atlanta, Nashville, New Orleans, Memphis, the Blue Ridge Mountains and Gulf Coast beaches. Downtown Birmingham has enjoyed a revitalization in recent years, with the development of Railroad Park — an award-winning urban park — and its adjacent Regions Field, home to the minor league Birmingham Barons — an award-winning stadium. The park and stadium projects have kickstarted major growth in surrounding districts, including craft breweries, boutique shops, restaurants, loft and apartment buildings, innovative workspaces, and hotels.
Birmingham is also a renowned culinary destination, with one of its signature restaurants recently winning two James Beard Foundation awards and many other restaurants named as finalists. Food critics across the country have discovered Birmingham's food scene and consistently rank it as one of the best food cities in America.
There are a host of attractions only a short walk from UAB's campus, the Birmingham Civil Rights District National Monument, composed of sites such as Sixteenth Street Baptist Church, Kelly Ingram Park and the Civil Rights Institute — a major destination for visitors from around the world. Birmingham's cultural scene is thriving, with museums, galleries, music and arts festivals, theaters and live music venues, a professional ballet company, a professional opera company, a School of Fine Arts, the Jazz Hall of Fame, and the recently restored historic Lyric and Alabama theaters, and UAB's Alys Stephens Performing Arts Center is the home of the Alabama Symphony Orchestra.
Birmingham is in proximity to many state and national parks, lakes, urban green spaces, and hiking and biking trails. The city has more green space per capita than any other major city in the United States. Explore Birmingham online at birminghamal.org.
Rankings and Recognition for Birmingham Include:
Among 22 Best Places to Go in 2022 (Condé Nast Traveler, 2022)
No. 3 in Economic Growth Potential (Business Facilities, 2019)
No. 3 for New Business Climate (Business Facilities, 2019)
No. 4 Best Cities for Job Seekers (Thrillist, 2019)
No. 8 Most Affordable City to Live and Work (Business Student, 2019)
Top 10 Up-and-coming Foodie City (Trip Advisor, 2018)
No. 1 U.S. City Where Your Paycheck Goes the Furthest (Trulia, 2018)
No. 2 Up-and-coming Tech Hotspots (Livability, 2018)
No. 7 City with the Fastest-growing Income (Smart Asset, 2017)