UAB Health System CEO: 'It really was that bleak.'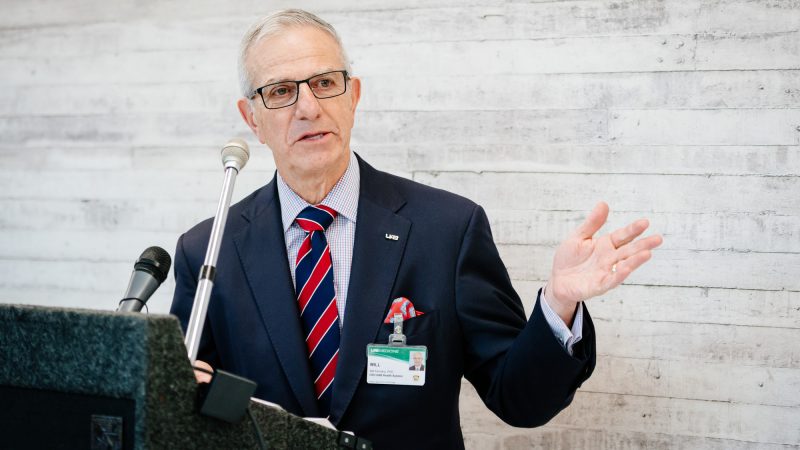 UAB Health System CEO Will Ferniany didn't fully grasp what the coronavirus pandemic would mean when the first cases appeared.
"I was thinking it was going to be more like Ebola or SARS," Ferniany said. "We were prepared for something, but not nearly to the extent this was. I don't think anybody was prepared to the extent this was."
Within weeks, hospitals became overwhelmed overseas, cases spread across the United States and Ferniany was faced with arguably the biggest test of his more than 45-year health care career. That career will soon come to an end.
Ferniany announced recently he would retire as CEO at the end of 2021. The University of Alabama at Birmingham School of Medicine Dean Dr. Selwyn Vickers will succeed Ferniany and continue to lead the school.
Pandemic Pressures
UAB Hospital saw its first burst of COVID-19 patients in March 2020. The list of unknowns grew quickly. Could the health system find enough supplies and protective equipment? Would staff burn out? How would they handle remote work?
After the state went under a lockdown and UAB canceled or postponed nonessential procedures, officials estimated the health system would lose $70 million a month.
"It really was that bleak," Ferniany said.
He praised Jefferson County Health Officer Dr. Mark Wilson, Birmingham city leaders and Gov. Kay Ivey for putting face mask orders in place, a move he said saved lives. He also complimented the doctors and nurses, suppliers, university officials and others for their performance during the pandemic.
The health system is on solid financial footing now, according to Ferniany. Staff burnout is still an issue, but the pandemic will have more lasting effects. He estimated from now on, up to 1,500 employees will primarily work from home. Telemedicine went from having virtually no presence to spiking during the pandemic. It now represents about 30% of outpatient visits.
"We'll never be the same organization and in many ways we'll be a better organization," Ferniany said
The Work from the Corner Office
In one way, Ferniany's already experienced turmoil at UAB starting as CEO in 2008 when the Great Recession caused economic hardship and many patients to lose health insurance. In the beginning, Ferniany focused on shepherding a strategic plan that would lead the health system and the medical school to work more closely together. Before that, the various health-related operations at UAB acted as islands.
"The more aligned we are, the better we will be," Ferniany said.
The health system grew from five to 11 hospitals during his tenure. UAB also now manages four more rural hospitals.
One common criticism of health care in general, which Ferniany agreed with, is the ever-increasing costs. He called it "unsustainable" and said there's little a hospital administrator can do to cut costs. He said Congress needs to address the issue and do so in the next five to seven years.
"I worry that we have such a dysfunctional federal government that they will not act," Ferniany said.
He likened the situation to one in which it's better to tear down and rebuild a house instead of remodeling. But he fears a lack of political consensus about health care in the U.S. will result in price controls.
"Price control never works," Ferniany said.
He did not support a single-payer system, but something in that direction.
Pickles on the Side
An overlooked fact about Ferniany is that he and his wife invented Wickles Pickles, which can be found in grocery stores across the country. They took a recipe from a friend of his wife's siblings and combined it with one from her great aunt. They gave away the pickles as hostess gifts and the items proved popular. While working at the University of Pennsylvania, a friend suggested they commercialize them.
The "Wickedly Delicious Pickle" was born.
But Ferniany's wife did not want to become "the pickle lady" and Ferniany liked his work in health care. So they turned over the business to her cousins to mass produce the food.
"The rest is history," Ferniany said.
UAB holds WBHM's broadcast license.