The Tornado Outbreak Of April 27, 2011: Are We Better Prepared Now?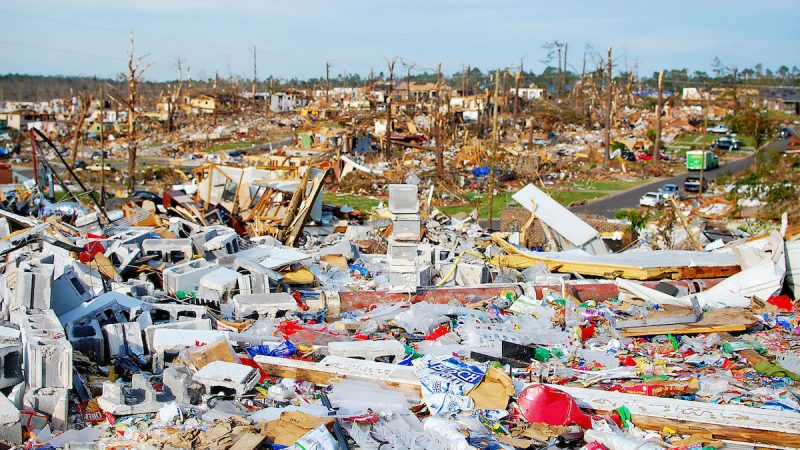 It's been roughly a decade since April 27, 2011, a day that marked U.S. weather history. The South saw hundreds of tornadoes, 62 of which were in Alabama. Some of the tornadoes tracked more than 80 miles long, bringing wind speeds up to 210 mph in some areas. The storm killed about 250 people in Alabama alone.
On this 10-year anniversary, we're asking the question: Are we better prepared now for a tornado outbreak than we were a decade ago?
Since 2011, Alabama has recorded 44 deaths from 491 tornadoes. Over that period, Alabama has had almost six times fewer deaths than in 2011, alone. So what has changed?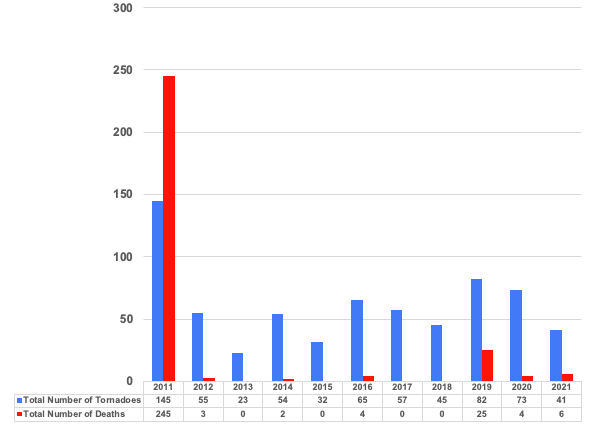 The Strength And Frequency Of Storms Have Decreased
Alabama has had fewer tornadoes.
In 2011, a total of 145 tornadoes hit the state – a little under half of those were on April 27. Since then, Alabama has seen an average of 55 tornadoes a year. It was 2019 when the state recorded 82 tornadoes – the most since 2011. That storm struck Lee County killing 23 people, the most since 2011.
In the last 10 years, tornadoes have also been weaker, according to the National Weather Service.
Alabama has recorded no EF-5 tornadoes and only one EF-4 tornado since 2011. Instead, most tornadoes that have hit Alabama have been categorized as an EF-0 or EF-1 by the National Weather Service.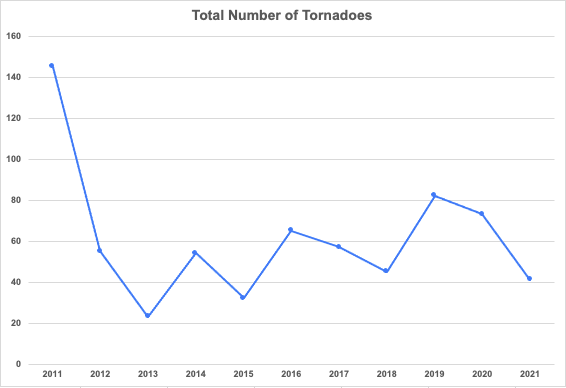 Meteorologist Have Updated Storm Warning Methods
Since 2011, weather experts have started pushing the idea of not relying on outdoor warning sirens.
"The number one reason why people died [on April 27] was the siren mentality," James Spann, a meteorologist at tv station ABC 33/40 in Birmingham told WBHM. "The notion that you should hear some air raid siren – WWII technology – before a tornado … that killed more people than anything else that day."
Spann said a lot of people never heard an outdoor warning siren on April 27, 2011.
"I just want to take them down and burn them," Spann said. "But they do serve a purpose. They reach a limited number of people outdoors, but we have to get people away from this siren dependency, this siren mentality. 
A reminder not to rely on tornado sirens to alert you, especially if you are inside a building. Make sure you have at least 2 other ways to receive warning information! pic.twitter.com/Jg5ndzaRTy

— NWS Birmingham (@NWSBirmingham) February 5, 2020
Also, meteorologists have also focused on lowering their "false alarm ratio," Spann said.
"The false alarms were way too high in 2011. We know that now. People would tell us 'I hear warnings all the time and nothing ever happens,'" Spann said.
More than 80% of tornado warnings in 2011 were false alarms, according to Spann. Now the false alarm ratio is closer to 30%.
"Reducing that false alarm ratio has been absolutely critical. Tornado warnings now really do mean something – much more than they did 10 years ago," Spann said.
Following the 2011 storms, the National Weather Service in Birmingham increased its presence on social media, according to Jim Stefkovich, the former head meteorologist at the NWS. 
He said the NWS continues to update how it communicates severe weather. In recent years the weather service launched the "Be The Hero" initiative.
"We're saying call your loved ones, call your friends because they might not know about the warning," he said. "I think it's a total community effort. It's everyone in Alabama helping each other out to let folks know that severe weather is coming, and I think that's making a huge difference in protecting lives and property."
In 2012, the state launched the "Alabama SAF-T-Net" app for Alabama residents, which sends a notification when severe weather is nearby or warnings and watches are issued. 
"There are a lot of free apps that are out there," Stefkovich said, which help get the word out to more people.
Better Storm Tracking
Weather experts have worked for decades to improve storm tracking. New radar technology has improved rainfall estimates and warning times, and research on storm technology has not stopped. Each spring, the National Severe Storms Laboratory meets with the NOAA Hazardous Weather Testbed for several weeks to evaluate new forecasting tools to determine if they would help with forecasting.
Editor's Note: This story has been updated to change "aerate" to "air raid."