Jefferson County Nears Deal For New Humane Society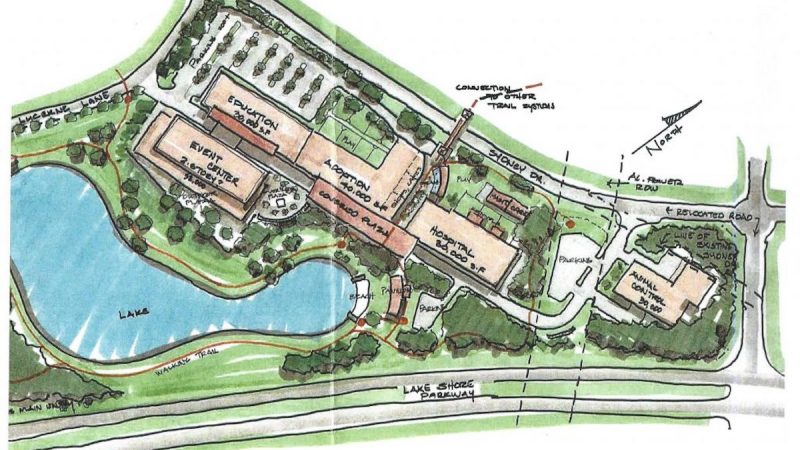 Commissioner Joe Knight said Jefferson County is "getting close" to making a deal to provide for a new home for the Greater Birmingham Humane Society.
During their committee meeting Tuesday, commissioners moved to their Thursday meeting agenda in Bessemer a memorandum of understanding with the Humane Society and U.S. Steel to purchase property along Lakeshore Parkway at Sydney Drive.
The plan is for Jefferson County to purchase lots one and two of the property, which would remain under county ownership. GBHS would purchase lot three and build an animal hospital and adoption control facility there.
"By law, we're required to have [a] 'pound' — another name for that is intake facility or kennels — where you house the animals when you bring them in. We've always been very adamant that we're going to own this because we were in a shared agreement once before with one of the cities here and it got real cloudy as to when this agreement ended who had what responsibility?" Knight said. "We were very clear that we wanted this to be owned by Jefferson County. We'll enter into another agreement and lease that facility to the Humane Society because we've got this contract where they're doing the animal control, where they pick up animals."
The plan had to be tweaked slightly as the humane society needed a bit more space for its project. The line was redrawn and the property is being resurveyed.
"But we're 100% going forward with this, and it's going to be a great location," Knight said. "It's going to be, I think, a beautiful operation once it gets going."
The commissioner added that the Lakeshore location will be convenient for the humane society even if it were delayed in building its new home because its current location on Snow Drive in Birmingham is not far away.
"It wouldn't be like they're having to go all the way over here from Homewood to Woodlawn, where we have the animals now," Knight said.
Tuesday's committee meeting also included a visit from D. Scott Adams, executive vice president of corporate responsibility, strategy and innovation for Protective Life Corp. He and Rashada LeRoy, president and CEO of LRY Media Group, told commissioners of discussions that are underway with residents near Protective Stadium, which is under construction and set to open this fall.
"We're planning to engage in some community listening, some roundtable discussions just to hear what is on the residents' minds," he said, "both what they are excited about — and we hope they're excited about lots of things — but also what concerns they may have and how we might be able to address those concerns."
Commissioner Lashunda Scales said she's got to "wrap my mind around what the community engagement looks like."
"There's only so much that they can say," she said. "The stadium is here. It is what it is. Sometimes conversations are better received if it's not so far in the gate that they don't see it being transactional."
Garbage Pickup
In another matter, Commission President Jimmie Stephens sought an update on garbage pickup in unincorporated Jefferson County.
Deputy County Manager Cal Markert told commissioners he had emailed them a report of 323 missed pickups this week. He added that Amwaste, the contractor hired recently to replace Waste Management, which purchased previous provider Advanced Disposal, has worked to complete pickups by 6 p.m. nightly.
"That's an indication that things are starting to go a whole lot better," Markert said. "We asked them to get more staff to cover the phones and email. We still dealt with a lot of customers who did not have service and our new contractor didn't have a record of them. Now they're getting flooded with those calls."
The deputy county manager said Amwaste secured additional staff and committed to hiring a third party for additional phone and email support to set up new accounts and deliver carts.
"They delivered 1,200 carts to customers who we didn't know about with about 400 more to go. They're beefing up the bandwidth for their office staff to take all the calls and emails to get the new accounts signed up faster," Markert said. "Waste Management, the old contractor, has also hired an additional third party to really get on and pick up all the old carts. They really did a poor job on their first round, getting to those, and are making a push now and expect to have that done within a week and a half."