Williamson: People's Actions In The Next Two Weeks Critical To Controlling The Future Of COVID Infections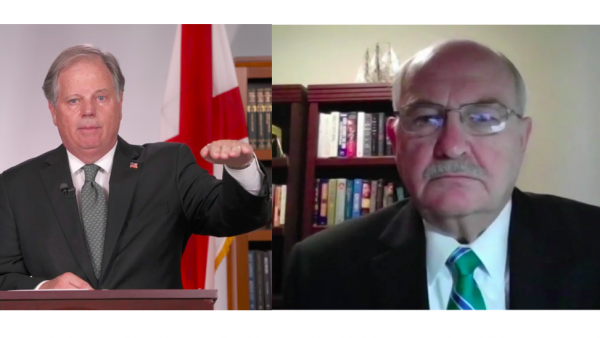 People of Alabama can slow the spread of COVID-19 if they will wear masks, socially distance and follow other medical advice over the coming days, the head of the Alabama Hospital Association said Tuesday.
Dr. Don Williamson, who previously served as the state health officer, said he is concerned about the way the coronavirus is being transmitted, and he is worried that it has the potential to put a strain on Alabama hospitals.
Williamson was the guest of U.S. Sen. Doug Jones on a Facebook Live event Tuesday.
"This is one of those rare diseases where we control our future," he said. "If we over the next 10 days to two weeks will put on masks, will avoid large group gatherings, will maintain six feet of social distance, will wash our hands and do all the things that we've talked about … we will make a meaningful difference in the transmission of this virus," Williamson said.
"And the wonderful thing about these transmission dynamics is that once you get the infection rate going down, and as long as you keep doing the things that took it down, you will get it under control."
But he said the rising rate of hospitalizations from COVID-19 has the potential to strain the capacity of hospitals.
"I'm extremely concerned about where we are and even more concerned about where we're going," he said, noting that the number of hospitalizations per day has risen from about 500 several weeks ago to about 1,100 today.
Williamson said his concern is not so much for hospitals statewide as it is for those in areas where COVID hotspots crop up.
He said the number of people being admitted to hospitals for the disease is likely to rise this week and into next week because of the spread of the virus over the July 4 weekend.
"As we approach the gathering of children together in August in K-12 and in our colleges, I think we set ourselves up for what could be potential disaster in terms of new infections and new demand on hospitals, Williamson said."
Jones said he is backing legislation that would support schools as they reopen.
"We've got to get more resources for schools to open safely, whether it is masks for kids, whether it is for testing, whether it is reconfiguring school space," Jones said. He said it is unfortunate that opening of schools and wearing of face masks have become political issues rather than issues of health and education.
The senator said he is uncertain what action Congress will take as the Cares Act expires, ending supplemental unemployment benefits and other measures designed to help individuals who lost their jobs.
But he had a clear message for the unemployed:
"If you get called back to work, folks, you should go … the fact is, given the unemployment rates right now and that we may see (a) rise as we go through the summer and the fall, you should not turn down any job that is offered to you."
Jones and Williamson said they believe the state should take advantage of federal incentives to expand the Medicaid program, which provides health insurance for the poor. The senator said he is seeking additional incentives to expand it.
Jones said an estimated 300,000 additional Alabama residents would have qualified for Medicaid before the pandemic, and he believes that figure is now about 500,000.
Williamson said studies show that states that expanded Medicaid have lower infant mortality rates. Expanding Medicaid also improves mortality rates from breast cancer because of earlier detection, among other benefits, he said.
"We just see a general improvement in life expectancy and health outcomes associated with people having access to health care," he said.