Sessions Calls On Birmingham To Reinstate Agreements With Church Of The Highlands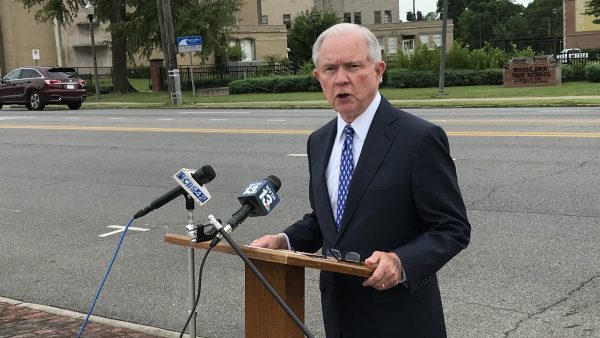 Former Attorney General and Republican U.S. Senate candidate Jeff Sessions on Wednesday urged the Birmingham Board of Education and the Birmingham Housing Authority to reverse their decisions to sever ties with the Church of the Highlands after its head pastor liked social media posts from the leader of a conservative organization.
The church had rented space for worship services at Birmingham's Woodlawn and Parker high schools.  The housing authority had partnered with the church to offer mentoring and social services in nine public housing communities. The boards ended the agreements earlier this month in a move that  Sessions called "unconstitutional discrimination."
"The First Amendment means that the government has no power to restrict expression because of its message, its ideas, its subject matter or its content," Session said at a press conference held across the street from Woodlawn High School. "Those individual viewpoints cannot be required to be suppressed, silenced before somebody can rent a building with the school board."
Church of the Highlands Pastor Chris Hodges apologized for liking social media posts by Charlie Kirk, the president of the conservative group Turning Point USA. Hodges said in a sermon those posts, which some considered racist, "is not what I believe."
Sessions said he sent letters to the school board and Birmingham Mayor Randall Woodfin asking for the decisions to be reversed. Representatives of the school system and the mayor's office did not immediately respond to a request for comment from WBHM.