Roger James Retires From Alabama Symphony Orchestra After 35 Years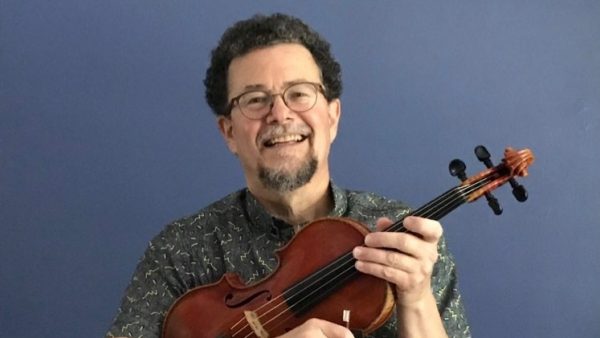 The 99th season of the Alabama Symphony Orchestra came to an abrupt end in March due to the COVID-19 pandemic. Several concerts were canceled or postponed, including the popular Symphony in the Summer at Railroad Park scheduled for this weekend. Under normal times, the final concert of the season features send-offs for musicians who are retiring, but that didn't happen for Roger James, who has played in the first violin section for 35 years. He spoke with WBHM's Michael Krall about his career with the symphony.
Editor's Note: This transcript has been edited for clarity and brevity. It also includes questions that were not part of the on-air interview.
Interview Highlights
Recalling his first concert with the Alabama Symphony Orchestra:
"It was in the Birmingham Jefferson Civic Center, the concert hall. It was a special gala pops concert to start the season in 1985. And Ben Vereen was the guest star and he was great. He was still a big thing on Broadway, and in the middle of the concert or after intermission or someplace there, a representative of the of the governor came out and handed him a large framed certificate proclaiming that to be Ben Vereen day. And he made note of that onstage, just that [Governor] George Wallace had come a long way."
This is the best Alabama Symphony Orchestra he's ever been a part of:
"The level of players, the younger players coming in, not that the departing members lacked anything, but it's just [an] ever more cohesive unit.  It seems like we have caught on to things faster and faster. And I'm also gonna gonna hark back to [former conductor] Justin Brown's years, as well as [current conductor] Carlos's [Izcaray] years.  We've had conductors that have been teaching us to play well together.  The best conductors that I've worked with have made sure that it's not so much I'm watching the stick to get that indication, at least not most of the time. It's really listening as if we are 60 or 70 piece chamber music group."
Whether younger players today are displaying a whole different level of talent:
"I don't know if it's a different level, but they sure are good. At least the ones we're hiring are coming in and they know a lot. A lot of them have been to [the] New World Symphony in Florida [a training ensemble for young musicians in preparation for professional careers in classical music].  And so they've had had a couple of years of of nearly professional level or maybe even more than professional level exposure there."
On playing violin since age nine:
"I had been asking my parents about violin for at least a couple of years before that.  My father, who was an amateur keyboard player and loved music in general, picked up on the idea enough to find a teacher and we went and got a violin on a half size on her recommendation, which at that time, I think smaller-sized violins were a little more rare than they are now. I probably should have had a quarter size [violin]  or something."
What kept him going, since learning violin can be frustrating:  
"My father used to say that when I started out, it didn't seem like I had all that hard a time with it and that I got a pleasant sound from it right away. I don't know why that was or if it's actually true or not. But, apparently my ear was already acute enough that I went after some of the right things. It's really not until you get a certain distance into it that you find out just how hard it is. When you're a little kid and starting out it's something to do and it's really cool. And then later, when you start trying to do harder and harder things, you'd better have worked out the basics really clearly. If you're going to be able to progress."
As a musician, trying to connect with the audience while playing in a section:
"There's an awful lot going on during a concert. And yes, when you are in the section, most of your attention is on whether you're with the rest of the players around you. Right in the moment, I might not be that aware of what's going on in the audience. A good description of what you're doing onstage is kind of soft focus. You have to be able to shift focus constantly from the conductor to your section leader, to your stand partner to the first oboe. Now it's the trumpet. Now, you know, it goes back and forth. But times when I can really notice what's going on is either we as a section have a rest while something else is going on or the end of a movement and the audience is just breathless. They really just collectively sit very still to wait for what's coming next."
On stepping back and taking it all in during the middle of a performance:
"I'm not sure there's time to revel in the moment during the show, but before and after, certainly. It's like when you get to work, it's kind of like an old baseball line, 'We get to play baseball today!' You know, this is great. Look what we get to do. We get to go out there and do our best and try to play some of the great masterworks."
Preparing for works he has played many times: 
"I am continually going back over the same passages that gave me trouble the last time, trying to make sure they don't give me as much trouble this time, so that I have less chance of messing up for myself, but even more than that, less chance of messing up somebody next to me. It's kind of a snowball effect in the section. If something goes wrong somewhere, everybody around that kind of knows it. The bow went skittering or the bow went the wrong direction because rhythm was wrong or something like that.  It may not affect anything right away, but it's a little mental detail that sits with everybody and may or may not trigger something else."
Whether his arms get tired during an extended passage:
"Oh yeah. [laughs] We sometimes wish we got paid by the note.  It depends on the composer, as far as fatigue level. Things like Haydn, Mozart, Beethoven. Schubert, especially. He never puts a rest on the page for some reason. [laughs]  And he writes very long pieces of music.  Our arms are just going the whole time. [A] Beethoven Symphony is always an arm buster. And we better get ready for that. You know, be ready to relax a little bit through rehearsals. You have to decide how much you're saving for the performances."
On retirement:
"I still felt like I was a contributing member for the section and the orchestra as a whole. I didn't want things to slip below that, but I am getting on in years and so is my bow arm and my ears have started to go somewhat. Plus, I'd like to hang out with Linda some more and go see some things that we've wanted to go see. Be able to travel to California, see our daughter and grandchildren."