Mayor Lifts Birmingham's Curfew And Protest Ban At Midnight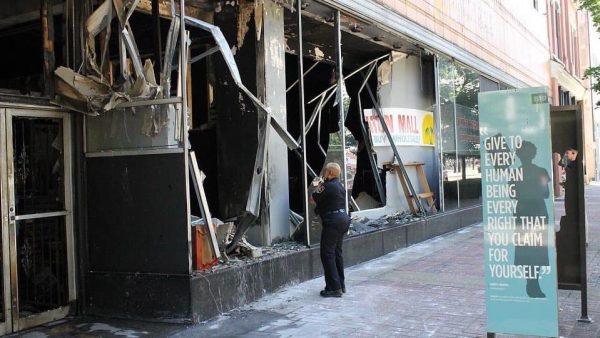 By Sam Prickett, BirminghamWatch
Birmingham's public safety curfew and state of emergency will expire tonight, a week after they were enacted by Mayor Randall Woodfin in response to violent protests in the city's downtown area.
"I want to thank the people of Birmingham for uniting and working together during this challenging time," Woodfin said in a statement Monday. Both the curfew and the state of emergency will end at 11:59 p.m.
The curfew prevented residents (excepting essential workers) from leaving their homes between 7 p.m. and 6 a.m. The state of emergency had established a 24-hour ban on public demonstrations and gatherings of all kinds in the city.
The curfew was enacted after a May 31 demonstration at Linn Park to protest the killing of Minneapolis man George Floyd by police.
Protestors attempted to dismantle the park's Confederate Soldiers and Sailors Monument; Woodfin appeared at the protest and vowed to "finish the job."
The monument was removed from the park the next day, but protestors also had toppled a statue of park namesake Charles Linn, attempted to set fire to another statue of Thomas Jefferson and defaced two other monuments on Sunday night.
The protestors then moved into the city's downtown area, setting fires and breaking out windows of local businesses. Woodfin would later attribute that violence to looters looking "to smash and grab" and outside anarchists looking to "smash, destroy and burn."
Birmingham city law allows the mayor to "prohibit or regulate any demonstration, parade, march, vigil or participation therein from taking place on any of the public ways or upon any public property" during a state of emergency.
After several organizations, including the ACLU of Alabama, questioned the constitutionality of the state of emergency order, Woodfin softened his stance to allow permitted protests to take place at Legion Field and W. C. Patton Park.
Meanwhile, Linn Park was surrounded with a chain-link fence to prevent further gatherings. Woodfin told reporters last week his office had become "aware of credible threats against the city, certain locations, individuals and protestors," and that the curfew and ban on demonstrations was an attempt "to balance the right to assembly with the absolute need for public safety."
Though some protestors were arrested for violating the curfew — and despite unfounded rumors of a Ku Klux Klan rally in downtown Birmingham on Thursday — further demonstrations in Birmingham remained largely peaceful.