Jefferson County Election Officials Consider Offering Absentee Voting On A Weekend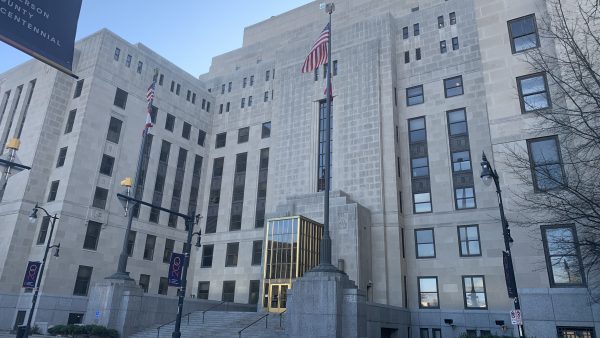 Updated at 9:31 p.m. CT
Jefferson County may allow absentee voting on a Saturday later this month, but county Probate Judge James Naftel said any such move would first need to be authorized by county or state officials.
Posts on social media claim that the county courthouse will be open this Saturday, Oct. 17, for absentee voting, but that isn't true.
Instead, Naftel said officials are considering expanding voting to include Saturday, Oct. 24. The decision would have to be approved by the Jefferson County Commission or Alabama Secretary of State John Merrill.
Jefferson County Commissioner Sheila Tyson said plans were already underway with area churches to transport voters to the courthouse this Saturday when she received word late Wednesday afternoon that those plans were off. Tyson said Circuit Clerk Jacqueline Anderson-Smith canceled the plans because she was overwhelmed.
Reached Wednesday night by phone, Smith said she is awaiting authorization from the commission to open the courthouse on a Saturday.
"I have not received an email from them saying that they're going to allow the courthouse to open," she said. "I'm simply waiting to hear from them."
In the meantime, officials are working to make absentee voting easier in Jefferson County, but it's been a challenge.
"The volume of absentee voting that we're seeing is truly unprecedented and we're doing it in the midst of a pandemic," Naftel said.
Jefferson County is working to process more than 25,000 absentee ballots and ballot applications, Naftel said. That's compared to about 10,500 in the 2016 general election.
Anderson-Smith said she's trying to keep up with the demands of hundreds of voters who walk in daily and hundreds more whose materials arrive by mail.
"Each day we have more and more. I'm trying to catch up," she said, adding that she has more employees now to hire and train. "If you come in to vote, it is going to take you a couple of hours no matter how well-oiled my machine is. I'm flying a plane and I'm building it as I'm flying it."
Pressure has been mounting after the state's top election office intervened last week following complaints of long lines, three-hour wait times and a backlog of mail-in ballots at the county courthouse in downtown Birmingham.
Since then the county has added almost 50 temporary workers and plans to add another 20 in the coming days, Naftel said. These workers will process mail-in ballots, staff phone lines and help with the flow of in-person voting.
But strict requirements for election workers have sparked additional delays.
"Most of the personnel are temporary staff, and so they've got to get trained [and] security credentials," Naftel said. "It's not as simple as just hiring people and having them start immediately that morning with processing applications."
But Naftel said the county is making progress toward lowering the average wait time for in-person absentee voting to about two hours, and they expect to finish processing the backlog of mail-in ballots by this weekend.
Editor's note: This story has been updated to include comments from Jefferson County Commissioner Sheila Tyson and Circuit Clerk Jacqueline Anderson-Smith.