JeffCo Commissioners Discuss $199 Million Budget With One-Time Longevity Bonuses For County Employees
Jefferson County commissioners are set Thursday to consider a budget that would include $1.485 million for a one-time longevity payment to each county employee. On Tuesday, commissioners put the fiscal 2021 budget on the agenda for its official meeting later in the week.
Commissioners Lashunda Scales and Sheila Tyson had fought vehemently for a cost-of-living adjustment to the salaries of county employees. Repeatedly, county attorney Theo Lawson and others responded by saying, "There is no COLA."
The county's budget office brought two proposals to the table – a budget with a $1.1 million cost-of-living adjustment for county employees and another without that adjustment. Revenue Department Director Travis Hulsey brought another consideration, a one-time longevity payment based on years of service.
Scales argued that the county has fared as well as it has during the pandemic because of the work of county employees, some of whom have continued to face the public, thus potentially exposing themselves to the novel coronavirus.
She added that their effort came despite not receiving hazard pay.
"We have to be very mindful of how we really place a value on the work that they're doing," Scales said of county workers. "I know what can be stated is, 'Be happy you have a job.' But I think the commitment that they have given back to the citizens, that came on the forefront. That's why I said if you're talking about a very minuscule amount of money — $1.1 million is … a very small amount of money when you look at the overall picture."
After some confusion, Scales made a motion to move the budget with the cost-of-living adjustment to Thursday's agenda and Tyson provided the second. The motion was voted down 3-2.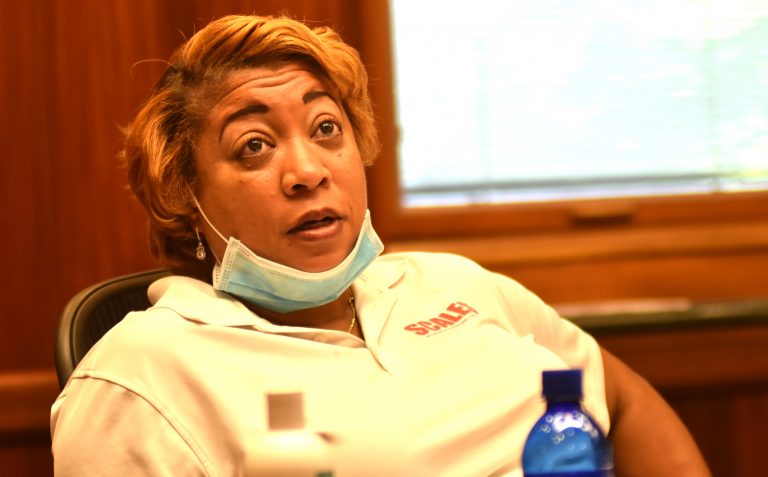 Commission President Jimmie Stephens amended Hulsey's resolution to $1.485 million as "kind of a thank you for working with us through this crisis."
Stephens' motion to move the budget without the cost-of-living adjustment but with the one-time longevity payment passed 4-1; Scales provided the dissenting vote.
Speaking after the meeting, Stephens said he made his proposal because employees who have worked for the county 10 years or more receive an automatic 5% raise.
"This (payment) rewards them for their longevity without administering a cost-of-living increase that would be effective for years to come," he said. "If you've been with the county for 20 years, you get $1,500.
"All of those employees who have worked here for so long and have not been appreciated, it gives them that opportunity with that lump sum to either to pay bills or buy (for) Christmas," Stephens concluded.
Scales said her understanding is that a cost-of-living increase, even for one year, would have provided more support for county workers "than $250 per employee at one time."
"I fully support employees," she said. "That cannot be just stated in words. That has to be stated by what we do in deed by way of a resolution."
Commissioner Joe Knight, chairman of the commission's finance committee, said all commissioners were trying to do was maintain the same $194 million budget as last year. That proved impossible, he said, as several costly matters arose, "things we had to add to the budget so the budget started creeping up" to $199 million.
"When you give a COLA, you increase exponentially your next year's budget," Knight said, noting that cost-of-living adjustments have been part of the past seven budgets. "Sometimes you have to say, 'Hey, we're just going to stay even this year."
Knight said he thought most about avoiding furloughs, layoffs and reductions in county services, as the county experienced as he began his first term in office.
"We have no idea what the next two, four or six months are going to do as far as the revenue," he said. "We've got to try to maintain what we have going forward because we've got to be in the best financial shape we can be when we go back to market on these sewer warrants."