Ivey Extends Mask Mandate Through December 11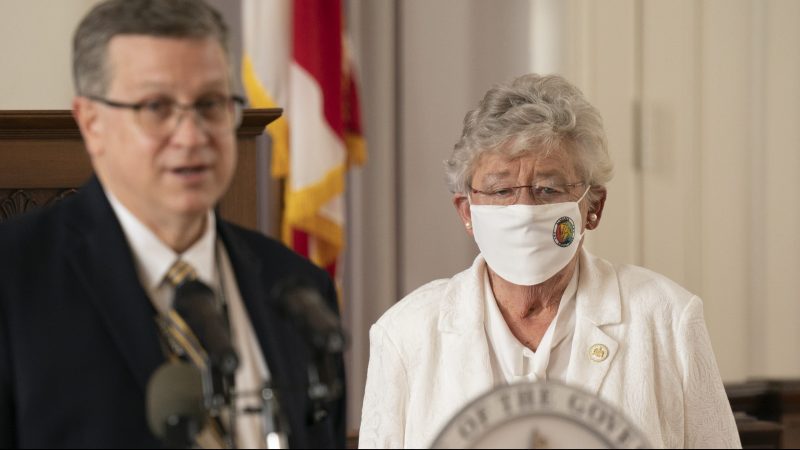 Alabama Gov. Kay Ivey announced on Thursday that she is extending the state's public health order through December 11. This means residents will still be required to wear face masks in public, and when in close contact to others, to slow the spread of the coronavirus.
The current order was set to expire on Sunday. The Alabama Hospital Association had called for an extension of the mask order.
"I understand folks are bone-dead tired of the mask," Ivey said. "I'm tired of it too. But asking for the mask mandate is just a minimal ask to keep us safe so our businesses can stay open."
The governor's new health order lifts occupancy restrictions on retailers, gyms, and entertainment venues — although businesses will be expected to maintain social distancing and follow sanitation and hygiene guidelines. Social distancing can be relaxed for some businesses such as barbershops, hair salons, and restaurants, provided people are masked and separated by an "impermeable" barrier.
"This should be welcome news as we get ready for the upcoming holiday season, which is often the bread and butter for retail — and especially for our locally owned small businesses," Ivey said. 
Ivey first issued a mask mandate in mid-July as COVID-19 cases surged in Alabama. Many in the public health community credit the mandate with reducing the number of new cases in August. Case counts remained steady as late summer turned to fall. But during the last month, the number of new COVID-19 infections has risen steadily, as have hospitalizations.
As of Thursday morning, the Alabama Department of Public Health reports almost 170,000 confirmed cases of the virus and more than 2,800 deaths.
State health officer Dr. Scott Harris said it's reasonable to lift occupancy restrictions on businesses while case numbers are rising because social distancing limits the number of people that can enter a building at the same time.

Ivey stressed that personal responsibility is the key to slow the spread of coronavirus, and suggested that she will lift the mask mandate in the near future.
"I'm willing to keep the mask order in place while acknowledging sooner rather than later, it's going to be up to each of us to do the right thing; regardless of whether the government is mandating it or not," Ivey said.