Health Care Disparities: Being The Target Of Racism Can Make You Physically Sick, Research Shows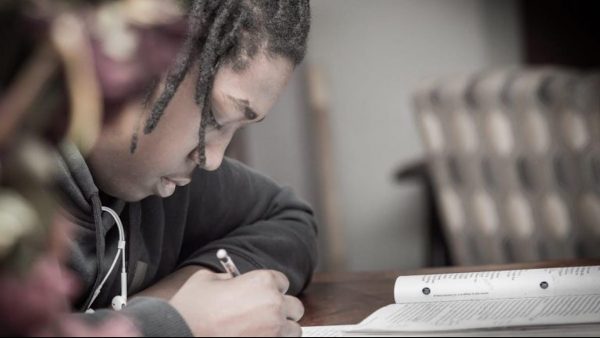 The color of a child's skin can affect their health, education and sense of worth from the time they are born, or even before that.
The American Academy of Pediatrics has found that racial discrimination, direct and indirect, drives health differences of Black children and adolescents.
Dr. Tamera Coyne-Beasley, a professor of pediatrics and internal medicine and the division director of UAB Adolescent Medicine, said "adverse childhood experiences" such as racial discrimination or violence in their community stay with people and affect their well-being across their lifespan
"When we have looked at these experiences, we understand that they are stressors and risks for adult health problems such as mental health issues like depression, anxiety, post-traumatic stress disorders, but also physical health conditions such as cardiovascular disease, autoimmune disorders, cancer, emphysema, diabetes and fractures," said Coyne-Beasley.
She said that experiencing racism or racial injustices not only affects a person's confidence, it also affects how they form relationships and influences how young people develop identities for behaving with others in their worlds.
Effects, Before and After Birth
Coyne-Beasley said there are different forms of racism. Racism built into a society's values can hinder access to resources such as health care and proper education. Black people are affected by stereotypes and prejudices transmitted in media messages. They are affected by internalized racism, which can wear down their appreciation of their own abilities and intrinsic worth.
The American Academy of Pediatrics said in a research report that "Children experience … structural racism through place (where they live), economic means (what they have), and legal means (how their rights are executed.) … A positive racial identity mediates experiences of discrimination and generates optimal youth development outcomes."
While racial discrimination can affect biological and mental health throughout someone's lifespan, its effects also can play a large role in a person's life even before they are born. Coyne-Beasley said studies have shown a relationship between a mother's experiences of racism, whether directly or indirectly, and the health of her child while the child is still in the womb.
"What the mother experiences predisposes the mom and gives her an increased risk of the child being a premature infant, having higher cortisol activity and having problems with their birth weight. And this is her direct experiences of racism. And even a mother's vicarious experiences of racism that may be through the community or her husband … also have opportunities to impact that child and that child's outcome," said Coyne-Beasley.
As children grow, the stress of encountering racial discrimination follows suit. "It begins in childhood and permeates into adulthood," said Coyne-Beasley.
An adolescent's inability to deal with the stress of racism can lead to destructive behavior such as smoking, drinking and excessive eating, according to Coyne-Beasley. Such destructive coping mechanisms can lead to further biological diseases such as cancer, diabetes and poor cardiovascular health, she said.
Coyne-Beasley said that results of institutionalized racism — such as poor housing, unemployment and unsafe living conditions — affects Black families' access to healthy behavior such as exercising or eating a balanced diet.
"I can't tell you how many young people and their families have told me they can't go outside to exercise because they live in an unsafe community or they can't join a gym because they can't afford the gym membership," she said.
"The biological mechanism that emerges from chronic stress leads to increased and prolonged levels of exposure to stress hormones and oxidative stress at the cellular level," the American Academy of Pediatrics' research study stated. "Prolonged exposure to stress hormones, such as cortisol, leads to inflammatory reactions that predispose individuals to chronic disease."
Not Just Physical
In addition to biological well-being, exposure to racism has an impact on adolescents' mental health and overall personal viewpoint. The more a child is exposed to racial injustices, the more likely he or she is to experience a lack of confidence, feelings of hopelessness and a sense of low self-efficacy, according to studies. Coyne-Beasley said the exposure to racism does not have to be first-person for a young individual to experience feelings of hopelessness; it can also derive from seeing instances of racism happening to others of their race.
According to a report on a Centers for Disease Control and Prevention website, Black individuals as a whole are less likely than white people to die from suicide, although "black and African American teenagers are more likely to attempt suicide than white teenagers (9.8 percent vs. 6.1 percent)."
A 2017 report from the American Psychological Association agrees and attributes this high number to the fear of stigmatization preventing young Black individuals from seeking the help they need.
"Because less than two percent of American Psychological Association members are black or African American, some may worry that mental health care practitioners are not culturally competent enough to treat their specific issues," the APA report said.
Dr. Susan Corbin is a Birmingham psychologist who deals with adult and child development. She said it's vital for children to learn healthy ways of dealing with the stress of racial discrimination.
"There's a specific fear instilled in black children at an early age because parents have to have a specific conversation about race at an early age," Corbin said. "They're taught very young that they will encounter certain obstacles and certain treatment because of the color of their skin and as a result, this fear of being stigmatized forms. That fear is a stressor that can plague mental health for years and as a result it can be crippling to physical health as well," she said.
According to Coyne-Beasley, experiencing racism during adolescence causes an already self-questioning child or teenager to examine their own self-worth and leads them to evaluate how their self-worth plays into the environment they are thrown into.
"One of the critical paths of adolescents is to develop your social, moral and racial identities in a world that often gives you conflicting messages," said Coyne-Beasley. "If a young person continually gets fed negative messages about their race, they can have internalized racism and develop a negative self-worth or self-concept not just about themselves, but about everyone in their race." Coyne-Beasley said that a child or adolescent has a better chance of overcoming these mental health stressors if they have positive relationships with their parents and surrounding communities.
Quality of Education
In many instances, a child's education also is affected by institutionalized racism. In its 2017 report, the APA stated that "students from historically aggrieved groups have less access to experienced teachers, advanced coursework and resources."
They also are more harshly punished for minor behavioral infractions occurring in schools, the article reported. They are less likely to be identified for and receive special education services, and in some states, school districts with more nonwhite children receive lower funding at any given poverty level than districts with more white children, according to the article.
"According to the National Center for Education Statistics, the graduation rate for white students nationally in 2015-2016 was 88% compared with 76% for African American students, 72% for American Indian students, and 79% for Hispanic students," the American Association of Pediatrics reported in an article.
"Disparities in educational access and attainment, along with racism experienced in the educational setting, affect the trajectory of academic achievement for children and adolescents and ultimately impact health," the AAP reported. It is also noted that "chronic absenteeism," or a student's missing 10% or more of school days in an academic year, is a strong predictor of that student's educational achievement.
"Chronic absenteeism disproportionately affects children of color, children living in poverty, children with disabilities, and children with chronic diseases," the AAP reported.
The AAP refers to the "school racial climate," which refers to norms, curricula and interactions around race and diversity in the school setting." This climate can either be accepting and nurturing, or it can hinder a child's ability to progress in their education. A school's social racial climate "impacts educational outcomes for students. Students who had a positive perception of school racial climate had higher academic achievement and fewer disciplinary issues," the report said.
Studies have shown there is a direct correlation to a child's stress level and their performance level in school. In 2016, Northwestern University conducted a study that found the human body created higher levels of cortisol — a stress hormone — in adolescents from more marginalized groups. The study found the high hormone release was the result of "effects of race-based stressors, such as perceived discrimination, on psychological and biological responses to stress, which, in turn, impact cognitive functioning and academic performance."
"If a child is constantly aware of either being judged for their skin color or does not feel accepted for their skin color," said Corbin, "then those thoughts can consume their everyday life and can hinder their ability to move forward in education."
Even the subject of racial inequality dictates what students are taught in schools. Titles that explore Black characters and Black history, like "Beloved" and "To Kill a Mockingbird," are sometimes banned in schools due to uncomfortable content. Using Black authors and literature as a vehicle to discuss what it means to be Black not only allows Black students to feel represented in the classroom, it can also give their classmates a better understanding of those who are different.
In an interview with Good Morning America, psychiatrist Dr. Janet Taylor said that discussing racism in the classroom is "crucial for minimizing unconscious biases in children." "Children are not born racist, so exposure to different cultures, positive role models, different ethnicities, skin color, teaching about the beauty and significance of difference is important," she said.