Gov. Ivey Issues Statewide Stay-At-Home Order Effective April 4
Gov. Kay Ivey issued a statewide stay-at-home order Friday, just hours after the city of Birmingham extended its shelter-in-place order.
The statewide order goes into effect Saturday, April 4, at 5 p.m. and ends Thursday, April 30, at 5 p.m. Under the order, residents are required to stay in their homes at all times, except to perform "essential activities." These include:
obtaining necessary supplies (e.g. food, medicine, materials needed to work from home, fuel, etc)
obtaining or provide necessary services (e.g. medical, dental, physical therapy, auto repair, etc)
attending religious services, weddings or funerals of 10 people or fewer or drive-in religious services
providing care to others, including pets
working an essential business
engaging in outdoor activity involving 10 or fewer people;
seeking shelter if their residence is unsafe, or to seek help from providers like food banks
traveling as required by law
seeing family members
The list of "essential businesses" include:
Health-care providers and caregivers
Essential infrastructure
Manufacturing facilities
Agricultural operations and farms
Essential retailers
Essential services
Media operations
Education operations
Financial services
Professional services
Providers of basic necessities to economically disadvantages populations
Construction and construction-related services
Essential public services
Military or defense operations
Essential services or product providers
Religious entities
Federally designated critical infrastructure
Other state-designated essential businesses and operations
Ivey's order comes after weeks of mounting pressure from state and local leaders over how to fight COVID-19. Lt. Gov. Will Ainsworth called on Alabama to "wake up" about the severity of COVID-19. But he stopped short of blaming the governor.
"You know, I can't control the governor's actions. I can control mine. And I'm going to do everything I can do to make sure people understand how serious this is," he told WBHM in an interview last week.
Until Friday, Alabama was one of a few states in the southeast which hadn't issued a stay-at-home order. Florida, Georgia, Mississippi and Tennessee each issued their own orders this week as well.
Earlier this week, Dr. Jeanne Marrazzo, director of the division of infectious diseases at the University of Alabama at Birmingham, told WBHM that Birmingham is likely two weeks behind New York City, where field hospitals have opened in Central Park to handle COVID-19 patients, and about six weeks behind Seattle, where data indicates the pandemic may be slowing.
Jefferson County Department of Health Officer Dr. Mark Wilson says Ivey's order includes a provision that allows him to implement more stringent measures in the county if he gets approval from the Alabama Department of Public Health's Scott Harris.
Wilson says he sees some areas that may require him to take that step.
"We have been in touch with local hospitals and we do think that we need to take every possible action to help flatten the curve," Wilson says.
Wilson says more stringent measures could include closing some parks where there have been gatherings and restrictions on big-box retailers.
"What we've seen in terms of behavior so far has concerned us," says Wilson.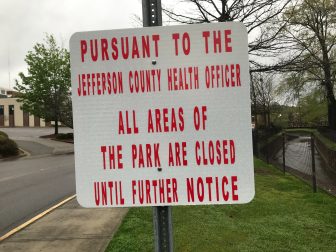 Wilson says they've gotten reports that some people aren't "treating this seriously." Birmingham Mayor Randall Woodfin says congregating in city parks has also been a problem.
"If they cannot comply with this order, we will take the necessary step to shut our parks down," Woodfin says.
As a result, a number of parks have already barricaded their entrances.
Wilson says he'll spend more time reviewing today's statewide order, but he says it's highly likely that in next day or two he'll seek approval from the state for more stringent shelter-in-place orders in Jefferson County.
As of Friday afternoon, Alabama had more than 1,500 confirmed cases and 21 deaths related to the virus, according to the ADPH.  State health officials say they expect those numbers to continue to rise.