Gov. Ivey Has Been Quiet On COVID-19. Does It Matter?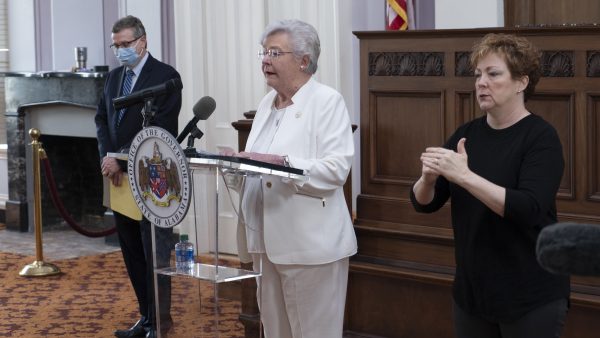 Some governors have spent lots of time in front of the cameras talking about the coronavirus pandemic. New York Democratic Gov. Andrew Cuomo has held daily press briefings. Ohio Republican Gov. Mike DeWine has been out front almost daily as well.
Meanwhile, Alabama Gov. Kay Ivey has been relatively quiet about COVID-19. That's despite new cases increasing sharply around the state in June.
"I think we've all got to do a much better job of educating people top to bottom," U.S. Sen. Doug Jones said in a press conference last week.
He said state leaders, not just the governor, should be talking about the pandemic.
He added the message those leaders give should be based on science.
"Unless a public official, a politician is repeating what the healthcare professionals are saying, don't listen to them," Jones said. "If they are repeating it, then please take heed and you can verify it if they need to."
Public health officials have generally agreed on how to combat COVID-19 right now. They recommend practicing social distancing, wearing a face masks and washing hands frequently.
"But there's a limit to what state health officers and public health people can do in the absence of strong leadership from the government," said Dr. Jeanne Marrazzo, director of infectious diseases at the University of Alabama at Birmingham
Ivey hasn't been completely absent from the conversation. She occasionally mentions the pandemic on Facebook and Twitter. Her last press conference was a month ago to announce she was reopening more of the state's economy.
When WBHM requested an interview with the governor last week about the rise of COVID-19 cases, her office instead sent a statement it issued to multiple news outlets emphasizing "personal responsibility."
But if the goal is to encourage people to change their behavior, how much does it matter whether the governor speaks out?
According to Myiah Hutchens, a public relations professor at the University of Florida, changing a person's behavior depends a lot on trust. Part of it is trust in people close by. For instance, if a person's friends start wearing masks, he or she is more likely to wear one as well. Another part is trust in other voices.
"So if you're a liberal and you see Fox News saying something, that's not really going to impact you," Hutchens said. "But if you're a conservative and you see Fox News saying something, then that does tend to have an impact on you."
Hutchens said partisanship around a public health issue can complicate things. A recent survey from the Kaiser Family Foundation found Democrats are almost twice as likely to say they wear a mask every time they leave the house compared to Republicans. So a governor's power to persuade people depends much on how those listening feel about him or her.
Behavior change can happen relatively quickly with non-partisan issues. Hutchens pointed to a time when a number of states passed indoor smoking bans to reduce the threat of second-hand smoke.
"It wasn't about protecting yourself, but it was about protecting others," Hutchens said. "If we can talk about it that way, I think that has the potential for us to see some movement."
Hutchens said a way to cut through some of the politics is with a consistent message from a wide range of people. That way no matter whether it's from University of Alabama football coach Nick Saban, Auburn University football coach Gus Malzahn or Birmingham Mayor Randall Woodfin, the message is the same.
A special message from Coach Saban, Big AL and Jeff Allen!#InThisTogether #RollTide pic.twitter.com/wLk8Du9R0V

— Alabama Football (@AlabamaFTBL) May 21, 2020
#Auburn coaches @CoachGusMalzahn, @coachbrucepearl and @3strikes_AU want you to join the team in the ongoing fight against coronavirus! #WarEagle

Stay home. Stop the spread. Save lives. pic.twitter.com/Shz4lmspI1

— Auburn University (@AuburnU) April 3, 2020
Birmingham, let me be 100% real with you. COVID-19 hasn't gone away. It is still a threat to our city.

We all have a role to play in defeating this pandemic. It has to be a collective effort. Here's how we do that. pic.twitter.com/eQ732ADDG4

— Randall Woodfin (@randallwoodfin) June 18, 2020
It becomes a community message, not a political one. A figure, like a governor, can set the tone for that.