Getting Out For A Walk In The Woods? Social Distancing Still Applies
It's a little before noon on Tuesday and dozens of people are out walking at Red Mountain Park. Victoria Laviolette and her two kids just finished up a millipede scavenger hunt.
"We found 29 while we were walking," Laviolette says.
She says they're being cautious of other people and came prepared with hand sanitizer. But Laviolette says there's a lot of space at Red Mountain to spread out.
"There's enough trails and they're wide enough that you're not getting close to anybody," she says, "and you're not touching a bunch of stuff."
Further along the same trail, Amy Swaby says she normally goes for a walk at night or on the weekends, but recently, she's getting outside whenever she can.
"I guess I started a little to panic for being at home for so long," Swaby says, "so I just wanted to get some fresh air."
Safety First
At parks around Birmingham, officials say the weekday crowds are starting to look more like the weekends. With more people at home and gyms closed, green spaces offer a much-needed place to move around and exercise.
At Oak Mountain State Park, Superintendent Kelly Ezell says they can handle the added demand, even with concerns about the spread of COVID-19.
"We have 10,000 acres here so you may or may not see anyone else while you're on the trail," Ezell says. "But if you do, we do have some things that you could do to help keep that social distancing in place."
She says they recommend people avoid more crowded areas of the park and give extra space for others to pass on the trail. But those suggestions can be a challenge at smaller parks like Ruffner Mountain.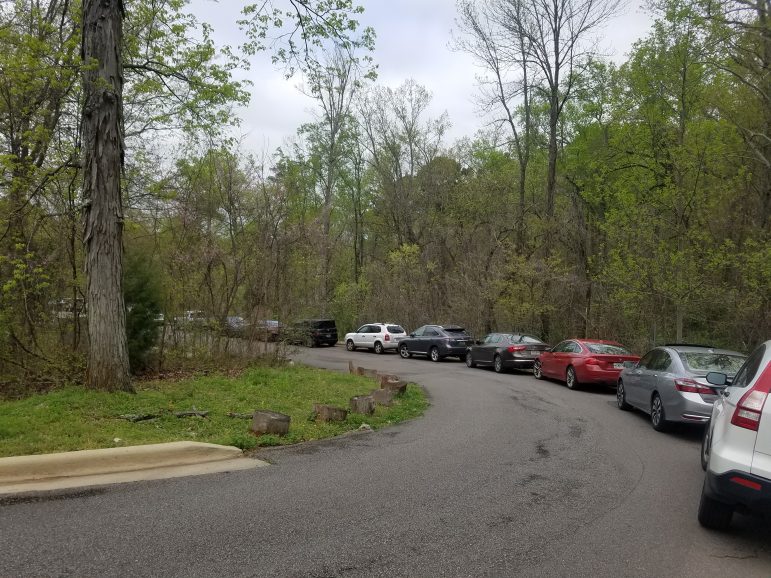 "Our trails are narrow," says Executive Director Carlee Sanford. "And when you have narrow trails and you have big groups, it's really hard to stay a full six feet away with that much traffic."
On Saturday, Sanford says, there were so many people at Ruffner that cars overflowed into the adjacent neighborhood.
She says the bigger crowds are a concern, not only because they increase the risk of viral spread, but because they also create more opportunities for someone to get injured on a trail. Plus, Sanford says, Ruffner Mountain's staff of seven people is having trouble keeping up and taking care of the preserve.
To help lessen the pressure, Ruffner is implementing new rules and temporarily closing its nature center. It is also restricting hours for trail-use and limiting park access to only city of Birmingham residents, Ruffner Mountain members and employees of business members.
"We're trying to navigate to the best of our ability to keep this accessible without having to close to everyone," Sanford says.
Avoid the Beaten Path
Across the country, many state and national parks have recently closed in response to COVID-19, including the Great Smoky Mountains National Park, which closed all of its trails on Tuesday.
All areas of Great Smoky Mountains National Park, excluding the Foothills Parkway and the Spur, will close today at noon through 4/6/20 to help slow the spread of COVID-19. This includes trails and road closures. Details are provided at https://t.co/vkYD7roKVr pic.twitter.com/glNivYuReS

— GreatSmokyNPS (@GreatSmokyNPS) March 24, 2020
The USDA Forest Service announced Thursday the temporary suspension of public access to sites throughout Alabama's National Forests.
Governor Kay Ivey says for now, there are no plans to close Alabama's 21 state parks.
Some cities, like Homewood, have closed their local parks, though officials with the Jefferson County Department of Health say they have not ordered local parks to close.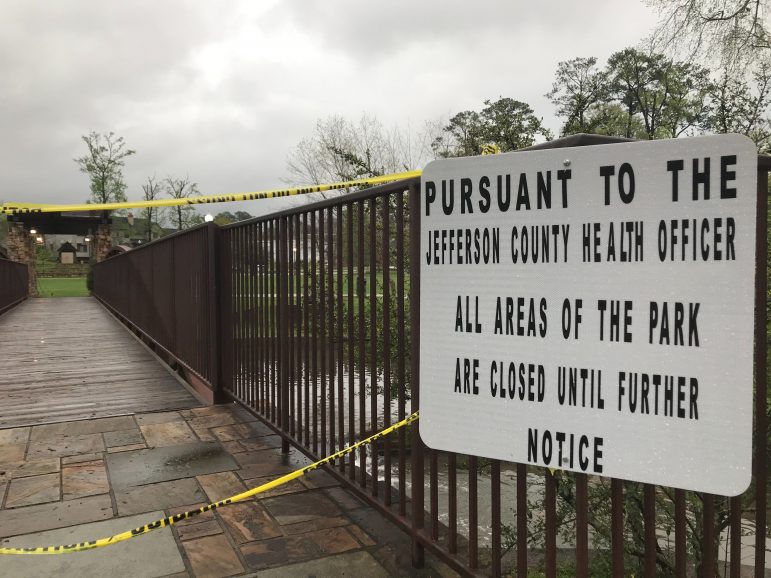 At Red Mountain, which is run by a public-private partnership, Executive Director T.C. McLemore says they will keep the park open as long as possible. He says they have not reached maximum capacity yet, but it helps if people try to discover areas off the beaten path.
"I really would encourage people to find a trail near them," McLemore says. "It is a good opportunity to find a trail that you might otherwise not hike."
McLemore and all park officials say their goal is to give people the space to get outside and experience the restorative benefits of nature. They say that is even more important now, as many people struggle to stay healthy and sane indoors.