After Bipolar Diagnosis, French Became Her 'Asylum From The Madness'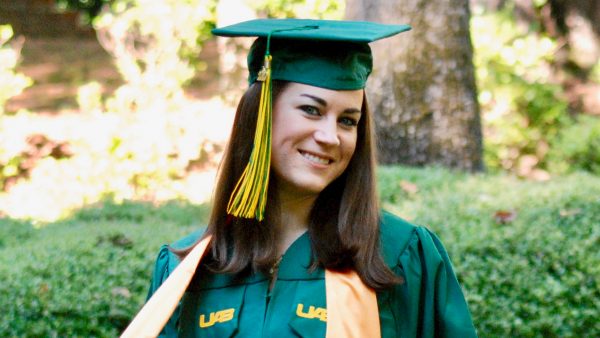 Soon after she started her sophomore year of high school, Abby Garver was diagnosed with bipolar disorder.
"It was just like everything kind of went to hell all at once," Garver said.
She started taking several medications, stopped sleeping regularly and fell behind in school.
One thing that helped her through it all was French. Garver had taken a few classes in high school and liked it.
"Some of it was just, it gave me that feedback I wanted, some positive feedback of being good, and that mattered," Garver said.
But she found it also helped slow down her racing thoughts.
"For whatever reason, it was like thinking and expressing myself in French were different."
She continued to study the language at the University of Alabama at Birmingham.
College was not easy. Garver initially took one or two classes per semester and at one point withdrew due to stress. But she excelled in her French courses and was named one of the department's most outstanding students.
Earlier this year, Garver used the language to document her story. She wrote about being diagnosed with bipolar disorder and finding solace in French. The essay, titled "Mon Asile De La Folie" ("My Asylum From The Madness") placed third in a national competition and will soon be published by the American Journal of French Studies.
Charly Verstraet, one of Garver's professors at UAB, said her journey speaks to the power of language.
"It is one of these moments where what we studied in class and the language meaning something sort of transcended the classroom, and transcended the reason why we learn," he said.
In recent years, Garver has started seeing a new psychiatrist. She's relying less on medication and more on behavior therapy, a combination she said works better for her. After more than 10 years, she graduated this summer with a double major in French and Spanish.
** UAB holds WBHM's broadcasting license, but our news and business departments operate separately.