Christopher Davis – One Artist, Two Designs
Birmingham native Christopher Davis is the featured artist for WBHM's Spring 2017 Fund Drive. This time, however, we're doing something a little different. Davis has created two designs for the station — one will be featured on a mug and the other will be featured on a pint glass. You can have either one (or both!) when you support WBHM with your donation.
"Every year a new design reflects our city and our station," says WBHM General Manager Chuck Holmes. "Chris has chosen to focus here on our audience, the people of Alabama. That's fitting because that's our focus too."
"I wanted to work with WBHM because I really admire what the station does," says Davis. "It's just a great source for information and entertainment, and I thought it would be great to be a part of that even if only a little bit.
Listen as Chris talks about his artistic style and the differences between the two designs:
"The design I came up with is pretty simple. There's men and women, old and young, different ethnicity and race. Then the colors just come in. I just like how bright they are. It's just a lot of fun."
Davis is a multi-talented artist. After graduating from the Savannah College of Art & Design with a Bachelor's degree in graphic design, he returned to Birmingham where he became a full-time illustrator and designer for Southern Living Magazine for the next ten years.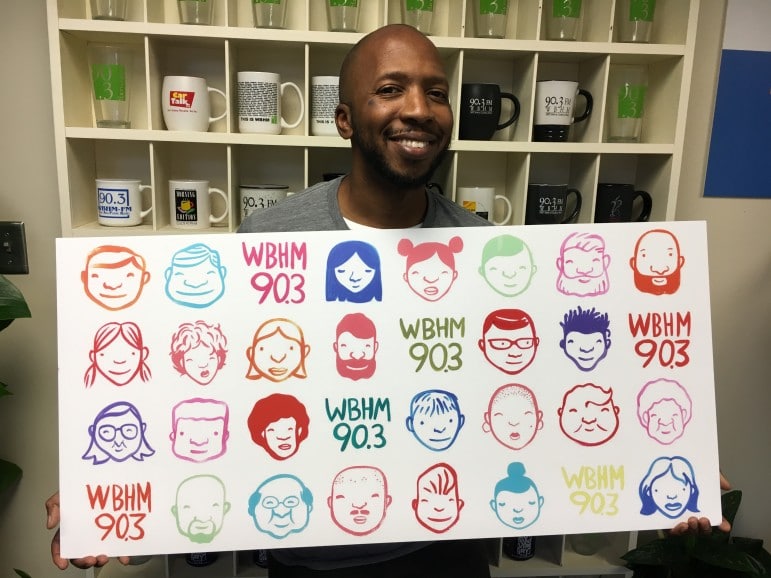 Chris describes the process behind the design:
Chris's art ranges from his colorful dog paintings to black and white illustrations to custom pet portraits (Drawdog Pet Portraits) to abstract paintings, and in 2013, Chris was named Magic City Art Connection's Emerging Artist of the year.
But Chris isn't just a visual artist. He also does improv comedy with the Extemporaneous Theatre Company (ETC) and Ugly Baby Improv and hosts Fresh Ground Comics, a monthly stand-up comedy show.
See more of Davis' artwork on Facebook at Drawdog. Then visit our pledge page to make your donation and choose your limited-edition Christopher Davis thank you gift!