LGBTQ Students Find Hope In New Affirming School: The Magic City Acceptance Academy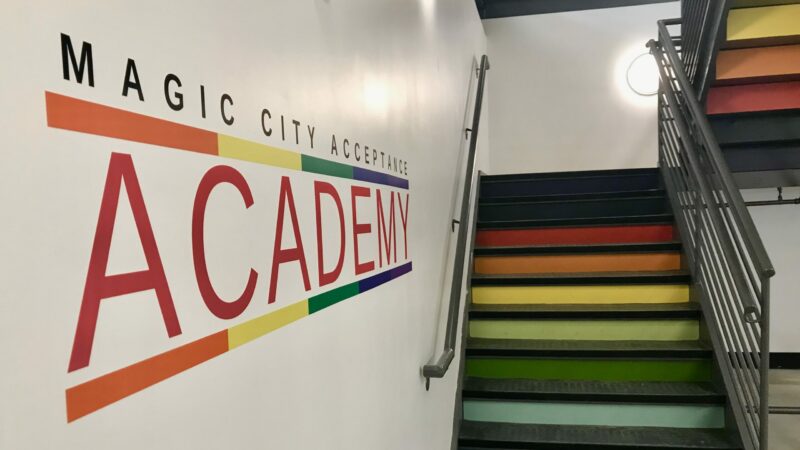 For back-to-school shopping, Elliot likes to hit up one of his favorite thrift stores with his mom. They often go thrifting together, and so far, the rising 11th grader has picked out three shirts, all in the same style: navy blue, short-sleeved button-ups.
"I like to call them beach dad shirts," Elliott said
Elliot is transgender and WBHM is using only his first name and not naming his family because he is not completely out publicly.
This year, Elliot smiles when he talks about going back to school. That is because he will be one of over 270 students starting at the Magic City Acceptance Academy, a new public charter school that has built affirmation for LGBTQ students into its very foundation. It is the first school in the South to do so according to the Gay, Lesbian and Straight Education Network, a LGBTQ youth advocacy organization.
Elliot's mom could not be more thrilled.
"The change between last year at this time and this year at this time is just a complete 180. He's just a different child altogether," Elliot's mom said. "Every time I think about it, it makes me smile."
All public schools are supposed to provide a safe learning environment for children, but that doesn't always happen for LGBTQ students. At his previous public school, Elliot started falling behind during virtual learning and didn't get the academic help he needed. He was also outed to his school by someone close to him and didn't feel safe.
"I got death threats, every name in the book," Elliot said. "I got the whole gross, disgusting slurs. Just because I'm living my truth."
His family said it was a "no-brainer" to transfer to the new charter school that actively supports students like Elliot.
"Being in a place where I don't have to pretend is very, just calming," Elliot said. "I feel safe, and I feel like I don't have to hide anymore."
The Magic City Acceptance Academy put its goal to affirm LGBTQ students directly into its mission statement. It is a public charter school, with open enrollment and welcomes LGBTQ students and allies.
"It's to create a learning space for all students from all walks of life with an excellent learning experience in a brave, LGBTQIA+ affirming atmosphere," said Michael Wilson, the school's founding principal.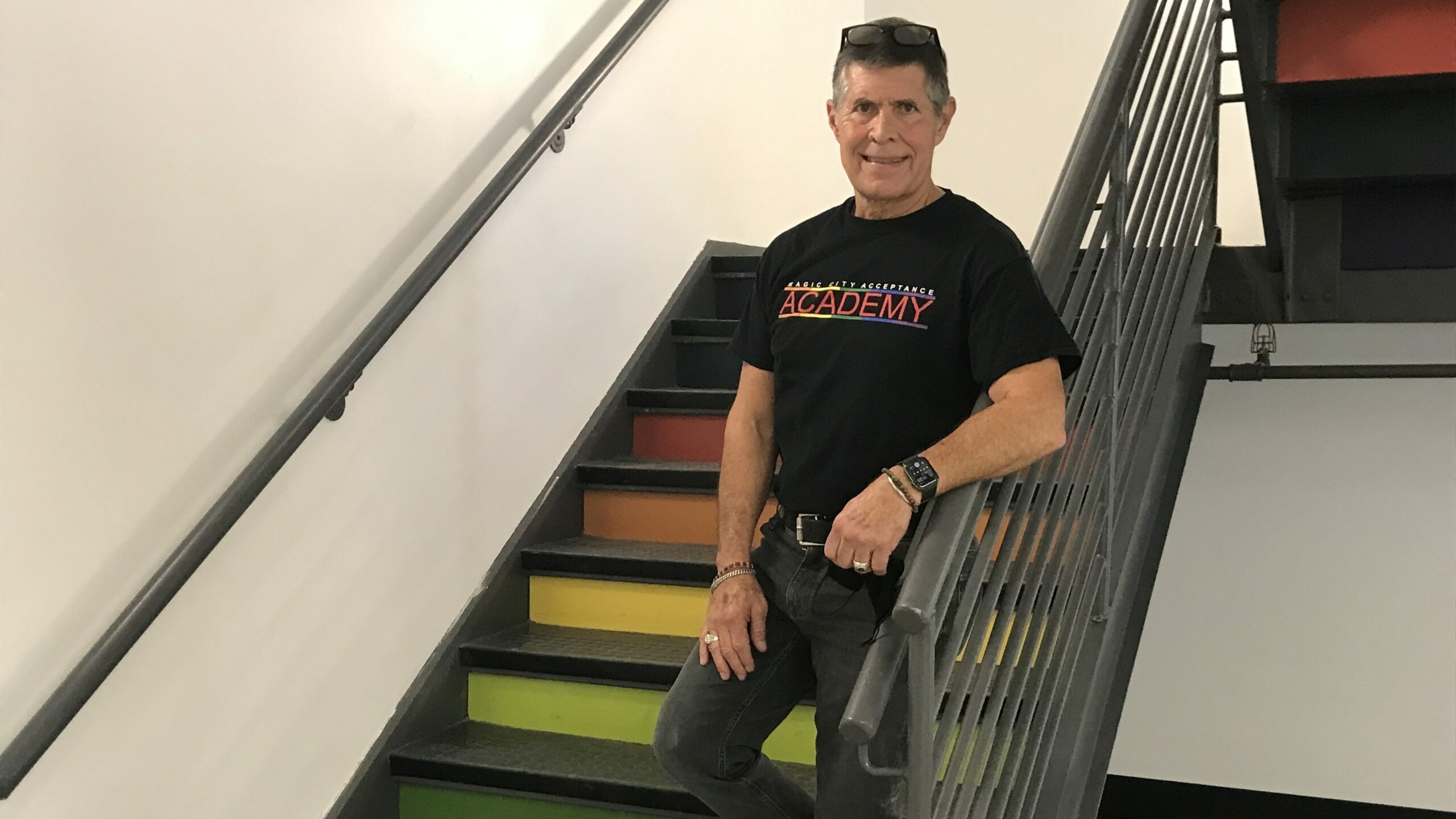 A New Start
Wilson has been an educator in Birmingham City Schools for 28 years, but now that he has the opportunity to support LGBTQ students, he said it feels incredible.
"You know, I'm a member of the LGBTQ+ community, but I've never been able to say that in my work environment and be who I truly am," Wilson said. "I can actually be myself as a principal and not be judged for that."
Wilson said he has seen how many LGBTQ students live through difficult experiences in schools.
"Students were coming with such anxiety and angst and depression and some suicide ideation, and so it informed us that in their traditional learning spaces, they are not getting the support they need," he said.
The CDC's Youth Risk Behavior Surveillance from 2019 found that LGBTQ students are more likely to be bullied compared to their heterosexual or cisgender peers and three times more likely to contemplate suicide. Which is why Wilson said this kind of school is so important.
"Everybody has a place in this world, whether they identify as trans or bisexual or pansexual or just because they're Latinx or African-American," Wilson said. "If we learn to live better as humans and we can show that within our school community, then I am so proud."
The school has an on-campus counselor and teachers who will focus on social and emotional learning just as much as traditional academics. In classes with no more than 20 students, sixth through 12 graders will learn about social justice and equality. They'll go up rainbow stairs and see big windows and brightly colored walls, meant to feel like home.
AJ Johnson will be a student at the new academy this year and they hope to find a place they belong.
"I didn't really find any student-home anywhere within the student body," Johnson said. "The whole system of the way education worked wasn't really correct for me. I eventually stopped trying just because I didn't find any help through anyone there. So I came here in search of a new start."
A Brave Space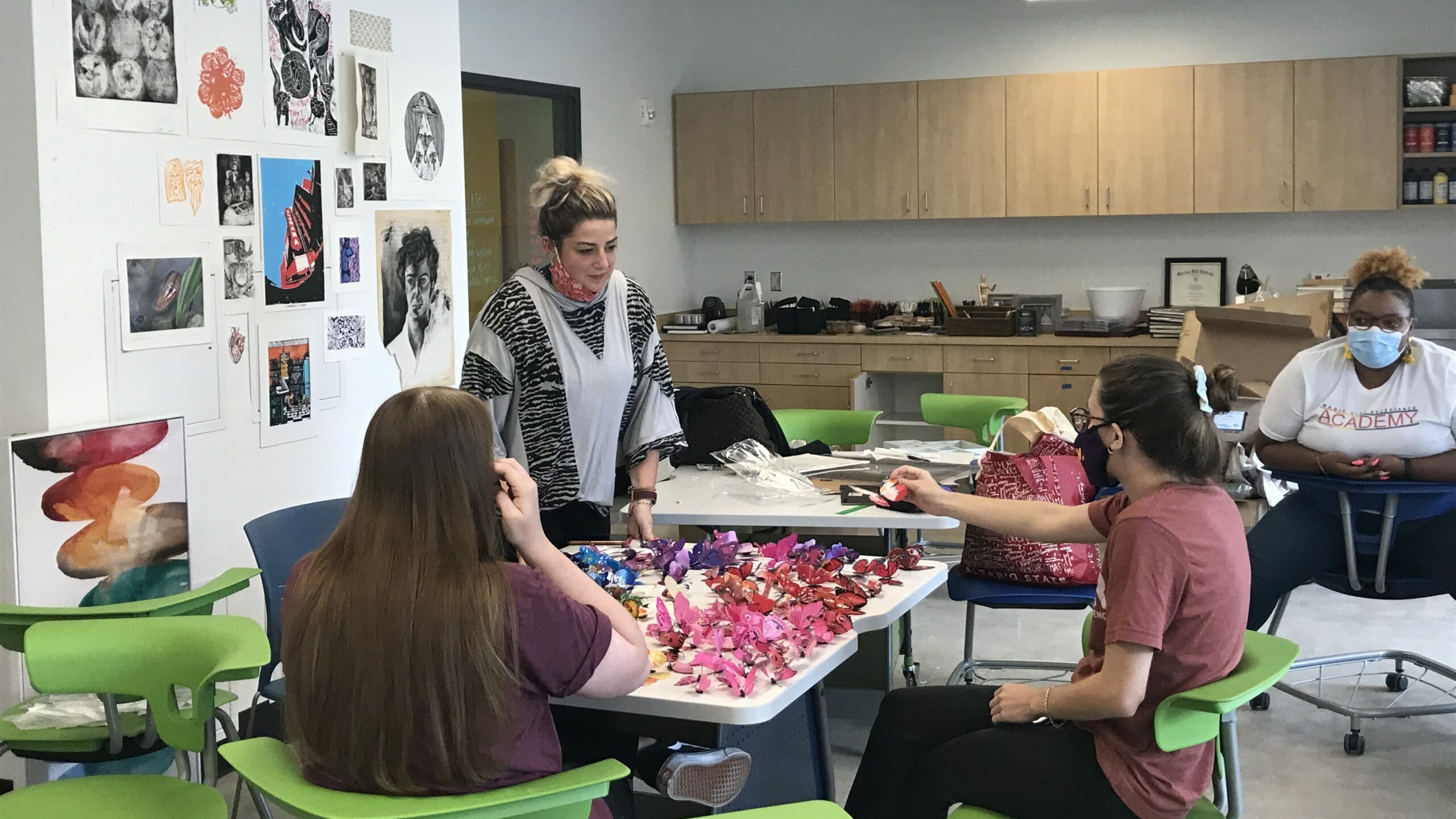 Over the summer, parents and students gathered at information sessions to prepare for the new school year. Andrew and Beth Smith are the parents of two queer children and wanted them to have a supportive school experience.
"I can't believe that in Alabama this has been available to us," Andrew Smith said. "So we're really excited about this. One of the first schools in the nation to be able to do this, that's LGBTQ affirming."
Principal Wilson agreed it is striking this school is in a conservative state like Alabama and not somewhere like New York or Los Angeles. But he said Birmingham has always been a place with progressive values.
"It's kind of poignant that this is happening in the place that was part of the birthplace of the civil rights movement and other movements for equity and equality in this country," Wilson said.
LGBTQ students said they are feeling hopeful and ecstatic about the school's first year. Especially since they can go back to school without the usual worries of ridicule and hiding their identities.
Parents are also relieved. Elliot's mom said she hopes other families take advantage of the opportunities at Magic City Acceptance Academy.
"I was talking to one of the other parents, and she said she feels like this could really, really take off. And I hope it does because there are so many kids out there like mine," Elliot's mom said.
In fact, Elliot's sister will also be at the new charter school for her senior year. Elliot already plans on joining band and theatre at his new school.
"Despite admitting it, I've known who I am for a very long time," he said. "And finally being able to get ready for school, just going into that as me is very exciting."
If you or someone you know may be considering suicide, contact the National Suicide Prevention Lifeline at 1-800-273-8255 (en español: 1-888-628-9454; deaf and hard of hearing: dial 711, then 1-800-273-8255) or the Crisis Text Line by texting HOME to 741741.
Kyra Miles is a Report for America Corps Member reporting on education for WBHM.
Editor's Note: This story was updated on Sept. 10 to indicate the Magic City Acceptance Academy is among the few of its kind in the country and first in the South.