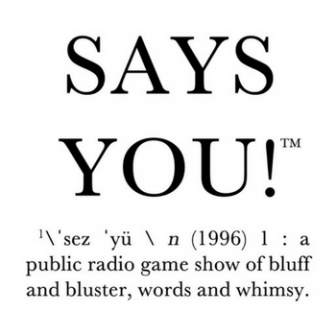 ---
…a simple game with words played by two teams in front of live, enthusiastic audiences from coast to coast. For two decades, we've offered our listeners the best quips, quotes and questions that public radio has to offer, all scored to the rhythms of our musical guest performers.
If you're new to the show, we invite you to join our panelists as host Barry Nolan challenges them with the most interesting and difficult questions you're likely to hear on the airwaves. Our motto: It's not important to know the answers…it's important to like the answers.
We have dozens of categories to pique your curiosity: 'Cryptic Puns,' 'Definitions and Derivations,' 'What's the Difference' and 'Odd Man Out,' to name a few. And at the core of the game – our bluffing rounds. Here, three definitions are given for a mystery word, only one of which is the actual meaning. Think you can determine who's bluffing? Try it and see if you can out-think our panelists.
Schedule
Friday - 6:30 pm - 7:00 pm