Public transit in the Gulf South is in need of an overhaul. The solution could lie in the past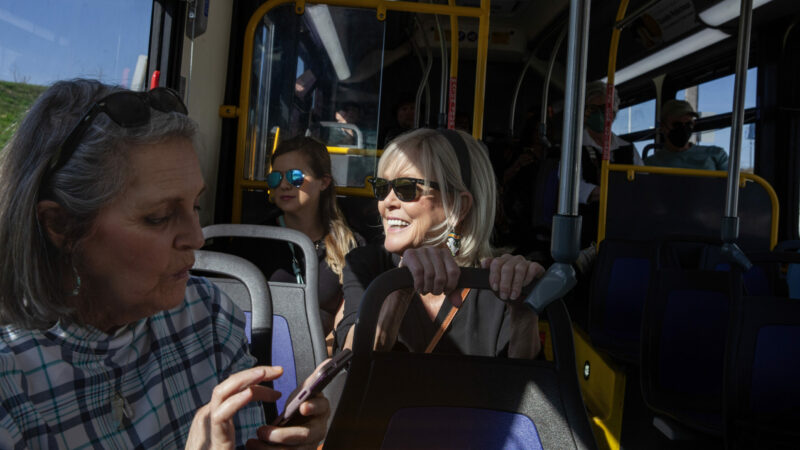 By Carly Berlin and Stephan Bisaha
When Alex Wiggins led the New Orleans Regional Transit Authority, he had one goal: take public transportation in the city "back to the future."
Back to when New Orleans' transit system used to be much more robust than it is now.
Wiggins, who retired from the RTA in December, grew up depending on New Orleans transit. He spent his junior high and early high school years in Algiers, across the Mississippi River from downtown, and in the late 1970s, his family relied on transit. Buses or ferries came every 10 or 15 minutes, so he rarely had to look at a schedule. He regularly went across town to Pontchartrain Beach, the amusement park that used to be on the lakefront.
"I literally remember as a kid getting in trouble because we got home at 11:30, 12 o'clock at night. But we all did it on public transit," he said.
The ease Wiggins remembers is a far cry from the experience of New Orleans transit riders today, many of whom must contend with unreliable timetables and infrequent service to move around the city.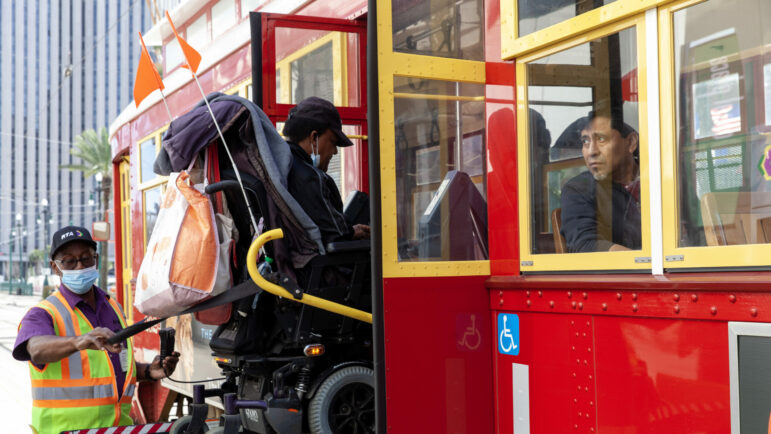 To understand why public transportation in New Orleans has grown less frequent and dependable, Wiggins pointed to Hurricane Katrina.
Before the 2005 storm and the levee failure that followed it, there were well over 300 buses on the streets, but the flood wiped out most of the fleet. There are about 150 buses in use today, according to the RTA. There are also half as many routes crisscrossing the city compared to before the storm, and many of the city's high-frequency routes — ones that run every 15 minutes or fewer at peak — have never returned.
The RTA has since worked to rebuild the transit system while navigating complicated federal disaster recovery funding programs and persistent problems.
Reliable past to present let down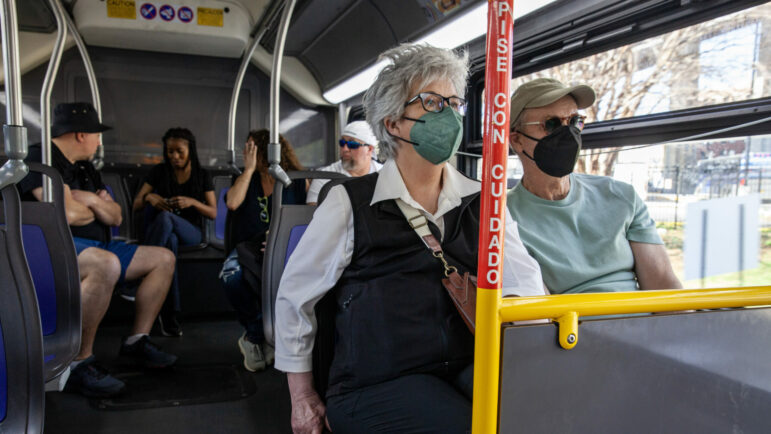 On a January morning, it took Reeyana Bickham over five hours to get to work. Bickham, 25, normally takes two buses from her home in Algiers to the ferry, which takes her to her job at Café Du Monde in the French Quarter.
But that day, the ferry was down as the terminal underwent renovations. In her scramble to get to work, she got on the wrong bus: one that used to cross the bridge over the river, but doesn't anymore, since the RTA redesigned many lines last fall.
Bickham wasn't alone in making such a mistake: many transit riders have expressed confusion after the RTA's route overhaul, and transit advocates have said the changes should have been communicated more clearly. The RTA told the Gulf States Newsroom it's working on better rider communications this year, and it's also preparing to finally post updated signs at bus stops.
But for Bickham — who just moved back to New Orleans — the confusion meant missing half of her workday.
"This has been my number one form of transportation," she said. "And today, it was just like — it let me down a little bit."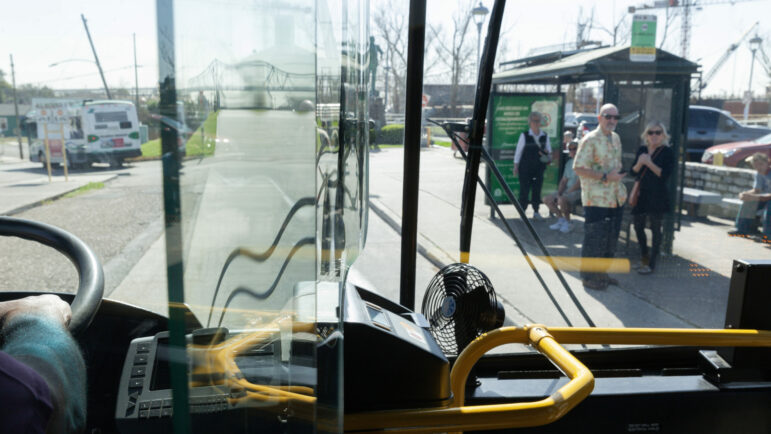 Tailor Jones sums up her seven years riding the bus with one word — it "sucks." Often the buses are late — if they show up at all. That's only gotten worse the longer she's been riding. The RTA's latest app, Le Pass, is supposed to show her when buses get delayed or canceled, but Jones said that hasn't happened.
The extra 20 minutes of waiting on the sidewalk aren't just frustrating. Jones said it can also be dangerous.
"Especially when you're in a neighborhood when people get shot all the time," Jones said.
Beyond more reliable buses, Jones wants the RTA to add lights to more bus stops so the drivers don't pass her when they can't see her waiting in the dark.
Rapid future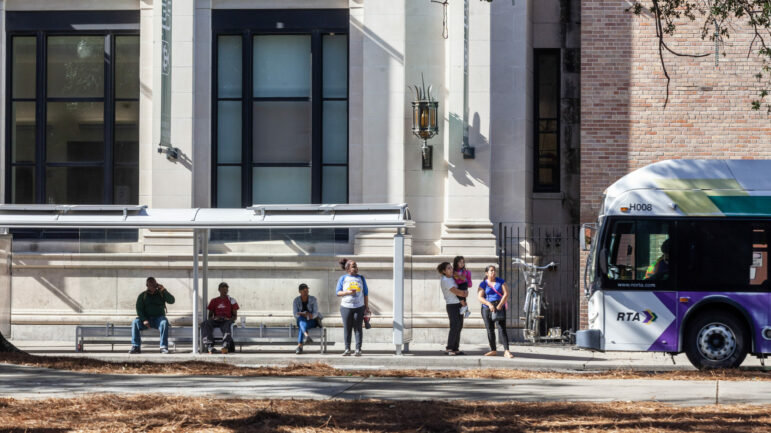 Birmingham's an early southern adopter of BRT, having launched their line — the Birmingham Xpress — in September. The line cuts east to west across the city and through downtown, though only part of the route has dedicated bus lanes. MAX Transit, the transit agency for Birmingham and Jefferson County, tracks about 13,000 monthly rides on the line as of January.
Bus woes go beyond New Orleans borders. Ridership in the U.S. plummeted to 2.3 billion in 2021, less than half of what it was nine years before.
To get more riders, transit agencies have been looking for a way to boost both the service and image of their buses. And to reach a brighter, faster, and more reliable transit future, many transit agencies have embraced Bus Rapid Transit.
The pitch for BRT is simple — implementing it can help a transit agency get closer to the speed and reliability of rail without the cost that comes with new tracks and trains. This usually happens through dedicated bus lanes and, sometimes, giving the buses priority at traffic lights. And while not a requirement, BRT often gets paired with newer buses and modern stops with interactive touch screens. About 70 transit agencies across the U.S. and Canada are running these prioritized bus routes, with many expanding.
The New Orleans RTA is considering building a line between Algiers and New Orleans East, through downtown. Jackson, Mississippi had plans and a $1 million federal grant for a BRT line in 2019, though those talks seem to have faded away after COVID hurt public transit across the country. The city's planning office did not respond to requests for comments on the status of the line.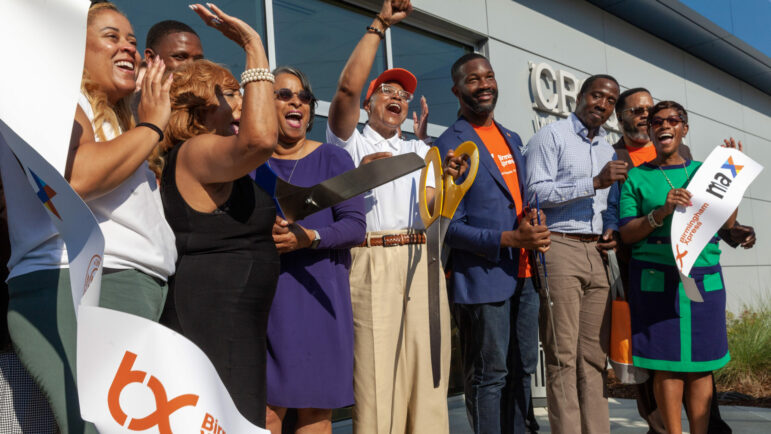 The idea behind the line hits the same selling point of buses in general — giving Birmingham residents a cheap commuting option and access to important services like health care.
While MAX Transit said it's proud of the line, it's also had issues with delays and missing routes. The agency said it offers individual rides for people stranded by buses, but blames the delays on a national shortage of bus drivers.
Bus Rapid Transit isn't a magic bullet for the transit problems in Gulf South cities, but riders in Birmingham said it gave them the same thing New Orleans riders asked for — a faster, more reliable bus ride.
This story was produced by the Gulf States Newsroom, a collaboration among Mississippi Public Broadcasting, WBHM in Alabama and WWNO and WRKF in Louisiana and NPR.