In post-Roe Mississippi, pregnancy resource centers are becoming the last hope for maternal care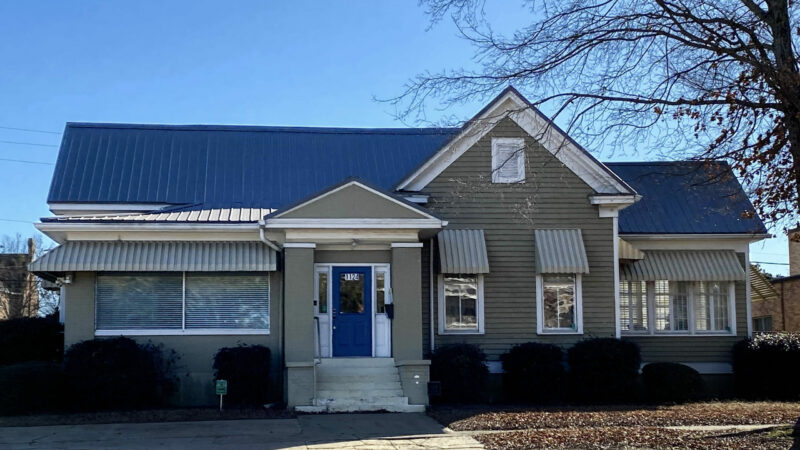 A beige house with a teal blue door sits on a corner of Main Street in Columbus, Mississippi. It's nondescript except for a small white sign — something similar to campaign posters — that reads Life Choices Pregnancy Care Center.
The center only moved into this new location in September, but inside it feels inviting and cozy. Everything looks like something you'd find in your home — soft leather chairs, a Keurig bar and a well-stocked mini fridge.
In the days since abortion became heavily restricted or illegal, pregnancy resource centers have been getting more and more support in states like Mississippi. These places aren't substitutes for health care, but in some maternity care deserts, they're one of the few options for pregnant people. 
This center, one of nearly 40 other pregnancy resource centers in Mississippi, has an unlikely leader — a man named Ray Campbell.
Campbell has been the executive director of Life Choices for almost three years. It's a role he's in — at least in part — because of his mother, who used to volunteer with Life Choices.
"Listening to my mom tell the stories of how wonderful this place was, how it worked and how God works and moves in the lives and loves these ladies and men — that was it," Campbell said.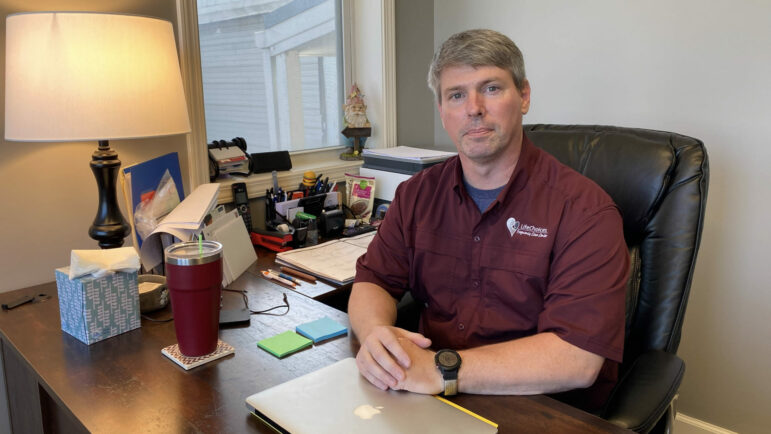 He understands that he's in an interesting position — a man who leads a center specifically for women — but he believes that he can offer unique support.
"When a father or a boyfriend walks in with their girlfriend or wife, when I walk around the corner there, all of a sudden, it seems to be like 'Oh, there's another male here'," he said.
Life Choices includes a section on its website devoted to men and questions they might have if their partner becomes pregnant.
His team serves more than a hundred moms each year — offering basic baby supplies, lactation support, and birthing classes paired with Bible studies.
"We want them to be educated," Campbell said. "But we also want them to be confident parents, and be confident in their pregnancy."
Life Choices operates in the Golden Triangle region of the state, consisting of Clay, Lowndes and Oktibbeha counties — anchored by the cities of Columbus, Starkville and West Point. Those northeast counties are a cluster at the edge of what the March of Dimes identifies as maternity care deserts, which means there are no health care facilities or providers for pregnant people.
The stats are similar for the counties in Alabama that border the triangle — not enough OB/GYNs, nor enough hospitals. In Louisiana, about half of the parishes have low or no access to obstetric care providers.
And while the Golden Triangle is not classified as a maternity care desert, there is only one birthing center or hospital providing obstetric care in each county serving the nearly 129,000 people living in the region.
Dr. Anita Henderson, past president of the Mississippi chapter of the American Academy of Pediatrics said that while pregnancy resource centers have a role in maternal care, they are not a perfect substitute for the mothers they serve.
"Crisis pregnancy centers are able to provide diapers, some food, clothing, parenting, all important aspects of taking care of babies," Henderson said. "However, they do not provide health care. They are not able to care for moms, postpartum or prenatal."
That type of health care is getting harder and harder to find in rural areas in the state. Last fall, Greenwood Leflore Hospital in the Mississippi Delta closed the labor and delivery unit and two other hospitals in the state closed their neonatal ICUs. It's making childbirth even more dangerous as mothers and their babies must travel hundreds of miles for critical care, which Henderson said is alarming.
"Babies who require NICU care will have to be transferred from their communities to those larger institutions," she said. "In the state that has the highest infant mortality rate in the nation, we can't afford to lose services. We need more access. We need more availability for our moms and babies."
But at Life Choices, Campbell said he thinks more about what they can offer instead of what they can't.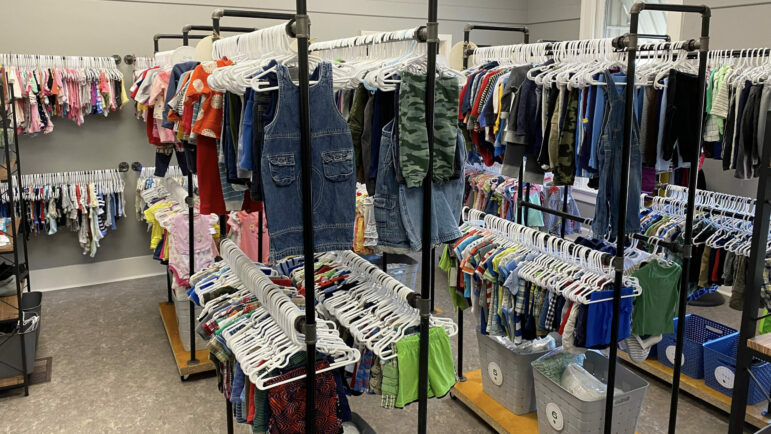 Life Choices doesn't charge women for using their services. They rely on the Columbus community and programs, such as the Choose Life license plate, to keep their doors open. Campbell says his center has clients who sometimes travel long distances for a visit, and some come over from Alabama.
The center refers women to physicians nearby and helps them advocate their concerns with their doctors. Most of Life Choices' clients are lower-income women, and he said the center helps women navigate their options.
"We've had clients say, 'I don't want to have a baby because of the cost,'" he said. "We're like, 'But do you know about Medicaid?' And they're like, 'Oh, what is that?'"
Nearly half of the live births in Mississippi are covered by Medicaid, but that coverage expires 60 days after the birth of the child. Any ongoing health care needs for new mothers aren't covered after two months. Mississippi has one of the highest rates of maternal mortality in the country, and most of those deaths occur after childbirth.
With the state's near-total ban on abortions, that means more, riskier births for moms in the region. And as states adjust to abortion bans, pregnancy resource centers like Life Choices may begin to emerge as the only options for some pregnant people.
These centers are often criticized for steering women away from getting abortions. Campbell said they don't avoid the topic, but Life Choices is proudly anti-abortion.
"We do educate on abortion," he said. "We don't shy away from it. We tell them the risk of abortion. What abortion is, all that good stuff, but then we also talk about adoption."
This story was produced by the Gulf States Newsroom, a collaboration among Mississippi Public Broadcasting, WBHM in Alabama and WWNO and WRKF in Louisiana and NPR. Support for reproductive health coverage comes from The Commonwealth Fund.