Health advocates hope Narcan's over-the-counter status will bypass Alabama's strict laws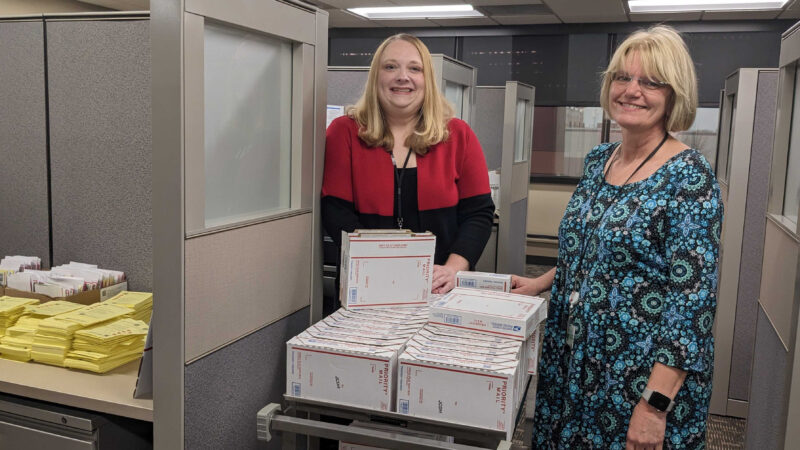 Inside the sheriff's office in Fayette, Ala., Nicole Hall stands in front of a group of quiet police officers, settling in for a two-hour training.
"Alright are y'all ready to get started on Narcan?" she asks enthusiastically. "Yes I love the excitement!"
Hall is the program coordinator for Project Freedom, an initiative run by the University of Alabama. She travels throughout western Alabama to teach first responders how to administer Narcan, a nasal spray that can reverse an opioid overdose.
"This is our first one in Fayette, which I'm so incredibly excited about, because the rural community really, really needs these services," Hall said.
She said it's vital for first responders to have access to Narcan and know how to use it, as they face the increasing presence of fentanyl, a powerful synthetic opioid.
But in Alabama, obtaining Narcan can be difficult. The state has some of the nation's toughest restrictions on dispensing the medication. Now, public health advocates say those barriers could soon go away.
Last month, the U.S. Food and Drug Administration (FDA) approved the 4 mg Narcan nasal spray to be sold over the counter, potentially opening the door to expand access to the life saving drug throughout Alabama.
'Narcan is like magic'
An hour and half drive west of Birmingham, Fayette is home to a few thousand people and a police force of 10 officers.
Jordan Roberts has served on the force for about six years. He's never used Narcan, but he sees a growing need for it.
"Each day that goes by, the more and more that we are seeing that fentanyl is becoming a problem," Roberts said.
In recent years, fentanyl has all but taken over the illicit drug supply, with just a small amount capable of triggering an overdose.
Narcan can reverse it. The nasal spray is safe and easy to use.
"Narcan is like magic," said Austin Palmer, a police officer in Carbon Hill, a small city next door to Fayette in nearby Walker County. "I've seen it do some crazy things."
Palmer said he's used Narcan to revive people who were on the brink of death.
He said he and other officers try to carry the life saving drug with them at all times, but it's not easily accessible.
"We have bought Narcan out of our own pockets before, just because it's been kind of hard for us to get it," Palmer said. "Right now I've got one dose left."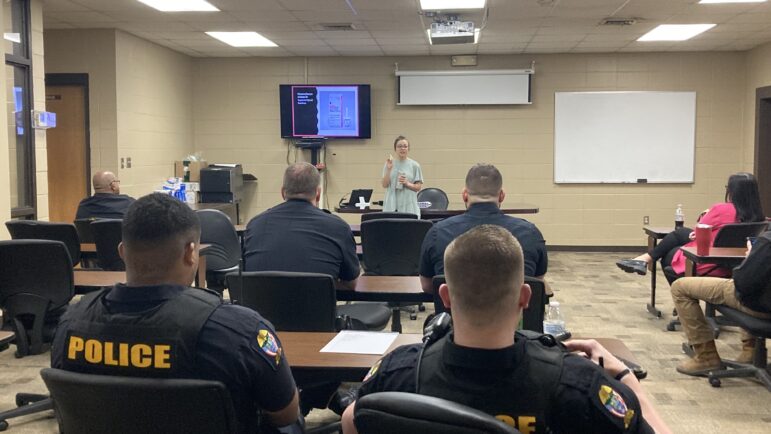 Under Alabama law, anyone can use Narcan to try to save someone's life, but only certain medical providers, like doctors, pharmacists and public health nurses, can dispense the medication.
So at training events like the one in Fayette, officers learn how to use Narcan, but they don't receive it on site, because most outreach groups don't have a doctor or pharmacist on staff.
To obtain the nasal spray, first responders and residents can buy it from a pharmacy, or if they want it for free, they can go through the Jefferson County Department of Health (JCDH).
Expanding access
Every day at the JCDH headquarters in Birmingham, staff fold and organize a stack of cardboard boxes and fill them with Narcan kits. They mail out hundreds of them each week to residents all over Alabama who complete an online training.
The initiative started in 2020, in response to COVID-19 shutdowns, and demand has grown exponentially. In 2022, the department shipped roughly 8,000 Narcan kits, up from 5,000 kits in 2021 and 1,000 in 2020.
The medication is dispensed under the medical license of Dr. Darlene Traffanstedt, JCDH medical director. She said it's a way to expand access to Narcan while following Alabama's strict requirement.
"In Alabama, there's a firm stance that if it is a prescription medication, it must be dispensed by someone who has special training in prescribing and dispensing medications," Traffanstedt said. "We've done everything that we can to work within that restriction. And no doubt that that restriction has limited access."
Traffanstedt said it would be ideal if the health department could give a bulk supply of Narcan kits to community groups that train first responders and groups that work directly with people who have substance use disorders.
"We want them to be able to provide it right then," she said.
Now that Narcan is approved to be sold over the counter, Traffanstedt said that should soon be possible, because state restrictions around who can dispense the medication will go away.
"What will not go away is the cost barrier," she said.
Once it's available at grocery stores and supermarkets, Narcan is expected to cost as much as $50 or more.
Traffanstedt said the health department will keep offering it for free, and they hope to soon give more of it to groups like Project Freedom, which sounds great to Hall.
"I'm going to be completely and totally honest, these are just big dreams. We are uncertain about what it will and won't look like you know," she said. "But theoretically, it could be just a situation where at something like this we can actually just bring the Narcan with us and give it to the department afterwards."
For now, officers have to get the nasal spray via mail from the state health department. Narcan is expected to be available over the counter in a few months.
To learn how to use Narcan and receive a free two-dose kit, click here.