Alabama police arrest 2 teens for birthday party shooting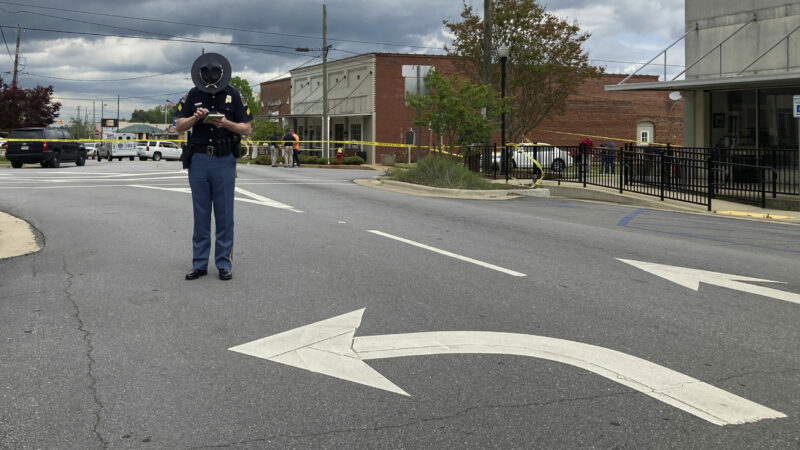 DADEVILLE, Ala. (AP) — Two teenagers have been arrested and charged with murder in connection with a shooting that killed four young people at a Sweet Sixteen birthday party, Alabama investigators announced Wednesday.
District Attorney Mike Segrest said the pair — Ty Reik McCullough, 17, and Travis McCullough, 16, both of Tuskegee — would be tried as adults. That's automatically required in Alabama for anyone 16 or older charged with murder.
Segrest said prosecutors would ask a judge to hold them without bail. A bond hearing must be held by Friday under Alabama law. Online court records do not show any previous adult charges in state court for either of the arrested teens.
Saturday's violence shocked Dadeville, a sleepy town of 3,200 about 45 minutes from Tuskegee.
The birthday girl's brother, Philstavious "Phil" Dowdell, died in his sister's arms. He and another victim, Shaunkivia Nicole "KeKe" Smith, were high school seniors, and families were left planning funerals instead of graduation celebrations. Two young men were also killed.
Another 32 people were wounded and Segrest said four are still in critical condition. He said more charges would be coming.
"We're going to make sure all those victims have justice, not just the deceased," Segrest said, speaking to reporters in front of the town courthouse.
The gunfire broke out at a birthday party for Alexis Dowdell at a dance studio just off the town's courthouse square. Witnesses had said multiple people began shooting some time after Dowdell's mother paused the celebration to ask people with guns to leave.
A family member of KeKe Smith said she was thankful for the arrests.
"It don't make the hurt any easier. But we are relieved that they (the suspects) are not out in the community," Amy Jackson said in a phone interview Wednesday morning.
Sgt. Jeremy J. Burkett of the Alabama Law Enforcement Agency wouldn't say where the two suspects are being jailed, or whether they were already in custody when they were charged in the case.
"We can't get into a motive right now, because that would be part of an ongoing investigation," Burkett added. "We can't share that."
Those killed were: Phil Dowdell, a star wide receiver with plans to play college football; KeKe Smith, 17, an athlete-turned-team manager; Marsiah Emmanuel "Siah" Collins, 19, an aspiring singer and 2022 Opelika High School graduate who planned to start college this fall, and 2018 Dadeville High graduate Corbin Dahmontrey Holston, 23, another former athlete at the school.
Holston had gone to the party to check on a younger family member who feared trouble, Holston's mother Janett Heard told AL.com. Relatives told the news outlet that the shooting began shortly after Holston arrived, and that he pulled his younger relative to safety.
Segrest said that grand jurors typically meet in Tallapoosa County in March and September, but he said he would recall grand jurors to seek an indictment before September. "If we can establish the facts, we will be asking our grand jury to come back in."
This was the first police news conference since Sunday.
The Alabama Law Enforcement Agency had said only that shell casings from handguns had been found, noting that there was no evidence a high-powered rifle was used. Investigators repeatedly appealed for information from the public, including videos.
In 2020, Alabama had the fifth highest rate of gun deaths in the country, according to the U.S. Centers for Disease Control and Prevention.