Alabama birthday girl begged dying brother to 'stay with me'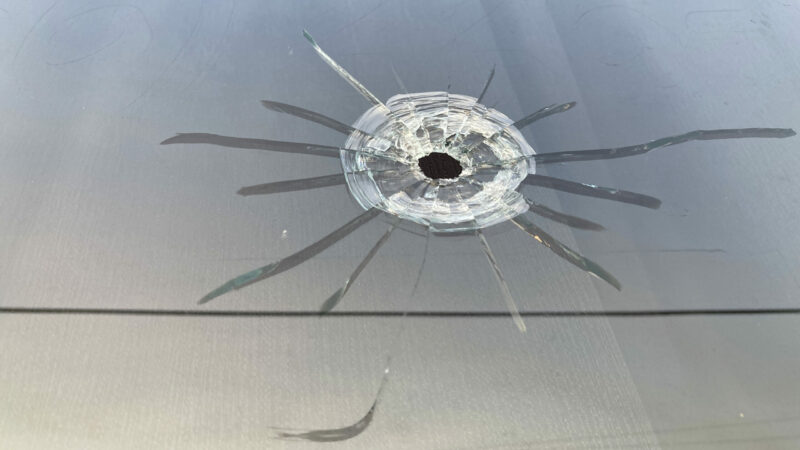 By Kim Chandler and Jeff Amy
DADEVILLE, Ala. (AP) — Alexis Dowdell's Sweet 16 birthday party ended with her kneeling beside her fatally wounded brother on the blood-slicked floor of a dance studio in small-town Alabama, the bodies of other wounded teens scattered around them.
Dowdell told the story of Saturday's terror in Dadeville to The Associated Press on Monday surrounded by family. The shooting left her 18-year-old brother, Philstavious "Phil" Dowdell, and three others dead, along with another 32 injured, some critically.
"I got on my knees and he was laying face down. And that's when I grabbed him. I turned him over, I was holding him," Alexis Dowdell said, recalling the moment she found her brother with the life ebbing out of him.
She tapped her brother's face as he drifted in an out of consciousness, begging him to, "stay with me, stay with me." She recalled: "I wasn't crying at the moment because I was trying to be strong instead of panicking. And so I said, 'You're going to be all right. You're a fighter, you're strong.'"
As of Tuesday morning, state officials had yet to release much information about their investigation. The Alabama Law Enforcement Agency said only that shell casings from handguns had been found, noting that there was no evidence a high-powered rifle was used. Investigators continued to appeal for information from the public, including videos.
The weekend was marked by a series of high-profile shootings in the U.S. One left two people dead and four wounded Saturday in Louisville, Kentucky; another resulted in four men being shot — one fatally — in Los Angeles; and a third left two women wounded at Lincoln University in southeastern Pennsylvania.
Saturday night in Dadeville, about an hour's drive northeast of Montgomery, began as it should have, with "everybody dancing, vibing to the music," Alexis Dowdell said. Keenan Cooper, the DJ at the party, told WBMA-TV the event was stopped briefly when partygoers heard someone had a gun. He said people with weapons were asked to leave, but no one did.
Soon after, the shooting started.
Dowdell said she dove to the floor near the DJ as the dozens of revelers ran. She "didn't know where to run," in part because shots seemed to come from multiple directions.
When there was a break in gunfire, she bolted for the front door. But someone pushed her. It was her brother, trying to protect her.
"I guess he tried to push me out the door as fast as he could, but I ended up slipping on blood, because it was a whole bunch of blood on the floor," she said.
Once outside, she found her mother and stepfather. "Where are my cousins, where are my friends? Where is my brother?" Dowdell pleaded.
Making their way back to Mahogany Masterpiece dance studio, the children's mother looked inside. "She came out and she was like 'My baby, my baby's gone,'" she said.
Phil Dowdell, a star wide receiver with plans to play football in college, was fading in and out of consciousness. His sister made her way to him, begging him to stay with her. She checked on wounded friends, including one she said was shot in the head. By the time paramedics arrived, Phil no longer had a pulse.
"When they came in, I said 'Can you check on my brother?'" Alexis Dowdell recalled. "And he checked my brother's pulse and I was like, 'Is he alive or is he dead?' And the people didn't want to tell me, so they just gave me, like, a certain look. And I just knew he was just gone."
In addition to Phil Dowdell, Tallapoosa County Coroner Mike Knox said the dead included fellow Dadeville High senior Shaunkivia Nicole "KeKe" Smith, 17, an athlete-turned-team manager; 2022 Opelika High School graduate Marsiah Emmanuel "Siah" Collins, 19, an aspiring singer whose father told AL.com that Collins planned to start college this fall; and 2018 Dadeville High graduate Corbin Dahmontrey Holston, 23, another former athlete at the school.
In the aftermath of the shootings, friends and family remembered details large and small about the dead.
Smith was so excited about finishing high school and starting college that when a former neighbor asked her about it, Smith responded with the exact hour she was supposed to graduate.
She had already shared selfies taken in her cap and gown, writing "almost out."
Amy Jackson, an older cousin of Smith's who said she was more of an aunt to the teenager, recalled her "million-dollar" smile.
"She would light the room up when she walked in. She was that type," Jackson said. She described her as a talented athlete who ran track and played multiple team sports until a knee injury sidelined her.
Smith's last act before leaving for the party Saturday was to get her little sister ready for bed.
"That was her nature. She was a caretaker," Jackson said.
Much of the early public attention focused on Phil Dowdell, because he was a star football player in a state where high school football rules Friday nights in the fall.
Antreal Allen, an assistant coach at Georgia State University and an uncle to the Dowdells, said his nephew was "super excited to go play football at the next level" at Jacksonville State University east of Birmingham.
But Allen said it was about more than football. The uncle said he was the first college graduate in the family and that Phil "was up next."
"He had a lot of the younger generation looking up to him. He tried to lead by example," Allen said.