Woodfin says people without homes won't be moved from public spaces for The World Games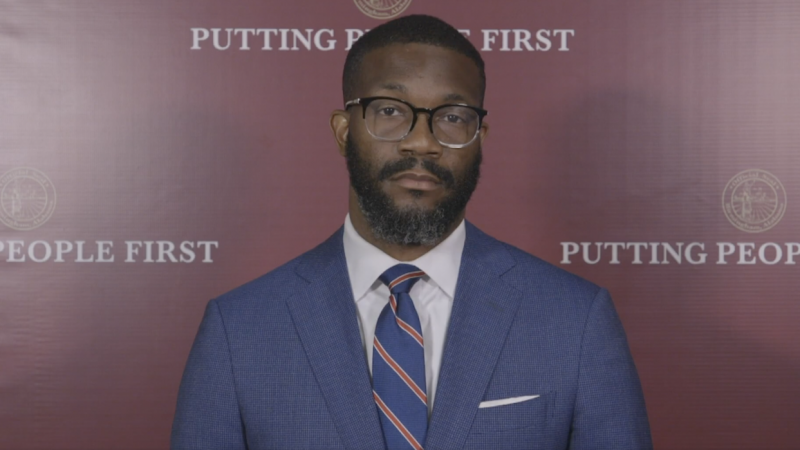 Birmingham Mayor Randall Woodfin said people who experience homelessness will not be displaced despite security barriers put in place for next week's The Word Games.
"No one is putting homeless people out of public spaces. No one is forcing them out of public spaces. No one is telling our homeless neighbors they can't be there. It's simply not true." Birmingham Mayor Randall Woodfin said Tuesday. "That's not coming from the City Hall. That's not coming from the administration. That's not coming from The World Games Committee, that's not coming from BPD (Birmingham Police Department)."
However, that's not what Birmingham City Councilor Crystal Smitherman said last month. She told WBHM that once the security parameters are in place, no one without tickets or credentials will be able to access the areas e reserved for The Games.
World Games officials now clarified that anyone will be able to walk through and access public areas around venues like Railroad Park, Linn Park, Protective Stadium and the new City Walk, despite those sites being behind security parameters. However, only people with credentials for their vehicles will be able to drive through. Tickets are required to get inside of a venue or attend a competition.
This is the latest conflict around how Birmingham's homeless population will be treated during The World Games. The Birmingham City Council and a group of community organizations announced in April there would be around 48 tiny home shelters built that people who experience homelessness could use for temporary shelter during the event. Recently, organizers said there won't be any wooden sleeping shelters available.
Woodfin explained that other options will be available for people without homes. There will be a cooling shelter near Parker High School open everyday during The World Games, offering sleeping cots, cool water and snacks. Other shelter locations including One Roof, The Salvation Army, Firehouse Shelter (men only), First Light (women only) will also be open to provide services.
The Compassion Project or The Faith Chapel Care Center, which was to host the tiny shelters, will still be open and offer three meals a day, entertainment, recreation, and health services.
The World Games will run July 7 through 17.