Underground landfill fire still contained; smoke could be worse for a few days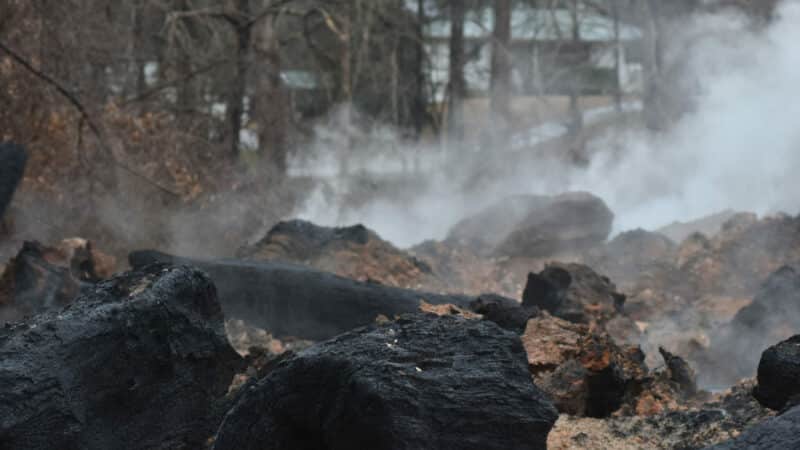 James Mulkey was among some folks from Moody who went shopping for Christmas gifts Tuesday. As they returned, they happened by the White's Chapel area, where a landfill fire has been the source of smoke since November.
Because of the wind, they weren't greeted by the smell of smoke. But this too will pass.
"If you smelled anything at all, it was very, very little," said Mulkey, the Moody fire marshal. "I imagine this morning with the change in wind direction that that (smell) got a lot worse at that same intersection."
The Moody Fire Department updated residents about the status of the landfill fire that is producing smoke that's irritating residents as far as 20 miles away. The department's Facebook post said no change in fire activity has been noted and all burning is still contained within the fire break.
"Smoke continues to discharge from both the heavy fuels on top of the ground and from holes and cracks from the underground portion of the fire," the post read. "The smoke does seem to be a little heavier than in previous days on the north end of the incident."
Mulkey said recent rain would typically aid in fighting an above-ground fire. Rain likely can't reach the fire that is smoldering under the surface.
Additionally, the precipitation, lower temperatures and humidity can make matters worse for residents.
"The rain decreases the temperature (and) it increases humidity," Mulkey said. "It kind of inverts the atmosphere a little bit and it keeps that smoke lower to the ground, basically in the same principles that you get fog. It keeps that smoke kind of lower to the ground. It's gonna be affecting people. That's unfortunate but that is just how it works. That's the science of it."
The fire marshal said the smoke from underground will be pushed in the direction of the prevailing wind when it does seep out. Rising temperatures would allow the smoke to rise and not irritate residents, but that's not in the immediate forecast.
"If you can get a nice, warm day, that smoke can get up and out of everything," Mulkey said. "It's still gonna go but it'll be above everybody (where) it's not as big a deal."
The fire marshal said the challenge of battling an underground fire is new to structural firefighters. They were exposed to principles in school but the real-life application is new to them, so they have deferred to experts.
"I've been on the phone with folks from Pennsylvania, talking with some of our state experts and things of that nature," Mulkey said. "We are still looking for a solution, different types of solutions. As soon as we know something, we're gonna be transparent about it.
"We're not hiding anything. We're not gonna hold anything back," he continued. "If we don't know, we simply don't know. But we also don't want to speculate because speculations turn into rumors. That just does damage."
Moody Fire Department used its Facebook post to dispel some rumors.
The landfill is on fire: The incident is at a location named Environmental Landfill, at 1317 Annie Lee Road. It is not at the Star Ridge Landfill, also called the Moody landfill or Waste Management, which is located at 3301 Acmar Road. The two are not connected. They are, in fact, several miles apart. This site is set up to take in natural debris such as leaves, limbs, trees and such. Other materials are not permitted into this landfill. The fire department will not speculate on what materials have been brought into the site over the years because "we simply do not know. Layers of materials were placed here and covered with dirt. Then, more layers were added and so on."
This can be put out by water, burying it: The official term for the trees, limbs and other materials in a brush fire is fuel, and these fuels are identified by how long they can burn. Flash fuel consists of grass and dry leaves. This particular site contains fuels identified as 500-hour and 1,000-hour fuels due to the diameter of the material. The heat output along with this being a deep-seated underground fire along with surface fire makes the fire extremely resistant to water as a quenching agent, and you simply can't bury something that is already by definition buried. Trying to churn the underground material up is a dangerous idea since this has been burning and may be unstable to work around with heavy equipment, and introducing more oxygen to a smoldering fuel will allow it to ignite, causing further problems.
This fire was started by … : The investigation into the cause of this fire is ongoing and may take an extended amount of time to conclude. It is notoriously difficult to determine a cause of wildland and wildland urban interface fires because of their size and potential access areas. No information will be released to the public about an ongoing investigation to avoid any compromise of that investigation.
More material was added to the site: It's doubtful that new material has been added to the site. Pictures circulated on Facebook were examined and compared to previous video and pictures, and it's likely those materials were already in place. As the fuels on the edge are consumed, they reduce, and people can see farther into the site. This causes confusion, but the materials in question were stacked using heavy machinery that has not been on site since Nov. 30 due to the unstable nature of the area. Moody Fire Department has control of the entry point. If you see someone on the site that doesn't have emergency lights or is not being escorted by someone with emergency lights, call 911 and report it.
Who can I contact: Moody Fire Department is currently working and in contact with Alabama Forestry, St Clair County EMA and the Alabama Department of Environmental Management. The governor has been briefed. ADEM has sent the following statement: "ADEM is coordinating with state and local officials, including the Moody Fire and Rescue Department, to help determine the best path forward to deal with the fire at the Environmental Landfill site."
The post concluded by saying Moody Fire Department is continuing to monitor the incident and evaluate potential solutions to this problem. Updates will continue on the Moody Fire Department Facebook page. Updates will be issued weekly unless changes to the incident dictate a more urgent update. The next update will be Dec. 19.