There's No Leaving and There's No Returning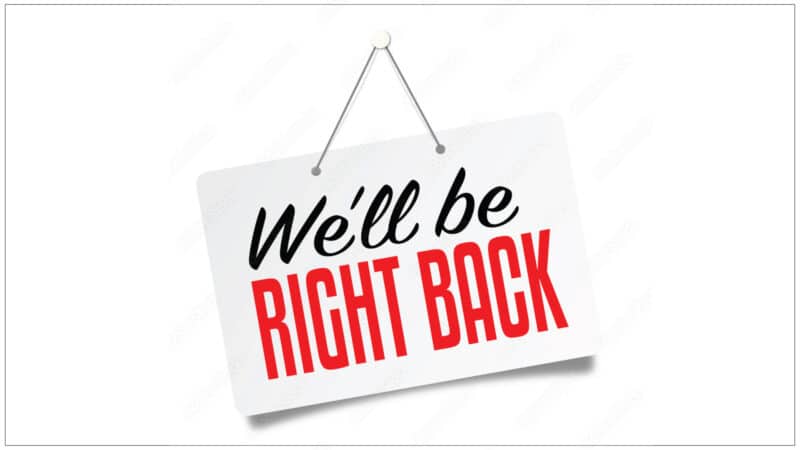 Here's some radio inside info you may not have thought about, but it's precisely the sort of thing that drives program directors like me crazy. See if these phrases sound familiar:
When we come back…
After the break…
Welcome back…
When we return…
We're back…
We'll be right back…
We have to take a break…
It's common to hear these phrases multiple times in one program from show hosts and announcers. But when you're producing radio, the craft happens in a studio, usually by yourself. And, yet, at any single time, you're talking to thousands of people.
It's tempting to talk to "everyone out there." And, it's equally tempting to "head to a break" and "be right back." After all, that's what's happening, right?
On the radio, it's important to talk like people talk. But more than that, radio is a very personal and intimate medium available most anywhere.
But here's the thing. When we use words such as these, you lose radio's distinct advantages of being personal and intimate. It's not "everyone," it's YOU. In other words, we should be talking to one person…you.
And you're not "out there." You're at home or in your car or wherever you actually are. You're not drifting out in space above Radioland.
When I hear "we'll be right back" (and all its variations), as program director it's my job to think that, from a listener perspective, we never went away in the first place!
Telling listeners, we're coming and going is what's happening from our perspective – the people who work in radio. However, for listeners, these details are irrelevant. You hear the program as it is – one continuous sound. To YOUR ears, we never leave and return.
At WBHM, I've trained our hosts to talk to one person (you!) and eliminate this odd sense of coming and going – though you may still hear it from network and national programs on occasion. And if you do, just know that somewhere, out there in Radioland, a program director is silently sobbing onto his microphone.
(Through "Programming Notes," we hope to keep you connected to what is happening at WBHM both internally and on-air. Have feedback you'd like to share? Or a programming question? Let me know!)