Police remove suspicious backpack from near a Birmingham synagogue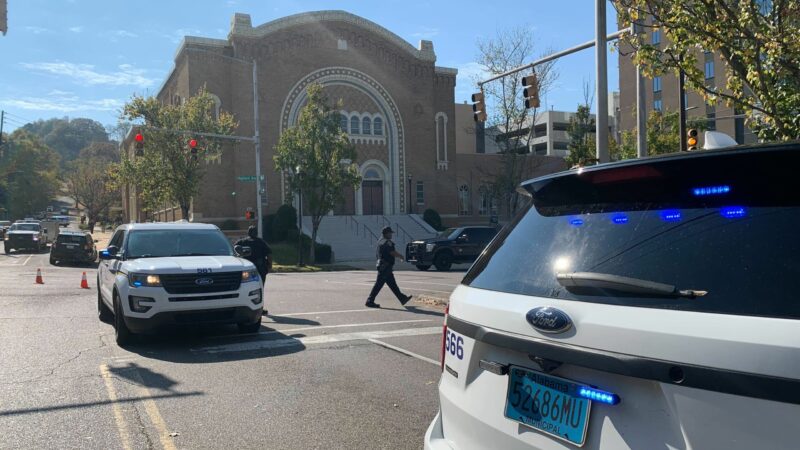 Birmingham Police said a suspicious backpack found unattended near Temple Beth-El Friday morning was a credible threat. Authorities took the package to an off-site location where investigators determined the bag did not contain an explosive device.
Authorities say a propane tank and clothing was found on fire near the synagogue early this morning, and that the flames were put out before 6 a.m. There was no damage to the building. Around 8:30 a.m., police say the Regional Security Advisor for the Birmingham Jewish Federation, Jeff Brown, was notified about an unattended package. Brown identified the package as a backpack and notified Birmingham Police and the FBI. The Birmingham Police bomb squad unit transported the package to an undisclosed location, where they determined it did not contain any explosives.
Police spokesperson Truman Fitzgerald confirmed to WBHM that Birmingham Police have a person of interest in custody. Police are working with the FBI to determine if any criminal charges will be filed. The two agencies are also investigating if the fire and the backpack are connected.
Fitzgerald said Friday's events were especially alarming because there have been previous threats against the temple. Additionally, Jewish communities have expressed concerns as anti-semitic sentiment has increased nationally.
FBI statistics show that in 2019 nearly 55% of religious hate crimes in the United States were committed against the Jewish community.
"You couple that with everything that's going on nationally, with anti-semitic remarks, and you have today," Fitzgerald said.
The incident in Birmingham came one day after the FBI said it received information about a "broad" credible threat to synagogues in New Jersey. Officials urged synagogues there to take security precautions. It also follows recent anti-semitic comments from Ye, the rapper formerly known as Kanye West, and NBA player Kyrie Irving. The Brooklyn Nets suspended Irving for at least five games.
In 1958, 54 sticks of dynamite were placed near the Temple Beth-El's building, but the bomb failed to detonate. A historic marker about the attempted bombing was erected this year near the same stretch of sidewalk where the suspicious backpack was found.
WBHM's Miranda Fulmore contributed to this story.