I Like Your Dish-position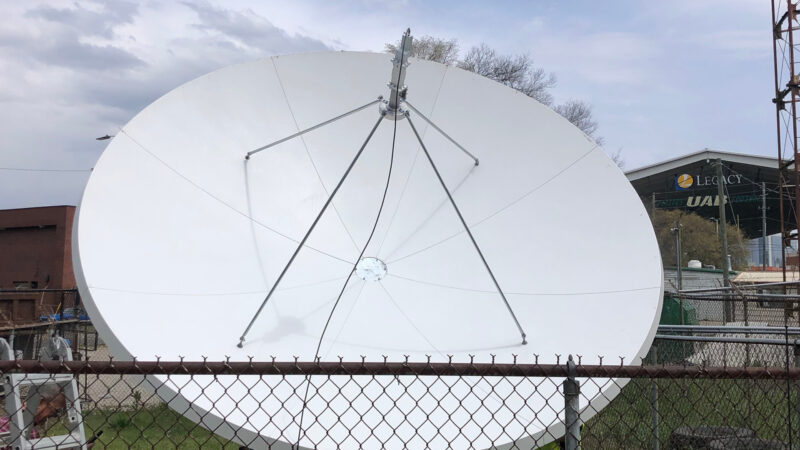 Sorry about the bad pun. But imagine getting an 850-pound delivery at your doorstep.
This is what happened recently at WBHM when we received a new satellite dish from NPR Distribution.
The satellite is how we receive live news programming such as Morning Edition and All Things Considered, as well as breaking news and special coverage. If you've ever stopped by WBHM, there are three satellite dishes on our property. This is actually the smallest of the three dishes.
Our old satellite dish still worked – but after 18 years, the signal was beginning to degrade. As a listener, this is not something you would notice, but this is exactly the type of issue that keeps our engineer Darrell McCalla awake at night. The weather can play a factor and, this may sound odd, but over time, the dish can also become "un-round" – both of which can contribute to signal loss.
And, while we're just swapping out a piece of equipment, we needed a crane to lift the old dish out and put the new one in place. And there's more. Satellite dishes must be pointed at a very specific angle to receive the signal.
If you think that Birmingham traffic is bad, it's even worse in space! According to Wikipedia, as of January 1, 2021, there are 2,224 communications satellites in Earth orbit. The difference in lining up a satellite dish correctly can be as little as one inch!
Another interesting fact: satellites are in geostationary orbit 23,000 miles above the equator. This means the satellite appears stationary at the same point in the sky – otherwise all the satellite dishes on the ground would have to move to track the satellite.
A twisted version of this actually happened in 1998 when the Galaxy IV satellite NPR was using developed a fatal flaw and drifted out of its normal orbit! Chaos ensued. All NPR affiliated stations lost access to network programing. The internet hadn't come into its own yet.
A temporary satellite took over the NPR program feeds, but satellites at every public radio station had to be re-pointed to new coordinates. This was a formidable task because many of these ground satellites were not designed to be easily moved. Then, a few weeks later when a permanent solution was implemented? You guessed it…every station had to re-point their satellite dish back to the original coordinates.
We do all this so we can have the most reliable and clear sounding satellite signal possible for you. With the new dish installed, we've seen about a 30 percent increase in our signal strength. And in case you're wondering, prior to satellites, programing was delivered by tape and timely news programming was delivered by telephone line.  
I prefer it this way despite a rare hiccup!
(Through "Programming Notes," we hope to keep you connected to what is happening at WBHM both internally and on-air. Have feedback you'd like to share? Or a programming question? Let me know!)