How Do You Know That?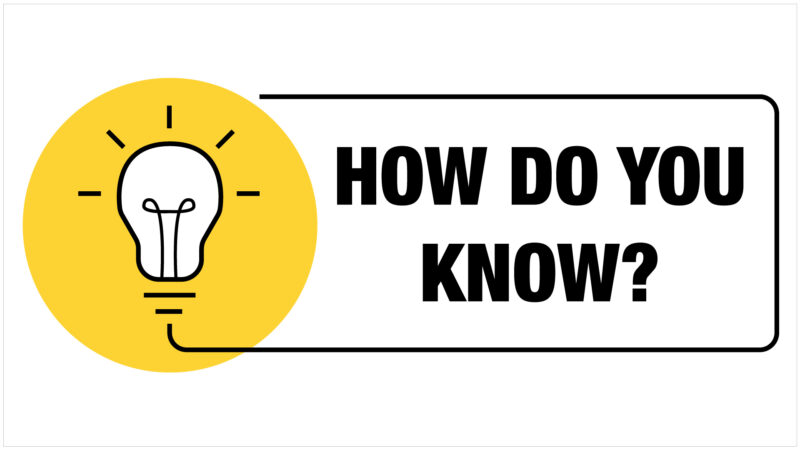 A couple of weeks ago, I wrote about listener feedback to WBHM and how the news you hear comes from a variety of sources.
This week, I want to share another feedback story with you – this time from me.
Sunday night, I turned on the radio and heard this episode of On Being. If you're not familiar with the program, it airs Sunday night from 6 to 7, and it is described as a program about the big questions in life. What does it mean to be human? How do we want to live? And who will we be to each other?
When I heard this interview with guest Trabian Shorters, it was fascinating. Just the kind of programming you expect to hear on public radio. The conversation I heard focused on how we have a habit of seeing deficits — and of defining people in terms of their problems. This has not only doomed some of our best efforts to failure, it leaves all of us prone to cynicism and hopelessness. There was a lot more to the conversation than this, and I highly recommend you listen to it, but I want to focus on one specific part. Shorters said, The CDC [Centers for Disease Control and Prevention] has reported that news consumption is a health hazard, right? [laughs] We're stressing ourselves out. Like, it's crazy.
I wondered about this statement and wrote to the producers asking about this specific reference.
Attribution in its most basic form means How do you know that? Are you stating your opinion or referencing a credible source? In journalism, everything must be attributed. However, that doesn't mean attribution needs to show up everywhere in the story. Otherwise, a story would get completely bogged down.
If it's something that's been widely reported or is common knowledge, then I would say there's no need to attribute within the body of a specific work. However, if it's something that people will hear and might wonder about (like I did), then I think it's reasonable to include the specific reference – at least in the online transcript. The statement, to my ear seemed unusual, though certainly plausible. And I would like to think I would've heard of such a statement from the CDC in the news cycle before, but it's certainly possible I missed it. I'm not saying Mr. Shorters was wrong so much as please show me where this information came from. And while On Being is not a news program, it is nevertheless important to take note when guests cite specific information.
Getting back to my story, I wrote to the producers, and they wrote back to tell me they added an Editor's Note in the transcript citing the specific reference from the CDC. I'll admit, this is not the most riveting story, but that's my point. This is exactly how feedback with a national program should work. WBHM and On Being (and all the programs we air) are partners in bringing you essential information. We get it right more often than not, but there's always room for feedback and improvement about ways we can better do our jobs and better serve you.
(Through "Programming Notes," we hope to keep you connected to what is happening at WBHM both internally and on-air. Have feedback you'd like to share? Or a programming question? Let me know!)