Help us flip the switch!
It's the 2022 Transmitter Drive!
Our goal is to raise the final $50,000 to purchase and install a brand new state-of-the-art, energy-efficient transmitter.
WBHM's transmitter is a crucial component for our broadcast signal. With a new transmitter, we aspire to reduce our environmental impact and improve our broadcast service in the heart of Alabama.
Would you believe…
That this will only be the third transmitter in WBHM's history?
The first was installed in 1976 and gave Birmingham 29 years of NPR programming and music. The second was installed 2005.
Now, after 17 years, we aspire to make the leap into the future of broadcasting technology. This new transmitter will take us there and keep us there for many years to come.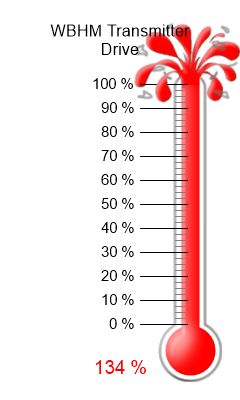 So what is a transmitter exactly?
Our FM transmitter stores programs and music in its memory and feeds those signals to an antenna
atop Red Mountain. The antenna broadcasts on FM frequencies that can be tuned into a nearby FM receiver like your car radio. Basically, we would be unable to broadcast an FM signal without it
And this is how it fits into the grand scheme of things: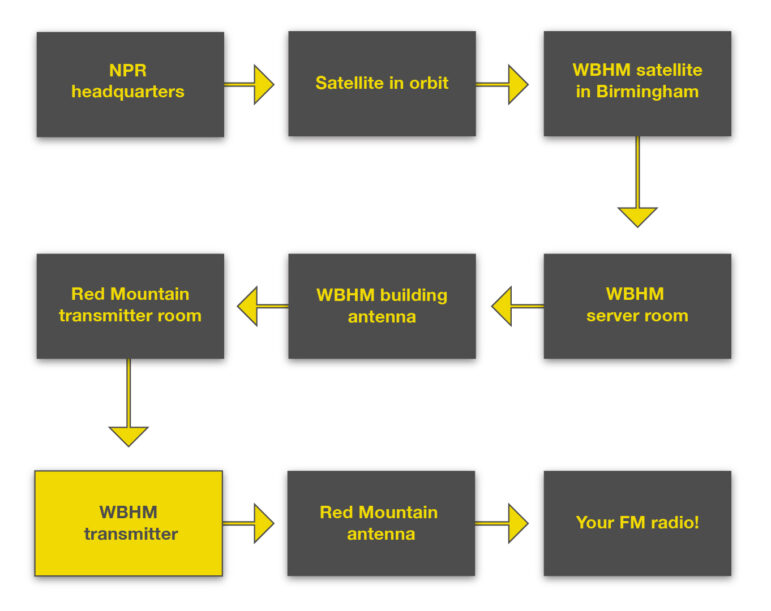 What are the benefits of a new transmitter?
Eco Friendly: Uses less energy to operate, cool, and maintain which in turn saves energy and reduces the carbon footprint.
Lower Cost: Reduced maintenance costs and more efficient cooling systems means the new transmitter will pay for itself in only 7 years!
Reliability: New technology requires less maintenance and allows for more efficient operating procedures.
Higher Quality: Offers a clearer signal at an extended range.
HD Radio: Opportunities for simulcasting additional programming on WBHM 106.1 FM.
How YOU can help flip the switch!
By investing in the future of WBHM.
Of the $230,000 we need for this project, we've already raised $180,000. Now you can can help us flip the switch with your donation!