Deliberate Indifference – Inside Alabama's Prison Crisis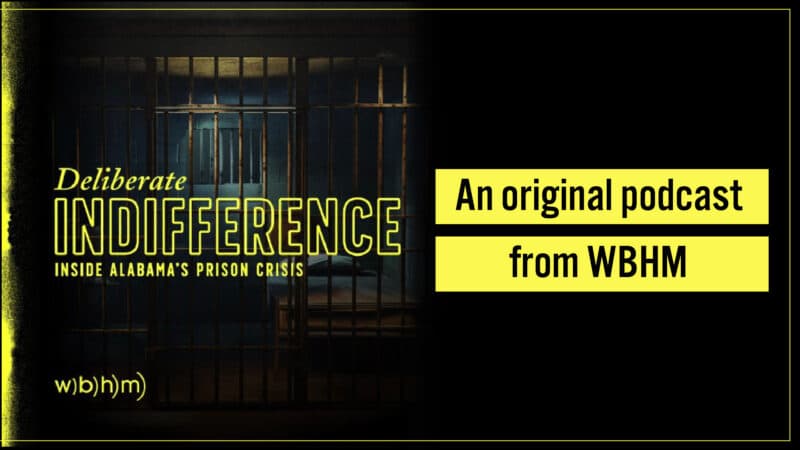 You've probably heard of our new narrative podcast, Deliberate Indifference. And, given all the heavy news the past few months alone, you may think this is the last thing you want to listen to.
I urge to reconsider.
As citizens, we have a right to know how more than 500 million of our tax dollars are being spent and if that money is producing effective results. And as a public service institution, it's our job to give you that information.
So when you listen, you'll hear the stories about conditions inside Alabama's prisons that are so bad, it sparked a legal battle between Alabama and the U.S. Justice Department.
My colleague Mary Scott Hodgin began working on this project before the pandemic, which added a whole other layer to the reporting, because it's an important story impacting real people on all sides of this issue. Every minute of this seven-part series is riveting.
While the subject matter is heavy, you can listen at your convenience and stop at any time – episodes are about 30-40 minutes each. If you can only hear one episode, I suggest episode three, Habitual Offenders, where we unpack the ramifications of strict sentencing laws, "locking up the bad guys," and "getting tough on crime." These sentencing laws meant the country's prisons (including Alabama's) couldn't keep up with the growing population.
But prison overcrowding didn't happen overnight, and it won't be fixed overnight. The questions this episode raises should be concerning for everyone.
On an altogether different note, this week marks the last episode of On Being on WBHM. And, as a reminder, there's a small program change going into effect on Sunday, June 26th.
(Through "Programming Notes," we hope to keep you connected to what is happening at WBHM both internally and on-air. Have feedback you'd like to share? Or a programming question? Let me know!)