Birmingham teachers stage sickout due to COVID frustrations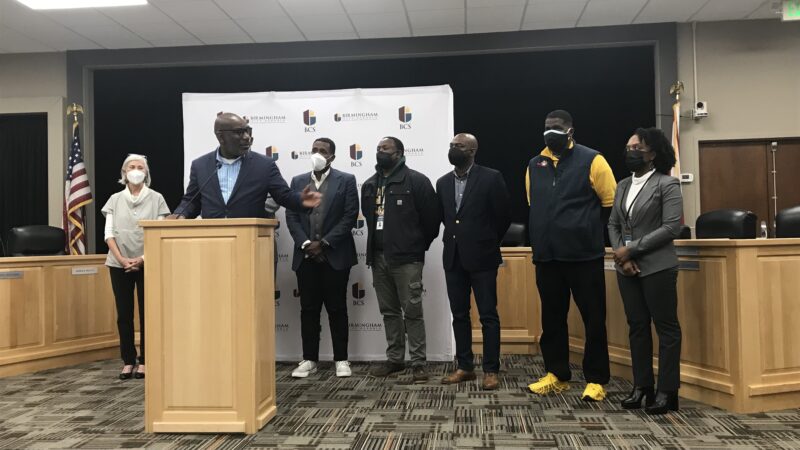 Schools across Alabama have been struggling with COVID-19 and an increase in absences from teachers and students since the omicron variant stormed the country. But this week the strain on schools reached a new level at the Birmingham City Schools when teachers staged a sickout where employees used sick days but didn't show up to work.
District officials said Wednesday 150 staff members were out because of COVID infections with another 200 out for unrelated reasons. According to Richard Franklin, union president of the Birmingham American Federation of Teachers, it was to get a stronger response from administrators on COVID safety.
"I don't even like to use the word in this situation that educators are doing a sickout because everything from what they say it's already a sickout due to COVID," Franklin said.
In other words, he contends the schools are already so strapped by the pandemic, the additional staff absences are only bringing attention to a problem already there.
In the last week, over 450 students and over 100 employees tested positive for COVID throughout Birmingham City Schools. Franklin said he called an emergency Zoom meeting on Sunday where over 900 people, including union members and non-members, gathered to share their grievances.
"We had heard from so many people that you had a situation where classrooms were overcrowded," Franklins said. "We were already short of custodians and at some of the schools, the custodians had COVID so that nobody was cleaning the building."
It was at that meeting Franklin said members pitched the idea of a two-day sickout to try to get the administration to take action and meet teacher and staff demands including more frequent delivery of personal protective equipment like masks, air purifiers throughout buildings and making sure all students have laptops in case the district has to switch to remote learning. Some teachers also wanted the district to go virtual for one to two weeks to deep clean schools and figure out a better plan to track COVID exposures.
However, in anticipation of the sickout, Birmingham City Schools leaders made a last-minute decision to go remote on Monday and Tuesday. At a BAFT meeting later in the week, members decided to extend the sickout throughout the week whether the district was remote or not.
The district went ahead with in-person schooling the rest of the week with over 200 of the district's 2,700 teachers out. Superintendent Mark Sullivan stressed over 90 percent of teachers were present despite the sickout, but he acknowledged "hotspots" at Carver and Woodlawn High Schools where parents and teachers reported students gathered in the gym all day due to a lack of staffing.
Sullivan said he understands educators' frustrations but rejects closing schools.
"We are all frightened because we're in a pandemic," he said. "I would also say that if we are looking to mitigate the spread of COVID, I think the last place that we need to look to close are our schools."
He said the district will continue to take COVID seriously and cites a nationwide shortage of substitute teachers and education support staff as an issue they are actively working on. Sullivan added in-person learning is critical to keep students from falling behind in a district where he said 70% score in the lowest level of math and 40% in the lowest level of reading.
"We need to do all that we can do to keep our students in school," Sullivan said. "That is why we're providing this [COVID] testing. That is why we're providing vaccination clinics. That is why we're ensuring that masks be worn in our schools because we know the importance of ensuring that our students are successful."
But Franklin said regardless of what the administration does, the protest still made an impact.
"It's created conversations, even though the district hasn't fully been listening," he said." I have seen so many people on Facebook social media say they're supporting what the educators are doing. "
People like LaShunta Boler who's a parent of students at Woodlawn High School, one of the schools hit hardest by the sickout.
"I just felt like as a district, we were better than that. Like, why do teachers have to threaten to sick out for them to get their demands met when their demands are in alliance with the CDC guidelines," Boler said.
Boler said she wants the school to move to hybrid learning where students alternate their days in school and online.
Birmingham City Schools administrators and members of the BAFT have had meetings all week to figure out the next steps for the district.
"I don't want the district to feel like people are attacking them," Franklin said. "I don't want any school system to feel like anybody is attacking them. But it does become the district's responsibility."
Kyra Miles is a Report for America corps member reporting on education for WBHM.