White House Vaccinations Coordinator Has Message For Alabama: 'Get Vaccinated'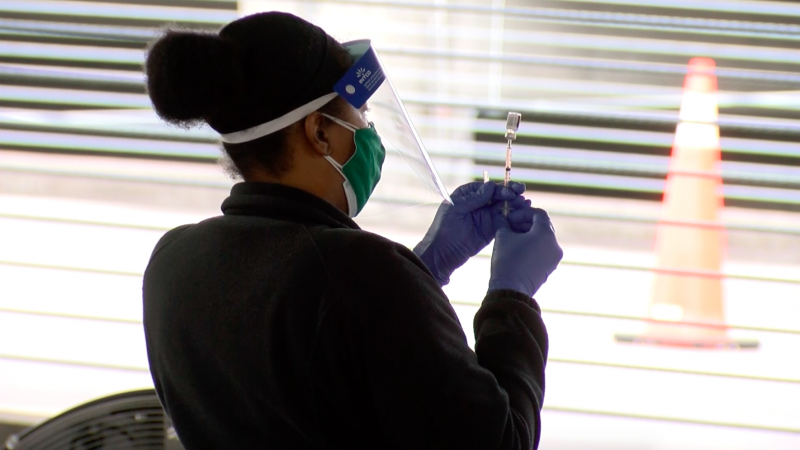 COVID-19 cases and hospitalizations continue to rise as the delta variant surges in Alabama. The message from health officials remains the same — get the vaccine. White House Vaccinations Coordinator Dr. Bechara Choucair visited Alabama last week. During the few days he was here, Alabama surpassed 650,000 COVID cases for the pandemic and more kids contracted the virus than ever before. Choucair spoke with WBHM's Janae Pierre.
We're seeing a nationwide trend of COVID cases among children. In Alabama, a record number of 50 children were hospitalized with the virus last week. What's your message when it comes to protecting those who aren't old enough to get the vaccine? And what are your concerns as kids head back into the classroom?
Well, a couple of things to bring up. We do have a responsibility as adults to make sure that we're doing everything we can to protect kids. And that starts by making sure that everybody who is eligible to get vaccinated, gets vaccinated. The second thing that's really important as schools reopen is to make sure that we are following the CDC guidance around indoor masking in schools. There's no doubt that whether you're vaccinated or unvaccinated, when you're in an indoor setting at school, we have to be able to get everybody masked. And it's those two things: the indoor masking in schools and getting everyone that's eligible vaccinated. That's what's going to allow us to keep our schools open. We all know we learn best when we're learning in person. And we can do that safely and effectively as long as we follow these two principles.
For months we've heard messaging about vaccines and how that's the ticket out of this pandemic, but that messaging seems to have gone unheard by many, even with the highly contagious delta variant. How do you convince people to get the vaccine now?
Well, the way I look at it is the science is clear. The facts are clear. We know these vaccines are extremely effective at preventing hospitalization. They're extremely effective at preventing deaths. The fact remains that the overwhelming majority of people in the hospital today due to COVID are unvaccinated. The overwhelming majority of people who are dying from COVID, by far, are unvaccinated. So we still have a lot of work to do. We have to continue to roll up our sleeves and answer people's questions. And I have no doubt when people get the facts, they will be more inclined to getting vaccinated.
There are now talks about booster shots, as early as next month, in fact. How necessary is that third shot?
Well, what our medical and public health experts have concluded is that it will be important for people to maximize the benefit of our wonderful vaccines by getting a booster shot eight months after your second shot anniversary. The goal of that booster shot is to boost your antibody titer and prolong and extend the protection that those vaccines are offering. And remember, this is to continue to strengthen and extend the protection that we're getting from the vaccines.
The COVID-19 pandemic is so bad in the state that Alabama leaders are requesting federal assistance. How does that look?
We are standing ready to support states across the country in dealing with the surge. We're working with Alabama very closely to make sure that we are providing all the support that the state is asking. We are working actively with the governor to be able to support any type of needs that are bubbling up as a result of the surge. We're, obviously, hearing a lot of concern and needs around hospital staffing. I had a chance to spend some time with the Alabama Hospital Association and witness the stress that hospitals are under, particularly when it comes to the staffing. The state has done a great job at making sure that the monoclonal antibody treatments are available widely across the state. And I know there's some more work to do to expand that.
Editor's note: Since we talked with Dr. Choucair, a federal team has been sent to support a hospital in Baldwin County.
This interview was edited for length and clarity.