Six City Council Members Win Reelection; Parker And Hilliard Face Runoffs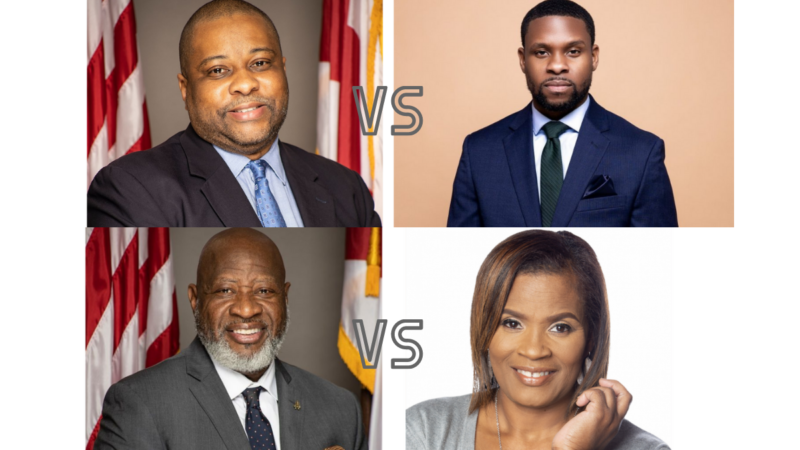 Overall, Tuesday night's municipal election proved friendly to incumbents on the Birmingham City Council, with six councilors retaining their seats outright, despite a crowded slate of challengers. But two incumbents will have to fight for their seats in the Oct. 5 runoff election.
Councilors facing multiple challengers had to receive over 50% of the vote to avoid triggering an Oct. 5 runoff election with the second-place candidate. Most were successful, but two — District 4's William Parker and District 9's John Hilliard — were not and will face challengers in a runoff on Oct. 5.
District 1
The only councilor guaranteed a spot on the council in 2022 going into Tuesday's election was District 1 Councilor Clinton Woods, who ran unopposed as he sought his second term in office.
District 2
A second freshman councilor, Hunter Williams (D2), easily won a second term with 69.5% of the vote, despite a strong challenge from former Ruffner Mountain Interim Executive Director Kimberly Jeanty, who garnered roughly 16.6% of the vote.
District 3
Councilor Valerie Abbott (D3) the council's longest-serving member (since 2001), also fended off challenges from activist Alice Speake (who received 28.7% of the vote), I Believe in Birmingham founder Joseph Casper Baker III (12.5%), and former U.S. Army Sgt. Wil Jones (6%). Abbott received 52.8% of the vote.
District 4
Things proved a little more difficult for District 4 Councilor — and current council president — William Parker, who struggled throughout the night to hold onto the majority of the vote required to avoid a runoff. Though Parker held a consistent lead in the district's five-person race, he ended up with only 41.9% of the vote — meaning that he'll face off with Woodlawn-based activist J.T. Moore (who received 23.1%) during the Oct. 5 runoff.
Districts 5 and 6
Councilor Darrell O'Quinn (D5) and Councilor Crystal Smitherman (D6) both won four more years in office, carrying 58% and 66.6% of the vote in their respective races.
District 7
Councilor Wardine Alexander (D7) avoided a runoff with 52.9% of the vote in a three-way race. She defeated frequent challenger Lonnie Malone and LaToya Lee, case manager for the Jefferson County Intellectual and Developmental Disabilities Authority.
District 8
The most hotly contested council race was for the District 8 seat, held by Steven Hoyt since 2005. After a long period of deliberation, Hoyt announced earlier this year that he had opted not to seek re-election, resulting in an eight-candidate scrimmage to take his place.
Real estate developer Carol Clarke — a former director of economic development for the city under Mayor Bernard Kincaid — kept a commanding lead in District 8 race throughout the night, securing 52% of the vote to avoid a runoff. Community activist Celi Soto trailed in second place with just 13% of the vote.
District 9
Councilor John Hilliard's (D9) claim to his seat will also remain up in the air until the runoff, when he'll face off with challenger LaTonya Tate, who received 29.3% of the vote to Hilliard's 49.2%.
Birmingham's runoff election is scheduled for Oct. 5.