Second Gentlemen Doug Emhoff Visits Birmingham To Encourage COVID-19 Vaccines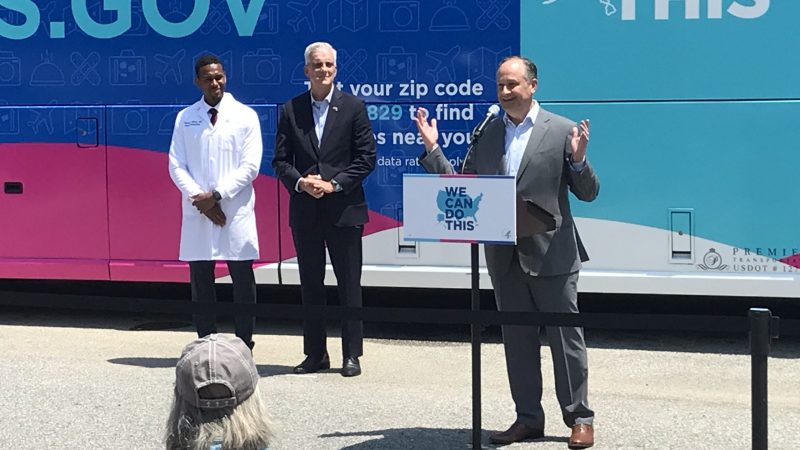 It felt like a pep rally at Jackson-Olin High School on Thursday where students, parents and community members lined up to get their COVID-19 vaccinations.
Music, snow cones and cheerleaders pumped up the crowd for a visit from the Second Gentleman of the United States, Doug Emhoff. He and other members of the White House are on a nationwide tour, traveling the country to promote immunizations.
"We've got light at the end of the tunnel," Emhoff said. "We know that we're close. But, like I've been saying, especially here in Alabama, Birmingham, we've got to do better."
Emhoff was joined by U.S. Secretary of Veterans Affairs Denis McDonough, who visited another vaccination clinic in Montgomery later in the afternoon.
"I'm reminded in this state, in particular, of all the young men and women that you've given to the defense of the country," McDonough said. "By vaccinating more and more of our neighbors, we're protecting the veterans who have protected us."
President Joe Biden has made it a goal to reach a national vaccination rate of 70% by July 4. Roughly 30% of Alabamians are fully vaccinated, putting the state 49th in terms of vaccination rate. Medical professionals and educators alike are worried about a possible uptick in COVID-19 cases in the South this summer.
The Palmer sisters and their great aunt came out to support vaccinations and get their shot. They're wearing Made to Save T-shirts—-one of the organizations hosting the clinic @WBHM pic.twitter.com/90CCNA94Ae

— Kyra Miles (@hey_kyramae) June 17, 2021
Birmingham City Schools Superintendent Mark Sullivan hopes to have the majority of their 10,000 students 12 years and older vaccinated before school starts in August.
"I think the only way that we can get back to some sense of normalcy, where we can ensure that our students are achieving at a level that they should be, is to get them in school and get them in school consistently," Sullivan said. "And that's what this vaccine does for us."
After a year of remote learning, Birmingham City Schools and districts across the country are headed back to in-person learning for the 2021-2022 school year. While it is not required for students to get vaccinated, it is heavily encouraged.
Mariama Diallo, an incoming freshman at Jackson-Olin High School, got her shot at the clinic so she could make up for what she missed last year.
"In eighth grade, we were supposed to have a dance, but because of COVID, we couldn't do it," Diallo said. "And I want to be able to go back to regular school."
Some parents were not quite as eager to get their kids vaccinated, but Monica Abrams eventually decided to go for it.
"With having a brother that dealt with COVID, I hesitated at first," Abrams said. "But, you know, I eventually got it for the sake of me and my kids."
In his last remarks, Emhoff encouraged more people like Abrams to get vaccinated. He coaxed the crowd into a chant.
"Vaccines are safe, effective, free and available," Emhoff said, as the crowd repeated back.
More resources about vaccinations, including local pharmacy hours, rides to vaccinations and available clinics, can be found at vaccines.gov.
Editor's Note: This story has been updated to clarify that roughly 30% of Alabamians have been fully vaccinated.
Kyra Miles is a Report for America Corps Member reporting on education for WBHM.