Retiring Children's Of Alabama CEO Expects Medicaid To Face Budget Pressure Again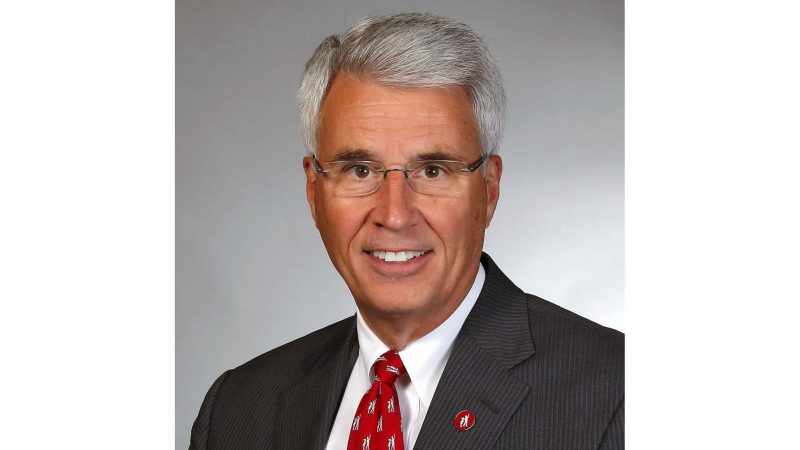 One of the most striking buildings in Birmingham's city center is a curved glass, 12-story structure with colorful accents. The Benjamin Russell Hospital for Children, which opened in 2012, is part of Children's of Alabama and a notable accomplishment under CEO Mike Warren. He will retire on June 1.
With the coronavirus pandemic waning, it seemed like a natural time to step according to Warren. He'll be succeeded by Children's COO Tom Shufflebarger.
Warren came to Birmingham 50 years ago to practice law. He later became an executive in the utility industry as CEO of Energen Corporation. Warren was on Children's board for 22 years but never worked in health care until he became CEO in 2008. The last year at the helm proved challenging as many medical institutions contended with the pandemic.
"One of our big concerns throughout the pandemic was 'Will we have the workforce needed to take care of our patients?" Warren said.
He sent home about a fifth of Children's 5,000 employees to work remotely. About 800 workers contracted COVID-19. The hospital faced financial pressure as revenue plummeted when lockdowns kept many patients away. Ultimately, government coronavirus relief funds helped stabilize Children's finances.
"We went through months of the pandemic not really knowing what our financial situation was going to be," Warren said.
Staff had to remain focused for months on end, Warren said, despite rumors, plus continually changing procedures and regulations. That differed from the April 27, 2011, tornado outbreak in which the hospital cared for 60 patients, a crisis that subsided quickly.
A Rocky Future for Alabama Medicaid
Warren has been outspoken about state funding of Alabama's Medicaid program, in part because a majority of Children's patients are covered by Medicaid. For years, Medicaid caused fierce debate among state lawmakers as they tried to keep it funded year to year. Warren criticized what he called a "one-time band-aid approach to Medicaid funding" as opposed to working toward long-term, sustainable funding.
But that discussion has subsided in recent years and federal pandemic relief dollars have helped buttress the system. Warren expects this year's General Fund budget, which is still under consideration by lawmakers, to keep Medicaid "in good shape."
"After that I think we'll be back in the soup, back in the year-to-year thing," Warren said.
When he became Children's CEO, Warren thought he could "fix" Medicaid. He looked to his past in the utility industry which developed a rate setting process that he said eliminated a lot of politics and was more transparent. He expected something similar could be found for Medicaid.
But Medicaid was much more complex than he initially appreciated. It was political since public money is involved. It was also a program split between federal and state governments which makes it hard for someone on the local level to have much effect.
"That's what I chalk up to just unbelievable naiveté on my part," Warren said.
Because of federal incentives prompted by the pandemic, there's renewed talk of expanding Medicaid in Alabama, one of the few states which has not done so under the Affordable Care Act. Such a move would not affect Children's bottom line since most of their patients are covered by public or private insurance plans. Still Warren believed Medicaid should be expanded, a move that would bring health care coverage to many adults who can't afford insurance now.
"Healthier parents, I think, will make for healthier kids and that will be good for Alabama," Warren said.
Warren leaves Children's of Alabama having overseen several expansions, which he said puts it in a good position.
"We now have no excuse from a facilities standpoint, from an equipment standpoint, for not taking the very best care of Alabama's children," Warren said.
Children's of Alabama is a financial supporter of WBHM.